Roasted Yam and Chickpea Insalata
Makes enough for 4-6 people
Ingredients List
1 medium yam
300g fresh chick peas/or 1 can chickpeas
100g sundried tomatoes (julienne if large)
300g Baby arugula
Cream Caper Dressing
Makes 500ml
400g sour cream
30g shallot-rough chop
50g capers(drained/rinsed)
60ml white balsamic
2ml salt
Place all ingredients in a blender or food processor and blend until smooth. Taste and adjust seasoning if needed.
Roasted Yams
Peel one yam and cut in to desired pieces, they can be irregular. You just want them to be roughly the same size for consistent cooking. Coat in vegetable oil, season with salt and pepper and roast the yams on a sheet pan with parchment paper for 10-15 minutes at 375F. Or until they are tender and starting to caramelize.
Roasted Chickpeas
You can use fresh chickpeas or canned. If using canned, drain and rinse well.  Lightly toss in vegetable oil and season with salt.  Using a large frying pan, so the chickpeas can spread out evenly, crisp up the chickpeas on med/high heat.
To finish the salad, toss arugula and sundried tomatoes in the creamy caper dressing and season with salt and pepper.  Put the dressed arugula on plates. Once yams are roasted and chickpeas are crispy, spoon over the salad and top with more dressing if desired. ENJOY
Restaurant Chef Jenna Pillon
Executive Chef Jenna Pillon
Born and raised in Salmon Arm, BC, Jenna realized her passion for food as a young girl and started cooking professionally in high school. Jenna has led a distinguished career in the Okanagan working with some of the top chefs in the valley, moving to take on the role as Restaurant Chef at Terrafina in 2014. Jenna's competitive nature, hard work and talent won her 1st place at the 2012 Canadian National Junior Culinary Challenge in Halifax, she went on to place 2nd in Las Vegas at the Hans Bueschkens Young Chef Challenge where she represented Canada, cooking against talented chefs from across North and South America. Jenna finds being a Chef in the Okanagan rewarding in so many ways, but the support, collaboration and harmony of working with fellow chefs throughout the valley is what she really loves. Ultimately this is what will give our culinary industry in the Okanagan longevity.
Facebook:  Jenna Pillon
Instagram: jennapillon_jp
Terrafina is located in the former Hester Creek tasting room that has been re-designed by award winning designer Judith Park of Vancouver, BC.
Terrafina's 47 seat restaurant provides an intimate setting with the old brick features, existing wooden pillars and iron chandelier inside. With an additional 24 seats on our patio that is surrounded by gardens and covered with lush vines, it not only captures the recognizable character of Hester Creek Estate Winery but a setting much like you would find in a villa overlooking the hills in Tuscany.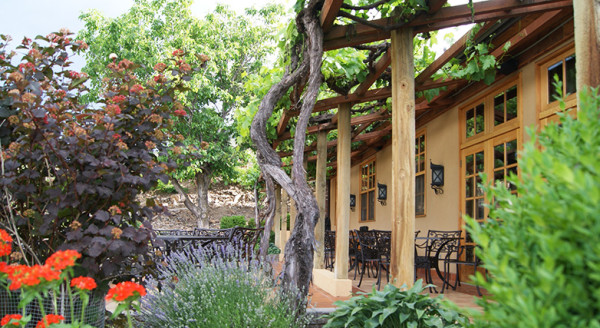 Meaning 'from the earth', our friendly Tuscan inspired menu will have you arriving as guests, but leaving as friends. Comfortable Old World charm with an injection of New World approach inspires everything from Terrafina's décor to the way we prepare our pizza dough and present our traditional Antipasto platter. Whether on a wine tour with a group or an intimate dining experience Terrafina at Hester Creek Estate Winery will lay the setting in true Tuscan style.
Open from March thru December we pride ourselves on capturing the true essence of the Okanagan's seasons. From the abundance of the local fruit and produce to the extensive varietals of the local vineyards we aim to bring the best of the seasons to the table throughout your dining experience.
Facebook:           Terrafina Restaurant
Twitter:                @terrafinaresto