Shellfish Parfait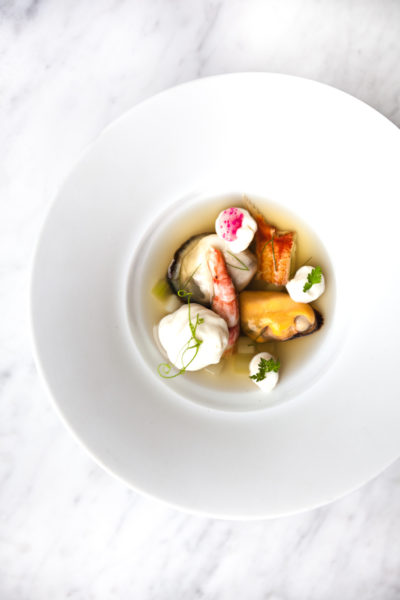 Yields 2 servings
Chowder Foam 
Ingredients:
1 cup onions, sliced
2 cloves garlic, crushed
1/2 cup leeks, sliced
2 stalks celery, sliced
2 cups clam nectar
4 cups whipping cream
1/2 cup fennel, sliced
1/4 cup white wine
pinch fennel pollen
4g leaf gelatin
salt to taste
lemon juice to taste
1 Tbsp canola oil
Method:
Heat a large pot over medium low heat. Add a splash of canola oil and sweat onion, leeks, fennel, celery, and garlic for approximately 5 minutes.
Add white wine and reduce until almost dry, then add the clam nectar, whipping cream and fennel pollen.
Continue to cook until the mixture is reduced to 1/3 of the original volume, and strain. Adjust seasoning as needed.
Add leaf gelatin and cool in a steel whipped cream dispenser (such as an iSi). Charge with two whipped-cream chargers.
Seafood Gel 
Ingredients:
3 cups fish stock
1 cup clam nectar
1 cup onion, sliced
½ cup fennel, sliced
Pinch fennel pollen
4g leaf gelatin
Salt to taste
Lemon juice to taste
Method:
Combine all ingredients in a large pot, and bring to a simmer.
Reduce until 2/3 of the original quantity remains.
Strain using a fine mesh strainer, and adjust seasoning as needed.
"Bloom" gelatin in ice-cold water until soft and easy to squeeze. Wring out excess water. Add bloomed gelatin to pot, and allow to cool. Reserve at room temperature.
To Build: 
Ingredients:
4 manila clams steamed, removed from shell and trimmed
2 pieces Dungeness crab
2 mussels, steamed, removed from shell and trimmed
2 side stripe shrimp, cleaned and lightly poached
Fennel fronds for garnish
Potatoes, celery and fennel, blanched and diced
Method:
Pour reserved seafood gel into desired serving bowl and carefully arrange all ingredients, except for foam.
Let set in the fridge on a level surface for approximately 6 hours.
When ready to serve, top with reserved chowder foam and enjoy.
Alex Chen, Executive Chef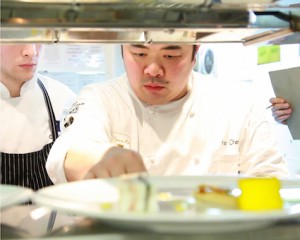 Alex Chen, Executive Chef, Boulevard Kitchen & Oyster Bar
Twitter: @blvdyvr @ChefAlexChen
Instagram: @blvdyvr
Facebook: /blvdyvr  /chefalexchen
Website: boulevardvancouver.com
Alex Chen's culinary vision is an inspired recipe of family tradition and classical technique and training, combined with creative hints of international influences. From his childhood roots in Malaysia to his time in both Vancouver and California, the Pacific Rim and West Coast regions have helped form the basis for Alex's innovative signature style, as well as his love for seafood. So, too, has his emphasis on sourcing the best fresh, local and in-season ingredients.
Alex joined Boulevard Kitchen & Oyster Bar as Executive Chef after charting a top-10 finish representing Canada at the prestigious Bocuse d'Or culinary competition in Lyon, France in 2013. Before spending six years as the Executive Chef of the legendary Polo Lounge at the Beverly Hills Hotel, Alex apprenticed at Vancouver's Wedgewood Hotel, and held the roles of Senior Sous Chef at the Four Seasons Hotel Chicago and Chef de Cuisine at the Four Seasons Hotel Toronto.
Twitter:  @blvdyvr @ChefAlexChen
Instagram: @blvdyvr
Facebook: /blvdyvr