My wine background began as a home winemaker, some thirty odd years ago. Years later I trained to be a judge and eventually became the guild master for the BC Guild of Wine Judges. After retiring from teaching, I've devoted my time to writing and educating about wine, primarily with My Van City. Sometimes friends erroneously introduce me as a sommelier, which I am quick to correct. To many people, anyone who is a wine geek is a 'sommelier', an expert or a connoisseur. Yes, I am a wine geek and have a broad background in wine, but I am not a sommelier. While we may have a lot in common and can geek out together, the focus of the training and experience are different. Mine was in wine making and evaluating, whereas sommeliers are experts in wine regions, identifying wines and spirits, wine and food pairings and all other aspects of the hospitality industry.
So it was with considerable excitement and personal curiosity that I attended the 2017 BC Sommelier of the Year competition at Rogers Arena. The Canadian Association of Professional Sommeliers (CAPS) BC hosted this event. After the morning written exams, the public was allowed in to observe the practical portion of the testing. This involved sixteen sommeliers who came to compete for the coveted title of BC Sommelier of the Year. Included in this year's line up were:
Adam Mayhew            Yew Seafood + Bar
Chris McFadden          Terminal City Club
Christopher Rielly        Nightingale
Dawn Schultz               West
Jayton Paul                  Nightingale
Jesse Walters               Burdock & Co
Joanne DiGesio           Hawksworth Restaurant
Kristi Linneboe             L'Abattoir
Kyle Gartlan-Close       Le Crocodile
Mathew Landry             Stable House
Peter Van de Reep       Upstairs at Campagnolo
Sarah McCauley           Glowbal
Sean Nelson                 Vij's
Shane Taylor                CinCin Ristorante + Bar
Todd Prucyk                 Hawksworth Restaurant
Wes Hunter                  Raudz
Some were competing for the first time and were not quite sure exactly what to expect, while a few were returning to try again. The day began at 9:00 with written exams, which many admitted were challenging. After two and a half hours there was a break while the tests were marked and ranked.
CAPS president Michelle Bouffard started the event off and at 1:00 all the competitors were assembled before the audience and the top three were announced. You could feel the tension in the air and I am sure there weren't many dry armpits among those awaiting their fate. Shane Taylor from CinCin Ristorante and Bar, Todd Prucyk of Hawksworth Restaurant and Mathew Landry representing Stable House breathed a huge sigh of relief as they realized they had made in to the final, practical round. They drew numbers to see who would go first while the other two were sequestered as each contestant was presented with the same challenges.
This part of the contest was conducted in front a judging panel consisting of guest judge Véronique Rivest (2nd place, World's Best Sommelier 2013, Best Sommelier of the Americas 2012, Canada's Best Sommelier 2006 & 2012), Master of Wine, Barbara Philip and Michelle Bouffard, Dip WSET. Local wine educator and emcee DJ Kearney informed the audience what was to happen next. Each finalist had forty-five minutes to complete the following tasks:
Sparkling wine service
Red wine decanting
Food and wine pairing exercise
Menu correction exercise
Blind tasting of cocktails, red and white wines
Shane was up first and his task was to serve sparkling wine to a table of guests. He had to answer questions they posed and he had a tight time limit.
Next was a red wine service for another table and questions about the vintage. The time limits, unexpected questions and requests showed how the competitors were able to perform under pressure.
The third part of the challenge was a table asking for wine pairings. They were visitors and wanted a different glass of wine with each of their three courses. In addition, they wanted each wine to be from a different province. This was a particularly difficult challenge as there are not a lot of wines from other provinces available in the BC market. The meal consisted of:
First Course
Roasted Heritage Carrots, Upper Bench Brie Custard, Rye Levain Crisps, Quince Vinaigrette
Second Course
Fried Spiced Octopus, Lime Leaf Aioli, Cabbage, Nam Jin
Third Course
Aleppo Pepper Spiced Tomato Braised Short Ribs, Heritage Corn Cake, Vegetable Slaw with Buttermilk Dressing
It was interesting to watch as each competitor quickly assessed each course and described how each wine would compliment their meal.
Shane recommendations included:
Benjamin Bridge sparkling – Nova Scotia
Riesling – Ontario
Black Hills Nota Bene – BC
Todd's suggested:
Benjamin Bridge sparkling – Nova Scotia
Chardonnay – Ontario
La Stella Fortissimo – BC
Mathew recommended:
Benjamin Bridge sparkling – Nova Scotia
Moraine Riesling – BC
Tawes Cabernet Franc – Ontario
In the next challenge, seven glasses were presented, two white wines, two reds, two spirits and a cocktail. For each wine they had to give complete tasting notes aloud, then identify each of the spirits, followed by naming a cocktail and listing the ingredients.
The final task required them to find all the errors on a projected wine list – spelling errors, vineyard mistakes, AOC errors, pricing errors, country of origin mistakes and more.
During the breaks between competitors, there was a challenge at the back of the room for those who wanted to experience what the sommeliers were doing. Two decanted wines were available to identify. These two wines were courtesy of local wine legend, Sid Cross. The first was a white, which I correctly guessed as a French Chardonnay with some aging, possibly 2008. Later, it was identified as a Chablis Grand Cru 2008. I was close, though I thought it came from a little further south.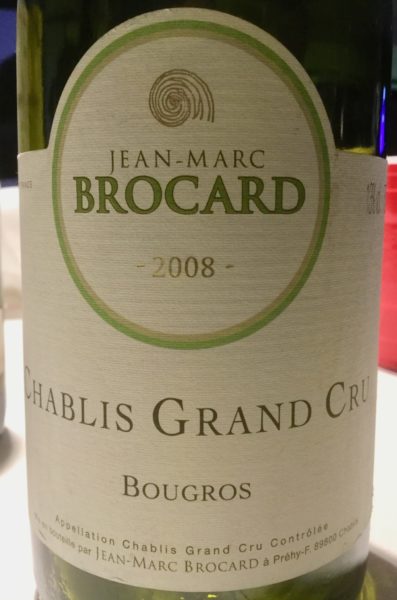 (Photo – Sam Hauck)
The second wine, a red, was clearly older as evidenced by the bricking, medium bodied and very aromatic. I was torn between Italy and Spain but thought it most likely a Spanish Rioja. On this one I was completely wrong. It was older than I thought and I did not recognize it as French. The wine was a 1982 Bordeaux.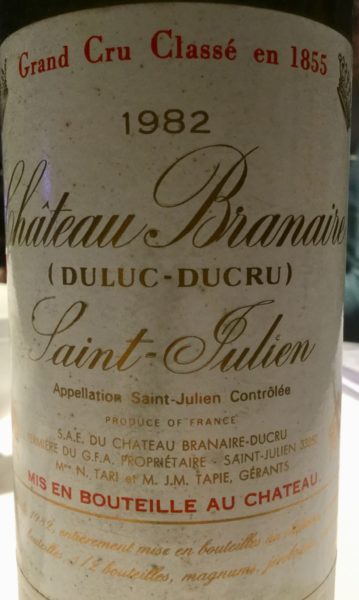 (Photo – Sam Hauck)
The winner, Shane Taylor, was announced later at the after-party at Cibo Trattoria. Thanks to Mark Taylor for hosting the after party.
The next time you are out for a nice dinner, ask for the sommelier. Tell him or her about any particular likes or dislikes and ask them for a recommendation. Good somms will often give you three suggestions, with a range of prices, and will not be offended if you opt for something different. However, don't be afraid to try something unfamiliar that a sommelier recommends. Their wine list often carries hard to find and exclusive wines that you might not find at your local shop. My guess is that you will meet some wonderful friendly people who will turn you on to some amazing new finds.
All photos, except as noted, courtesy of Cathy Browne