Odd Society Spirits Presents The Renaissance of Vermouth on February 23
Known for their innovative European liqueurs, Odd Society Spirits is collaborating with local drinks expert Shaun Layton to present an evening exploring vermouth. On Thursday, February 23, 2017, Odd Society's cocktail lounge will pay homage to the delightful tapas bars of Spain with The Renaissance of Vermouth.
As they arrive, a perfectly crafted aperitif cocktail will prepare guests for the night's festivities, followed by a flight of vermouth, each one thoughtfully chosen and explained by Layton. In the spirit of keeping things casual and authentic, guests will gather and mingle while enjoying vermouths from around the world and a selection of Mediterranean tapas.
An incredible array of delicious Italian and Spanish influenced bites prepared by Chef Jesse McMillan of Campagnolo ROMA will also be served throughout the evening. Notorious for their incredible house-cured meats, a generous selection of Campagnolo's charcuterie and ham carved to order will pair perfectly with the night's main attraction. Pane con tomate, Spanish omelettes, stuffed olives, bagna càuda, croquettes, marinated mussels, sherry marinated quail's eggs and fried chorizo are just some of the other mouth-watering dishes guests will indulge in at this one-night only experience.
Enjoying a well-deserved revival, vermouth is often diverse in style and taste. Odd Society Spirits is no stranger to the alluring characteristics of this amazing wine based aperitif; launching their highly anticipated Bittersweet Vermouth in 2014, and winning a Double Gold medal and the Best Vermouth award at the 2016 New York World Wine and Spirits Competition for their barrel-aged version. Odd Society's Bittersweet Vermouth will be one of the many globally sourced types of vermouth presented by Layton at The Renaissance of Vermouth.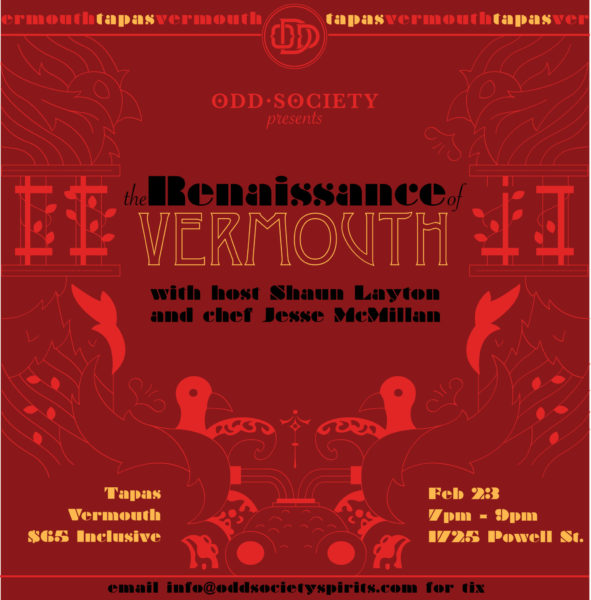 The Renaissance of Vermouth takes place at Odd Society Spirits on February 23, 2017 from 7:00pm to 9:00pm. Tickets are $65 (inclusive of tax and gratuity) and can be purchased by emailing [email protected].
About Odd Society Spirits: 
Odd Society Spirits is a small-batch B.C. Craft-Certified distillery located in the heart of East Vancouver. Dedicated to combining old-world distilling traditions with new-world ingredients and ingenuity, Odd Society Spirits has created a family of spirits that entice and intrigue. Open Thursday through Sunday, Odd Society Spirits distillery and cocktail lounge is located at 1725 Powell St., Vancouver, B.C.