The final week of Classic Chic's Corleone: The Shakespearean Godfather
Take a cinematic classic full of one-liners, memorable characters and unite it with all the elements of a Shakespearean tragedy and you have one enjoyable evening of theatre. Neatly woven into an 80 minute act, Corleone: The Shakespearean Godfather brings us into the Corleone's world where they are embroiled in a struggle for power, forced to use all means necessary to continue their control of power. Even if it means sacrificing the good intentions of the eldest born male.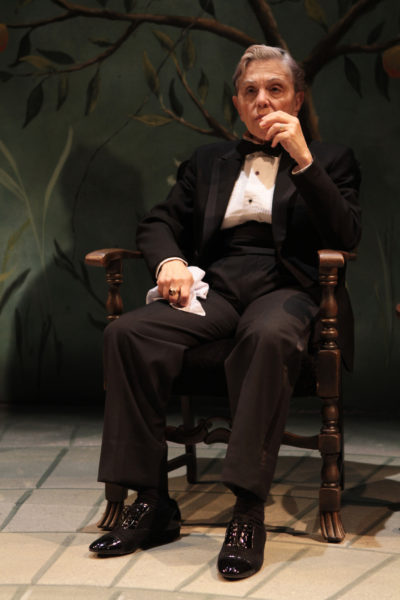 Capturing this internal struggle between doing what he wants and what his family expects of him is Stefania Indelicato as Michael Corleone. Matched with the exquisite performance of Corina Akeson as his brother Sonny, these two men will do anything to protect their family and the ones they love including fleeing the country as tempers flare across the territory. In the power seat is talented and subdued Nicola Lipman as Vito Corleone or Don Corleone as his business associates refer to him. By now you may notice that all the leading male characters are portrayed by women.
In a Shakespearean twist, Classic Chic Productions casts this production with an all-female cast. This gathering of talented performers takes on the epic story of The Godfather as told by David Mann in Corleone: The Shakespearean Godfather. Filled with iambic pentameters, classic movie lines and the world of 1940's mobsters, this production takes you through epic family drama with the rise and fall and rebirth of power with the Corleone family.
The all female cast maneuvers between multiple roles of wedding guests, party guests, and the chorus supporting the power struggle faced by the Corleone family. Corina Akeson's vocal talents bring the smooth style of Johnny Fontaine to the production. Director Mindy Parfitt guides her cast through an incredible journey where women are usually playing the side parts, but this time they are able to tap into their power and deliver powerful characters defined by their drive and intentions, not their gender.
In the Pacific Theatre setting, this epic tragedy is played out in a simple set decorated with painted trees, nodding to the deep roots of family and the ways they will always be connected. The open space moves from receptions, grand homes, open markets, to a small town in Italy and to the high stakes office of Vegas. In an ever climbing run for power, the Corleone's may stop at nothing to maintain their rule.
Fans of The Godfather will admire the text and the plot flow as this talented cast takes us to the final baptismal scene where innocence is overshadowed by mans' brutal drive for absolute power.

by David Mann
Classic Chic Productions
Pacific Theatre, 1440 W. 12th Ave.
Feb. 3-25
$23.95-$34.95
www.pacifictheatre.org or 604-731-5518
www.classicchic.ca
Corleone: The Shakespearean Godfather runs until February 25th at the Pacific Theatre.
ARTISTIC TEAM Directed by Mindy Parfitt. Featuring Nicola Lipman, Stefania Indelicato, Colleen Winton, Christina Wells Campbell, Kaitlin Williams, Elizabeth Kirkland, Corina Akeson, Evelyn Chew, Michelle Martin, Paige Louter, Danielle Klaudt, and Lindsay Curl. Set Design by Heidi Wilkinson. Lighting Design by Jill White. Costume Design by Chantal Short. Sound Design by Corina Akeson. Stage Management by Maria Zarrillo.
Featured: Stefania Indelicato and Nicola Lipman