It's lunch time? Are you tired of the same old, same old and brown bag lunch? Then you have to go to Vancouver Art Gallery's North Plaza for Tourism Vancouver's Dine Out Vancouver Festival and the five days of "so not a brown bag lunch" served up al fresco daily by at least 15 of the 23 participating Street Food Trucks.
Dates: January 22, 23, 24, 25 and 26
Times: 11am – 3pm, Wednesday through Friday
11am – 5pm, Saturday and Sunday
Food truck chefs have cooked up special Dine Out dishes to pair with their tried-and-true favourites.
Join other diners in the outdoor tents decked out with heaters, tables and chairs (and portable bathrooms!) and eat a meal or three while kicking back, making friends and listening to music.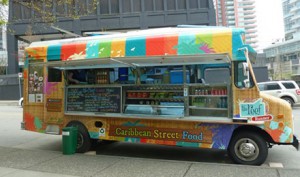 Presented by Tourism Vancouver, Street Food Vancouver Society and the Downtown Vancouver Business Improvement Association.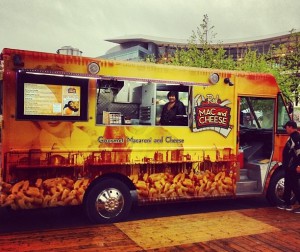 Here are the Food Trucks to look for during the five day Street Food City extravaganza.
JJ's Trucketeria
Roaming Dragon
Feastro the Rolling Bistro
Holy Perogy
DougieDog
REEL Mac and Cheese
Aussie Pie Guy
The Reef Runner
Vij's Railway Express
Roaming Dragon
Guanaco
Le Tigre
Tacofino
Mom's Grilled Cheese
Soho Road
Mangal Kiss
Yolk's
Eli's Serious Sausage
Mogu
Chili Tank
Taser Grilled Cheese
Kaboom Box
The Juice Truck
About Dine Out Vancouver Festival:
Produced by Tourism Vancouver and presented by American Express, Dine Out Vancouver Festivalis a city-wide celebration of eating out, attracting tens of thousands of local and visiting foodies to Vancouver's exceptionally diverse collection of restaurants for 17 days. Now in its 12th year, Canada's largest restaurant festival allows diners to sample menus from hundreds of restaurants around the city, all for a prix fixe cost (price points are $18, $28 and $38 per person) and many with suggested BC VQA pairings (available at an additional cost). Dine Out also features special hotel room rates and packages, plus a full menu of unique food-themed events, seminars and activities.Dine Out Vancouver Festival 2014 runs from January 17 to February 2. Wines of British Columbia is a festival partner, and supplier partners include All You Need is Cheese and OneCoffee.