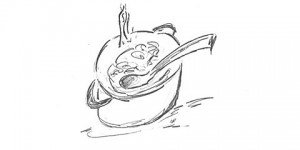 Where are you having lunch today?
Pacific Institute of Culinary Arts (PICA) on Granville Island will host the kick-off event of Tourism Vancouver's DINE OUT VANCOUVER FESTIVAL.


Starting at 12:30 today, Friday, January 17, 2014, you are welcome to come down to Granville Island for a taste of the incredible soup made by 50 of Vancouver's top chefs and it's all FREE.

The Chef Soup Experiment started at Edible Vancouver with all the chefs bringing their ingredient to be added to the soup. All 50 chefs were treated to a delicious breakfast, long table style.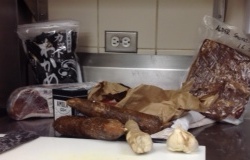 Once all the ingredients were present and accounted for the large soup pot made its way from Edible Vancouver to PICA's executive kitchen and waiting Executive Chef Julian Bond and his two able assistants got right to work.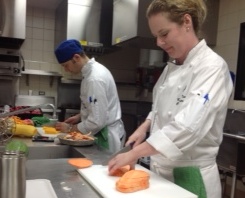 The process continues with the chopping and prep of the mostly local ingredients. The stock has an Asian inspired base and will be used to make both a carnivore and a vegetarian soup for your tasting pleasure.
Dine Out Vancouver Festival Chef Soup Experiment – Ingredient List:
Green garbanzo beans – Ned Bell, YEW Restaurant
Coconut milk – Montgomery Lau, MARKET by Jean-Georges
Guajillo chilies (dried) – Pedro Gonzalez, Coast Restaurant
Rapini – Antonio Martin, Paulie's Kitchen
Braised beef tongue – Joachim Hayward, Campagnolo Roma
Prosciutto – Dave Bell, Al Porto Ristorante
Tomatilla and dikon – Lino Vargas, Hurricane Grill
Fresh naked chickens – Joyce Isaac, Nando's
Celeriac – Chris Whittaker, Forage
Papaya – Yen Do, Broken Rice
Celeriac – Joel Green, The Lobby Restaurant
Alder smoked bacon – Ian Errington, Catch 122
Red kale – Rob Feenie, Cactus Club
Flank steak – Corey Fields, Vancouver FanClub
Kale – Christine McAvoy, Vancouver is Awesome
Raw cacao – Karen McAthy, Graze Restaurant
Bacon salt – Eric Pateman, Edible Canada
Yam – Michelle Kim, Miss 604
Chipotle flakes – Jane Nahirny, BC Magazine
Kombu (kelp) – Nathan Lowey, Campagnolo
Butternut squash – Mark McEwan, Black + Blue
Horseradish root – Cooper Green, Sandbar Seafood Restaurant
Apple-smoked bacon – Kyle Baker, The Keg
Cesara – Genevieve Talbot, Baru Latino Restaurant
Saffron – Jean-Francis Quaglia, Provence Marinaside
Leeks – Daigen Taylor, Hapa Izakaya
Seaweed – Toshiyuka Iwai, Hapa Izakaya
Lotus roots – Nobutaka Watanabe, Hapa Izakaya
Shitake mushrooms – Masafumi Okuno, Hapa Izakaya
Gelatin noodles – Daiji Tanaka, Hapa Izakaya
Israeli couscous – Vishwa Mohan, Fairmont Vancouver Airport Hotel
Roasted sunchoke – Darren Brown, ORU Restaurant
Bone marrow – Wildebeest
Thyme – David Hawksworth, Hawksworth Restaurant
Shitake mushrooms – Mijune Pak, Follow Me Foodie
Chorizo sausage – Amber Sessions, Tourism Vancouver
Celery – Sonu Purhar, Tourism Vancouver
Garlic – Jorden Hutchison, Tourism Vancouver
Red lentils – Chris Blanchette, Tourism Vancouver
Five beans mix – Collin Dawkins, The Reef
Thai chilis – Shannon Phillips, Pacific Institute of Culinary Arts
Local carrots – Cloe Boiral, Pacific Institute of Culinary Arts
Ginger – Julian Bond, Pacific Institute of Culinary Arts
Lemongrass – Oliver Lago, Pacific Institute of Culinary Arts
Onions – Darren Clay, Pacific Institute of Culinary Arts
Bay leaves – Carmen Wong, Pacific Institute of Culinary Arts
Coriander seed – Katsu Inoue, Pacific Institute of Culinary Arts
Freshly cracked pepper – Pacific Institute of Culinary Arts
Sesame oil – Pacific Institute of Culinary Arts
Capilano stock (i.e. water)
Lucas Pavan, Festival Coordinator
and Chef Rob Fennie, Cactus Club