To many, the name "Niagara' refers to the mighty Niagara Falls where casinos and grand hotels now sit next to the roar.  However, Niagara is also known as part of the Ontario wine region, the very reason why we decided to pay a week-end visit. Little did I know, before the giant fall, glamorous hotels and bright-lit casinos, the little town of Niagara-on-the-Lake; its neighbouring counties and villages have the enchanting ability to make my short stay a memorable one.
The town   http://niagaraonthelake.com/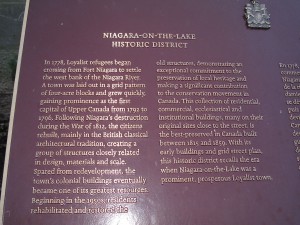 As if entering onto a movie set depicting life during the Victorian era, we were bewitched by how charming the streets were.  Queen Street the main corridor was simply graceful!  Heritage buildings of no more than 3 storeys tall lie spaciously apart and each one played a role in the story telling about Canada. The town is a showcase of glorious mansions and landscaped gardens. Being the first capital of Upper Canada in 1792, signs of history were everywhere. Niagara-on-the-Lake is a town of some notable 'Firsts', there is no shortage of points of interest. Taking a heritage walk and discovering what and when happened made our journey interesting and educational.  Someone like me who didn't know much about The War of 1812 would find themselves scrolling back in time.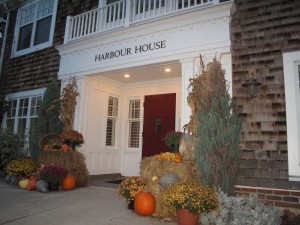 We stayed in the humble looking Harbour House, located within walking distance to the lake, which indeed looked and felt like a friend's very well-kept house.  There was no haughty lobby glaring at us at the entrance, but a warmly lit cosy living room.  A cushy fabric sofa, antique furniture and the fireplace welcomed us as we walked into the front room in our suite. The setting and ambiance were those belonging to a home!  A home-style hearty buffet breakfast awaited us every morning, a feature included with your stay at Harbour House.
The Food 
True to local produce and sustainable programs, the cuisine here is very unpretentious.  No need for over the top fancy plating or boasting wine programs; no one has to subsidize the salary or promotional cost of  "celebrity" chefs but sticking to the culinary value of what's on the plate.  From what I saw and chowed, the cooking technique and culinary craftsmanship was level with any big cities, Vancouver included.  It's all about the food, the farmers and producers. The quality of the food and pleasure of dining are as genuine as the natural beauty of the town!
Our first lunch took place in the cottage like garden room at The Good Earth Winery. Most of the greens and vegetables were freshly-picked from the neighbouring farms. The Salad in a jar, topped with crunchy shoelace fries was both conceptual and refreshingly yummy.  The second lunch was also enjoyed in a dining room with acres of grapevines in view. The restaurant at Ravine Vineyards used to be where the famous chef Anna Olson and her husband honed their culinary skills. Judging by the detail-oriented and lucidly plated fares delivered to the guests, their successor was doing a wonderful job.
Just take a look at the Leek and Mushroom Tart with goat cheese and pan-fried duck egg! The lunch we had on our last day of visiting took us to another movie-set like village – Jordan.
Before we did our wine tasting at Cave Spring Cellars, we had a scrumptious meal in the handsome dining room at Inn on the Twenty, a classy and stately hotel that put us back into the previous century. Who could not say no to the generously portioned aromatic Chicken Pot Pie that came with a simple but worthy mixed salad?
The two dinners we savoured were carried out in two distinctly different restaurants but both scored high on our palates. Charlie's Inn was another character inn much like Harbour House conceived with more elegance. Interestingly, Charlie's restaurant was one of the not-to-be-missed dining havens. My order of Duck Breast, accompanied by adequately chosen and prepared potato and squash flan was every bit like those featured on TV by celebrity chefs.
We were so surprised to find out how young this very artistic chef Stirling was when we met him after dinner.  Treadwell's Farm to Table was more trendy yet again, nothing extravagant at all.  We adored their theme on sourcing locally and honouring what the fellow farmers were doing. The dining room was set in an earthy tone, with a bar and the kitchen counter occupying one side. From where we were sitting, we were able to peek into the kitchen and witnessed what an energetic and hard-working young team Treadwell embraced. We each had a 3-course meal which would take another page to describe.  What I like to share here is as a huge beet lover, I finished the farm-fresh, crunchy-tender, lightly seasoned and divine warm beet salad in a flash!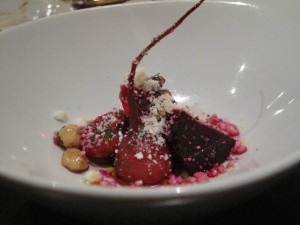 The wineries  http://winecountryontario.ca/
Driving from bustling Toronto, it didn't take long to be surrounded by clear roads and suburbs, soon and vast countryside welcomed us. 45 minutes later, we began to see winery signs and vineyards. During the two day & two night stay, we managed to visit     the following wineries.
In Beamsville:
1/ Good Earth Winery – Down to earth country farm style winery with a restaurant that offers hearty home-style meals and cooking classes. http://goodearthfoodandwine.com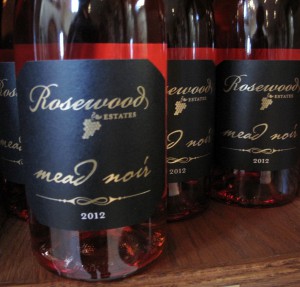 2/ Rosewood Estates Winery – An all-in-one beekeeper, vineyard, grape and mead winery with a handsome tasting room. http://rosewoodwine.com
In Niagara-on-the-Lake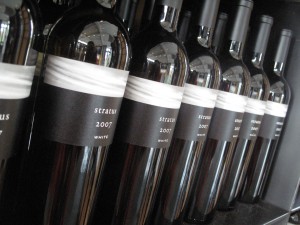 3/ Stratus Vineyards – A sleek, modern building with state-of-the-art facilities, forward-thinking grapevine operation and wine-making practice.  http://stratuswines.com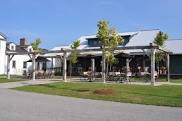 4/ Ravine Vineyards – The landscape, the winery and the restaurant are equally impressive. http://ravinevineyard.com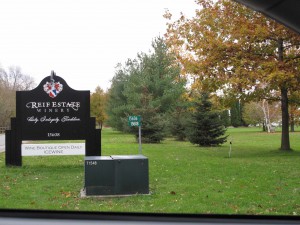 5/ Reif Estate Winery – Classic wine-making philosophy with advanced operation and remarkable business sense. http://reifwinery.com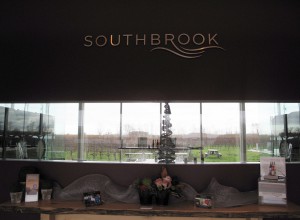 6/ Southbrook Vineyards – A LEED certified building and operation with top-notched facility and sustainable practices. http://southbrook.com
In Jordan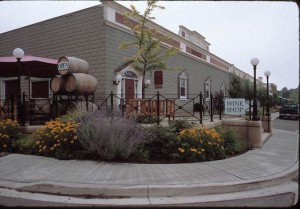 7/ Cave Spring Cellars – This unassuming but classic winery locates in the full-of-character Jordan. http://cavespring.ca