LE VIEUX PIN WINERY TEAMS UP WITH SWALLOW TAIL TOURS AND CHEF JEFFERSON ALVAREZ TO CELEBRATE THE WINERY'S 10TH ANNIVERSARY!

When three passionate and like-minded people come together to talk food and wine, the only outcome is to set-up a pop-up gastronomic one-night event centered on foraging, cooking and celebrating a milestone with BC Wine!
The event will take place at a secret location in Chinatown on Saturday June 13th, with two seating's. Guests can expect to taste 3 of Le Vieux Pin's South Okanagan wines along with an 8-course dinner prepared by Chef Alvarez that includes foraged ingredients from Swallow Tail Tours.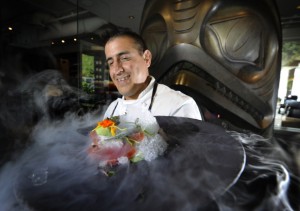 Rasoul Salehi speaks highly of Chef Alvarez, "Chef Alvarez is known as one of the leaders of the Avant Garde Nouveau Cuisine in Vancouver. He is absolutely head over heals in love with our city and its local food culture and bounty. Having apprenticed and collaborated with many of the top visionary Chefs around the world, Chef Alvarez is passionate about foraging and cooking with wild growth."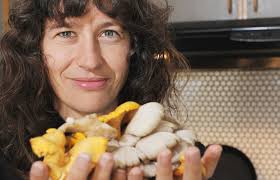 And the pop-up dinner would not be same without the queen of foraging adventures: Chef Robin Kort, a sommelier and foraging instructor at her company Swallow Tail Culinary Adventures. She creates one of a kind underground dining experiences and unique culinary tours such as foraging trips, secret venues, star chefs & wild themes. You can learn more here: www.swallowtail.ca
Just 10 years ago, a dream became a reality for the owners of a winery. The name Le Vieux Pin comes from one majestic old pine tree, which stands guard in their vineyard. Located on the famous Black Sage Bench overlooking the south Okanagan valley outside of Oliver, they have created a winery that pays homage to the great personalities and wines of France.
To book your spot at the table, visit http://www.swallowtail.ca/upcoming-events/foraged-pop-up-restaurant/ for more details.
Follow Le Vieux Pin on Facebook, twitter and instagram @LeVieuxPin
to stay informed. www.levieuxpin.ca
Follow Chef Kort on instagram: @robincorkycork
and Chef Alvarez @chef_alvarez