Valentine's Day weekend marked the 22nd anniversary of Vancouver's Wellness Show, which took place at the Vancouver Convention Centre in waterfront Vancouver. For one exhibitor, being present at his booth for this event signified a year of powerful healing, and hope for a strong, healthy future.
A year ago, Rob could barely walk. Just a few weeks ago, I watched him do camel pose. For those not familiar with yoga, camel pose involves kneeling on a mat, sitting up straight, and then arching your back so that you're able to grab your heels behind you and stare at the ceiling. Even the best of best cannot hold this pose for longer than about 15 seconds—it's that difficult.
He also did a head stand.
Let's back up. In the spring of 2012, at the age of 32, this man sustained a major back injury while at work. He suffers from three herniated disks (S1, L5, and L4) and severe sciatica. Side-effects of this injury include unbearably severe back and tailbone pain, subsequent insomnia, the inability to walk, sit, or lie down comfortably, temporary loss of bladder control, and depression. One year later, British Columbia's Worker's Compensation Board (WBC) deemed him partially but permanently disabled, and recommended that he pursue a new career in marketing and sales, because it matched his current wage and was within his physical limitations.
While having to consider what a career change like this would mean for his future, he began undergoing intense physiotherapy that Rob describes as "absolutely crucial" to his recovery at Core Fitness and Rehab (his therapist was Tom Macleese, who works with severe ICBC accident victims). Eventually it was recommended that he also try yoga, which led to him meeting Troy Rankel.
Troy is one of the owners of Oxygen Yoga and Fitness—a franchise that is quickly materializing all over the lower mainland and Fraser Valley. While we've all heard the benefits that yoga has to offer, including the remarkable effect it can have on existing conditions,[1] [2] Oxygen Yoga and Fitness provides infrared heat, which has been proven to have an ultra-healing effect on even the most serious of injuries.[3] [4]
Although skeptical at what benefits yoga could possibly provide him with at first, Rob's determination to stabilize his injury led him to give it a try. Because yoga is not recognized as an option for physiotherapy with WCB, Rob chose to pay out of this own pocket (as he did for his rehabilitation at Core Club), and finance the therapy himself. Within only a matter of months of beginning a very careful, private hot yoga program that was tailored to his own specific injuries, Rob was able to gradually regain mobility, strength, and best of all, hope for a relatively pain-free future.
Think that's impressive?
In 2013, Rob took the advice of WBC and was re-trained, and in November received a diploma in Marketing and Sales from Sprott Shaw College. (In order to complete this education, Rob had to stand up for most of the day, 5 days a week, for 6 months due to limitations that his injury placed on his tailbone.) But because he decided to go with his doctors' recommendations and he knew his limitations would not allow him to realistically succeed in an office environment, he graduated from yoga teacher training at Naked Truth the very same month, and began to instruct yoga at the Abbotsford and Mission Oxygen Yoga and Fitness locations in December.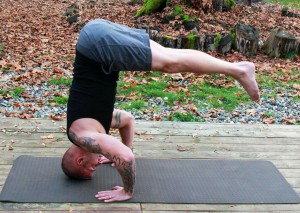 Rob swears that yoga gave him his life back. He was able to rebuild muscle that had atrophied after his initial injury, which allowed him to place a strong layer of protection around the injury sites. Aside from the physical benefits, yoga also contributed to increased mental clarity, which he says played an instrumental part in allowing him to stop feeling like an accident victim, and begin to appreciate the present and be grateful for everything he has been given.
Nowadays, nearly two years after his accident, Rob's outlook on life is positive and peaceful. He teaches several yoga classes a week, essentially receiving his physical therapy while instructing others. Although life has thrown him a major curve ball, Rob says that the changes he and his family have had to undergo have ultimately been positive. He's been forced to go from being very hands-on to becoming much more of an observer, but he embraces this change of pace.
There are still struggles for Rob. Pain will, to an extent, be part of his life forever, but the management techniques that he has learned through his yoga practice is providing him with the tools he needs to keep himself focused on his recovery. It's been a long road that will always be a work in progress, but he enthusiastically credits yoga—a practice that focuses on strengthening the mind, body, and soul—with not only saving his life, but also giving him the motivation to help others who are walking the path to recovery that he has  gotten to know all too well.
Rob's favourite class to teach involves mediation. He firmly believes that by strengthening the mind, you can overcome seemingly impossible obstacles that we are sometimes involuntarily faced with. He wants others to know that where chronic pain and disability is concerned, there is hope. He positively insists that "by changing your perspective, you change your outlook."
Oxygen Yoga and Fitness' mantra is "I love my life," and that's exactly what Rob intends to do.
Namaste.
Feature photo: Oxygen Yoga and Fitness
---