Energy, confidence, and composure are three key ingredients to success in a high paced environment. Sitting in the front row of the Chopping Block competition at The Home and Garden Show, you should feel the sweat and heat from the competitors.
If you haven't been keeping up to date with The Food Network channel (or culinary shows for that matter) Chopped has been a huge hit in North America. Much like Iron Chef, contestants are given a box of 4-6 mystery ingredients that are requirements for one dish and only 25 minutes to make something unique. It begins with an appetizer, followed by a main entrée and ended with a delectable dessert. One chef if eliminated after each dish and the competition can only have one winner.
Being a home cook/baker, I can only applaud and bow to the people who took the leap to compete. At the Home and Garden show, there were 4 brave souls who are hobby cooks: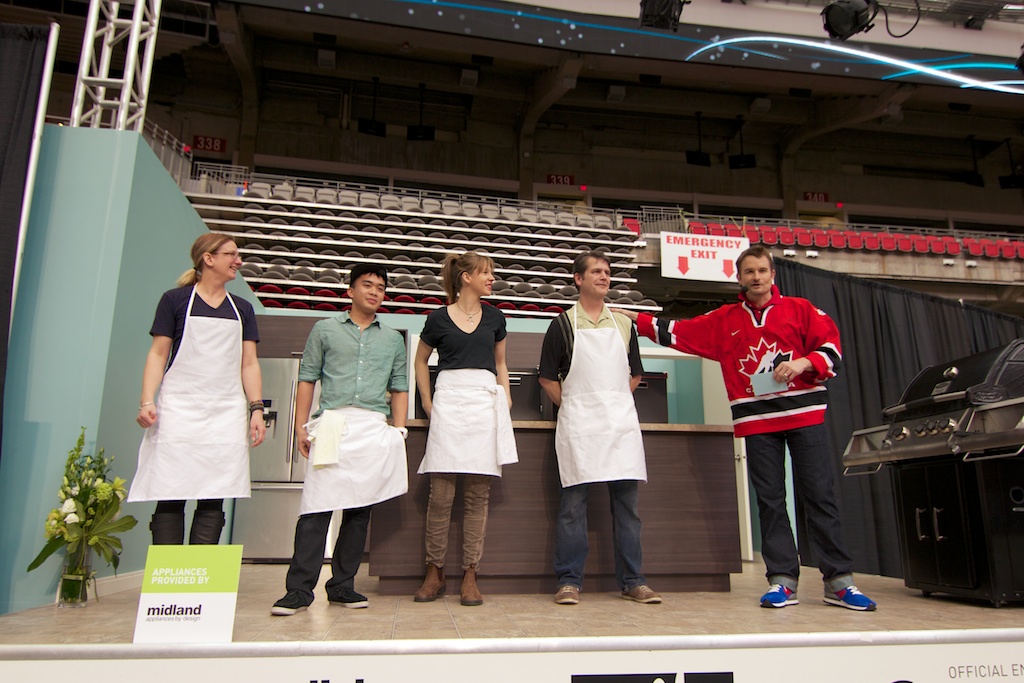 (from the left)
Debbie: One who cooks for 50 homeless children per day in Abotsford with ingredients from the local food bank
Zhao: A young home cook with high ambitions and fiery passion
Allison: A food prop/stylist from Toronto who currently works at The Dirty Apron
Jason: A graphic designer dad based in Salt Spring Island who opened his own restaurant (Ganges Street Food)
And who can forget the gatekeepers of the competition, the judges: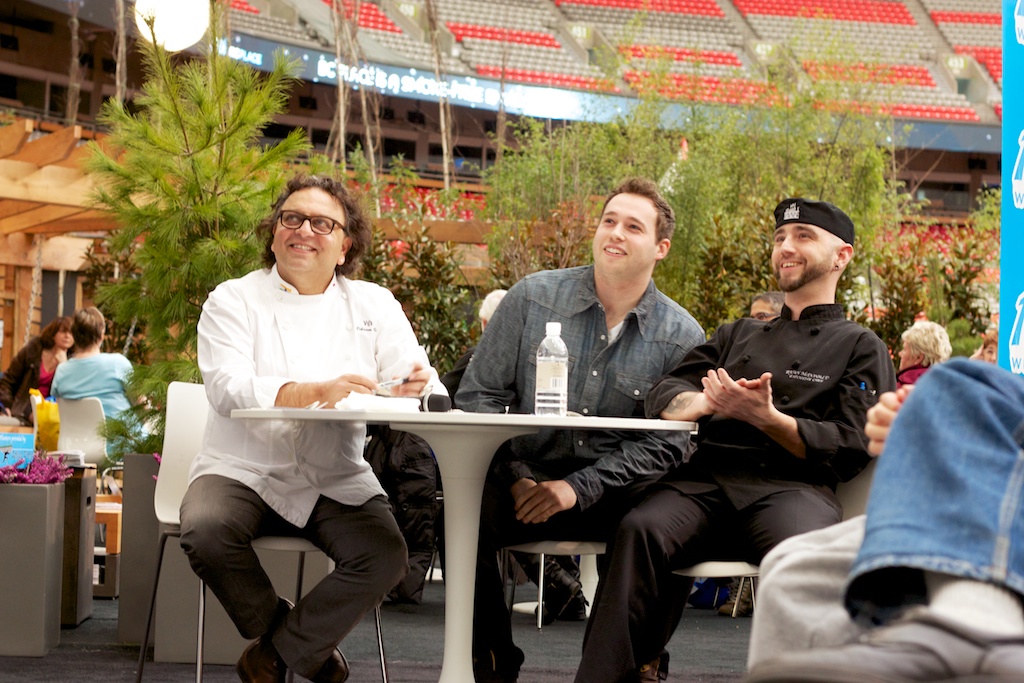 (from the left)
Vikram Vij (Executive Chef & Owner of Vij's and Rangoli)
The Peak 102.7's Clint Herman
Ryan McDonald (Executive Chef of Urban Fare)
Mystery Box 1 (Appetizer) : Kale, ginger beer, coconut milk, maple syrup, and kangaroo meat
Creations:
Grilled ginger beer marinated kangaroo with a coconut milk crepe stuffed with kale and red peppers
Kale chips and curry with spiced kangaroo on a bed of sweet peas
Stuffed kangaroo
Pakoras with panko fried kangaroo topped with tamarind sauce
Mystery Box 2 (Entrée) : Beet root, eggplant, horseradish, bear honey, and wild salmon
Creations:
Salmon beetroot chimichanga
Babaganoosh and simple grilled salmon with hibiscus lychee iced tea
Nut crusted salmon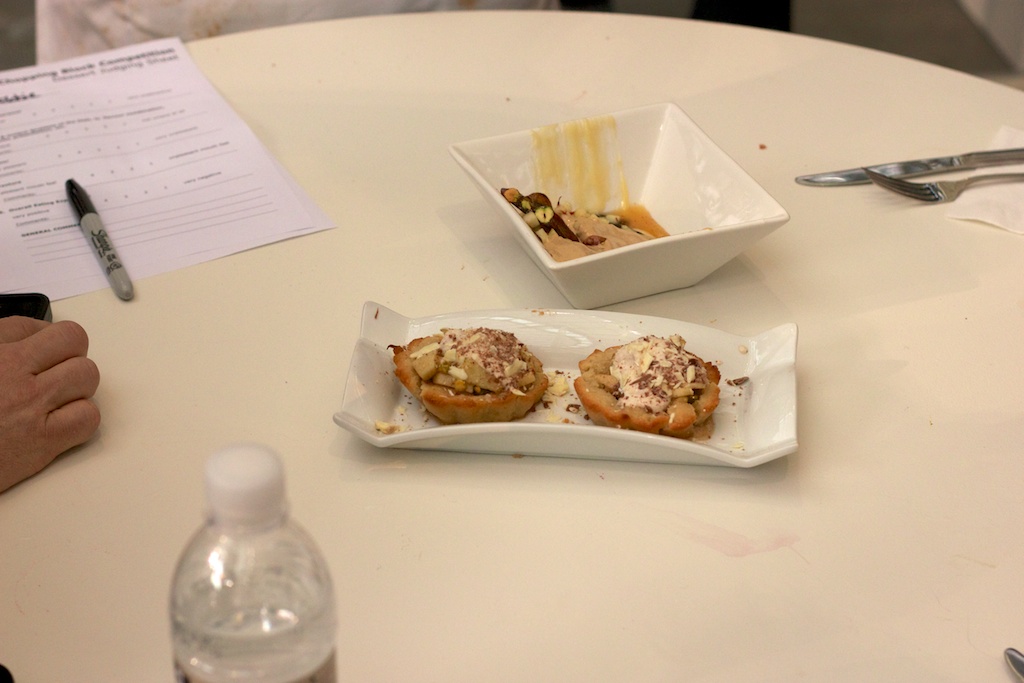 Mystery Box 3 (Dessert) : Apple, pistachio, honey, white chocolate, dark chocolate, milk chocolate, and cherry coke
Creations:
Apple stuffed coca cola cookie with chocolate drizzle
Cherry cola sabayon with cherry brittle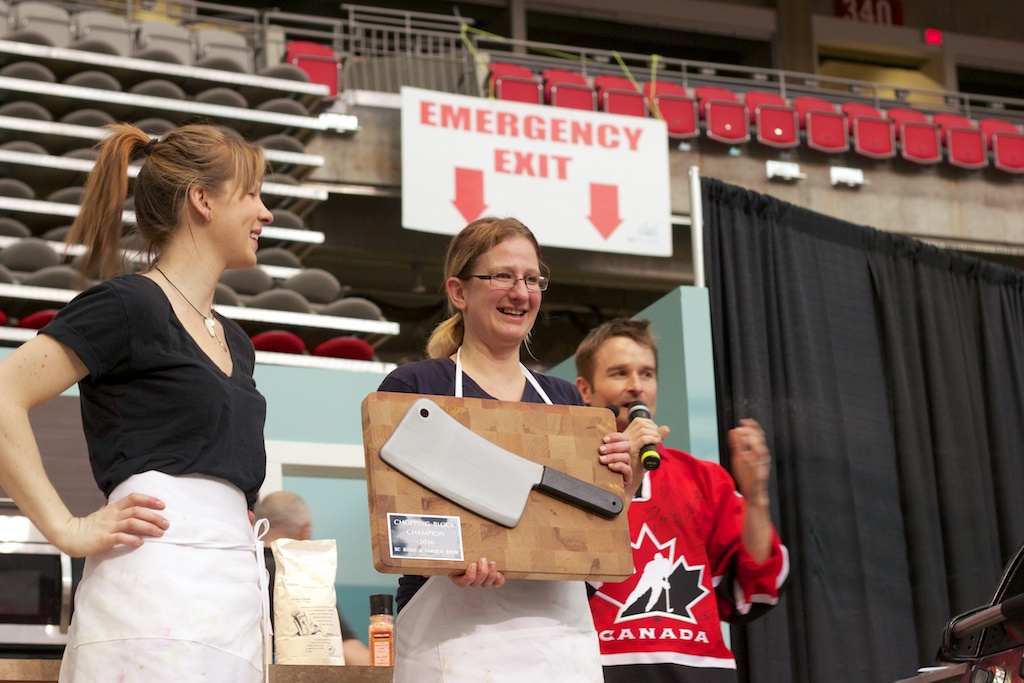 After 2 hours of messy kitchen space and delicious aromas floating through the air, Debbie comes out the winner of the 2014 Chopping Block competition at the BC Home and Garden Show and will be going on a culinary Helijet adventure with Ryan McDonald of Urban Fare.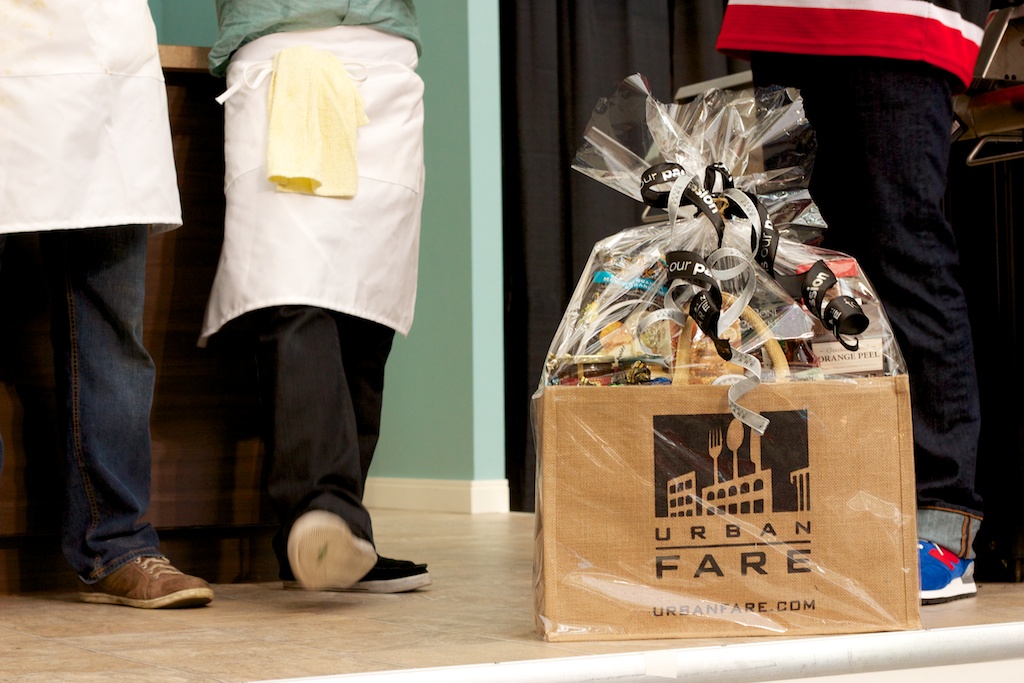 My favourite piece of advice from Vikram Vij was,
"Have a game plan and stick to it and try to incorporate your travels or heritage into your dishes to make them unique".
What would you have made? Let's hear some of your unique creation suggestions!