Festival Preview Event at a Surprise Venue featuring Cocktail Jockey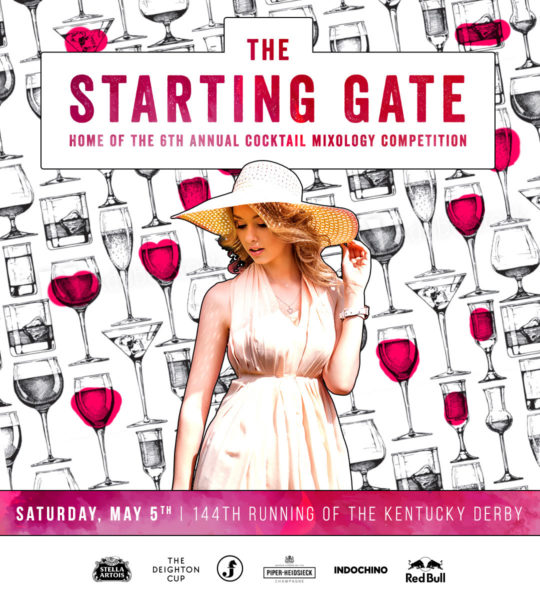 With just a few short months until the 10th Annual Deighton Cup, we're ready to kick things off with the return of the official Deighton Cup preview event, The Starting Gate. Excitedly, this year's launch party will also be the home of the Cocktail Jockey Mixology Competition, a tradition celebrating its sixth year.
We invite you to join us Saturday, May 5th, at a Secret Venue, for the running of the 144th Kentucky Derby. Traditional race day fare, fashion-forward friends, and craft cocktails will be the agenda for our celebration. Beyond the excitement of the Kentucky Derby, we will be bringing along a couple of very special mixologists to stir up traditional derby day libations and crowning one the 2018 Boothby Julep mixology champion! And if you're interested in what to wear, take a look at our photo gallery from last year's Starting Gate Preview Event and Cocktail Jockey.
Tickets for The Starting Gate are only $15 and include a welcome beverage. Book your spot through the link below.
WIN A PRIVATE BOX AT THE DEIGHTON CUP
It's with great excitement we announce the return of our official Starting Gate contest. The catch is simple, bring 3 (or more) friends and be entered to win a Grandstand Private Box for 4 people ($650 value) to the 10th Annual Deighton Cup. Chances of winning are 1 in 25.
Those wishing to enter must purchase tickets together, in addition to being present at the event to claim their prize. The winners will be announced at The Starting Gate on Saturday, May 5th.
The Deighton Cup presented by Parade Agency and The Social Concierge
Copyright © 2018 The Deighton Cup, All rights reserved.
The Deighton Cup Productions
196 West 3rd Avenue
Vancouver, BC  V5Y1E9
Canada