MyVanCity.ca is sharing 15 days of Cocktail recipes for the Dr. Peter AIDS Foundation Pride Crawl Fundraiser taking place at 45 Cocktail Bars and Lounges in Vancouver July 14 – August 6
Bars and restaurants across Vancouver will stand proud and pledge their support to the Dr. Peter AIDS Foundation this July and August by taking part in the inaugural Pride Crawl Fundraiser to generate financial support for the Dr. Peter Centre in the city's West End.
Ipanema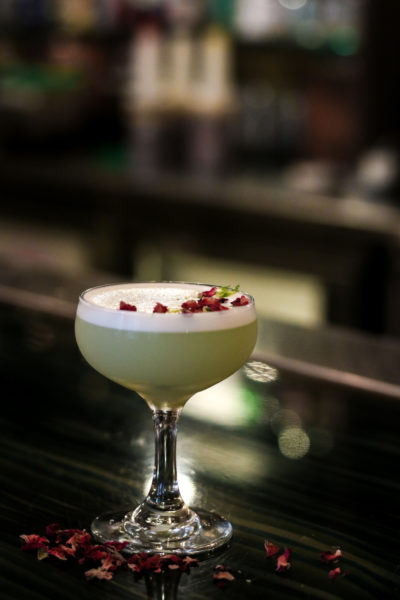 RECIPE
Ingredients:
½ oz cachaca
½ oz cointreau
¾ oz fresh lime juice
½ oz simple syrup
3 drops rosewater
1 egg white
1 bird's eye chilli
4 fresh mint leaves
rose petals and lime to garnish
Method:
Add all liquids and the egg white to a cocktail shaker and dry shake.
Add chili, mint and ice to shaker and shake hard.
Double strain the mixture into a chilled coupe glass.
Garnish with lime on top and delicately placed rose petals.
Cocktail Name: Ipanema
Price: $12 with $4 donated to Dr. Peter AIDS Foundation
Description:
Cafe Medina's resident Brazilian bartender Thiago Alves puts his own unique twist on Brazil's national drink with his fresh and floral Ipanema cocktail, named for a vibrant beachside neighbourhood in the heart of Rio de Janeiro. Featuring a base of cachaça, Cointreau and fresh lime, the addition of egg whites creates a frothy texture while chili, rosewater and fresh mint leaves deliver spicy, botanical notes that elevate the Caipirinha-style cocktail to the next level. Garnished with rose petals, the fragrant green-hued libation evokes the natural beauty of its sunny South American namesake.
Restaurant: Café Medina
Bartender: Thiago Alves
Instagram: @medinacafe
Twitter: @CafeMedina
Facebook: /medinacafe
Website: medinacafe.com