Everyone knows that La Terrazza is a great restaurant so I knew going in that lunch would be good but I had no idea that it would be so exceptional.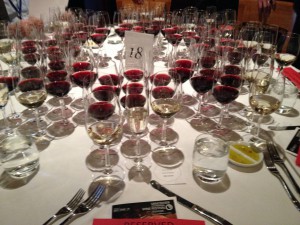 As one of three media attending the lunch we were each assigned to a table. I was fortunate indeed to be seated with Luc Desroches, Principal (Sales Manager Director) of Masi Agricola. Handy for a wine novice like me to sit right next to a wine expert who thoughtfully shared his extensive wine knowledge with me.
In typical Italian fashion lunch starts with a glass of Villa Terrace Rosé Veneto Vino Frizzante while the guests meet and mingle in the foyer graced with a grand bar that separates the entry from the spacious dining room.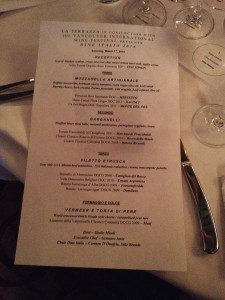 Dine Italia is one of the wine lunches held in conjunction with the Vancouver International Wine Festival. Wineries participate with a focus on marketing their wines to the general public by introducing their wines at the Tasting Room of the festival, or as in this instance, featuring their wines at a lunch or dinner. Media plays a role in promoting the wines and educating their readers who may not have had an opportunity to attend.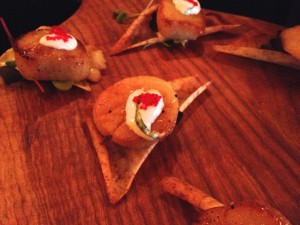 During the Reception we enjoyed Seared Alaskan scallop on a crispy tara root chip with meyer lemon basil aioli, and tapiko caviar that paired perfectly with the Rosé.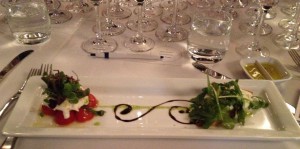 Now it's time to take our seats and get started on this fabulous lunch that was to be paired with twelve wines. Primo course was Mozzarella Artigianale featuring Buffalo mozzarella, heirloom cherry tomatoes, extra virgin olive oil, herb salad and Burrata cheese, herb crostini, Parma prosciutto, wild arugula, and basil infused olive oil. This duo of deliciousness were paired with Mionetto Prosecco Doc Treviso Brut, Maso Canali Pinot Grigio Doc 2012 Trentino, and Monte Del Fra Ca Del Magro Custoza Doc Superiore 2011.
Next the Secondo course Garganelli with Truffled bison meat balls, seasonal mushrooms, parmigiano reggiano cream paired with a trio of excellent wines. Marchesi di Frescobaldi Tenuta Frescobaldi Di Catiglione 2011, Rocca della Macie Chianti Classico Riserva di Fizzano DOCG 2010 and a Castello di Brolio Barone Ricasoli Chianti Classico Colledila DOCG 2010.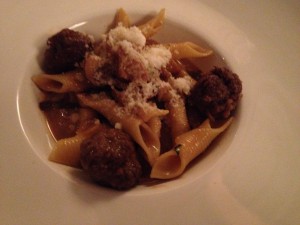 On to the Terzo course a Filetto Etrusca of sous vide AAA Alberta beef tenderloin, 25yr balsamic reduction, and creamy mascarpone polenta paired with four great wines. Castiglion del Bosco Brunello di Montalcino DOCG 2008, Tenuta Argentiera Villa Donoratico Bolgheri DOC 2010, Fontanafredda Barolo Serralunga d'Alba DOCG 2009 and a Damilano Barolo 'Lecinquevigne' DOCG 2009.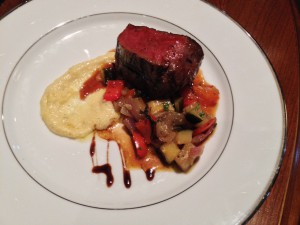 Of course always the best is saved for last. Formaggio E Dolce Vermeer e Torta Di Pere. A world renowned Dutch Gouda style cheese and Caramelized Pear Tart paired with Masi  Amarone della Valpolicella Costasera DOCG 2009.

In conclusion Dine Italia was not just a lunch, Dine Italia was an occasion!  I highly recommend  La Terrazza for lunch or dinner. The ambience is old world luxury meets modern Yaletown with wonderful, authentic Italian cuisine fused with just a touch of nuovo. All the wines poured were excellent and would make a welcome addition to your wine cellar or to enjoy tonight.
With special thanks to Mr. Luc Desroches of Masi Agricola, my table mate, and our consummate host Mr. Giulio Miceli, Sommelier and Proprietor of La Terrazzo, his staff and all the participating wineries for making this event possible.