The team at Okanagan Crush Pad is thrilled to announce the arrival of Baby Bub. On June 20, 2014 at 5:30pm 3,600 – 375 ml bottles, weighing 3,240 Kg, were bottled at the winery, just in time to enjoy summer.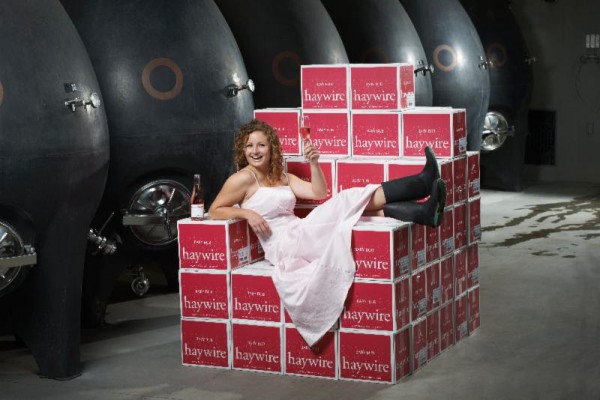 Baby Bub was crafted by Jordan Kubek, Okanagan Crush Pad's cellar assistant with direction from chief winemaker Michael Bartier. "The Baby Bub is tasting fresh, fruity and fabulous", noted Jordan, "and I am very happy with the results. We stayed consistent with the 2012 Pink Bub giving Baby Bub six grams of residual sugar. I love the texture as it has quite a bit of yeasty fullness. Although it is a new born, the bubbles are quite fine and you can see the direction the wine will take as it ages."
The wine was made in the classic style using Chardonnay and Pinot Noir grapes with secondary fermentation occurring in the bottle. It was hand riddled and warm disgorged with a red wine dosage being added at final bottling. Like its bigger siblings, Baby Bub is closed with a crown cap ensuring that cork taint does not interfere with the wine.
This tiny bottle is a young, bright shade of pale rose and is packed full of raspberry, strawberry patch and lime zest character. Its singularly distinctive taste is gun flint which lends a smokey, stoney edge to the wine and keeps it in balance with its more berry salad side.
The first 100 cases of Baby Bub is being released this July long weekend at the winery and through the order desk exclusively. Priced at $13.90 and delivered in 12 – 375 ml bottle cases, sporting hot pink artwork, Baby Bub is sure to be a big hit this summer.
Located in beautiful Summerland, BC, the winery overlooks Switchback vineyard, an organic site that is also home to roaming sheep and chickens. Okanagan Crush Pad crafts wines that are symbolic of the region's unique high mountain/northern desert setting which has an intensely hot, short growing season with hallmark cool evenings. The winery is the first in Canada to extensively use concrete tanks and wines that are fermented and aged in concrete carry the Raised in Concrete™ designation.
Visitors to the guest center, built right into the heart of the production facility, get a rare glance into the art of winemaking.
Okanagan Crush Pad is a place for collaboration; we want to talk to you!