Summerland's Okanagan Crush Pad, which opened in 2011, has long been a facility which smaller producers utilized to get their wines made and bottled.  In addition, they also made their own wines under the Haywire label.  Over the years, they added the Narrative series and more recently the Free Form label.  Why three different brands?
Haywire
These wines are made with grapes from their Switchback estate vineyard.  The portfolio includes Pinot Gris, Chardonnay, Pinot Noir, Gamay and traditional method sparkling wine.
Narrative
"Narrative was introduced in 2014 and is a collection of wines and spirits made from grapes sourced from independent growers across the Okanagan.  Narrative wines and spirits vary from year to year to showcase the best that each season gives."  Narrative tells the story of the Okanagan.  The lineup includes Riesling, Syrah, 'Ancient Method' sparkling (bottled during primary fermentation), 'XC' a Charmat (tank) method sparkling wine (XC – 90 days secondary fermentation), a neutral spirit called 'Spirit of the Vineyard' and '12 Botanicals' gin round out this label.
Free Form
This series debuted in 2018.  Following the popular trend for organic foods, these wines are made with no-to-minimal intervention from organic grapes grown in Summerland.  They are bottled with a label made from eco-friendly stone paper (no trees or water are used in its production).
Currently, Okanagan Crush Pad (OCP) produces about 45 000 cases of wine, most of which are their own labels.  Contrary to the approach that many other wineries took, OCP prefers to have little to no oak influence in their wines, so instead of rows upon rows of oak barrels lining the winery, you will see egg-shaped concrete fermenters, stainless steel tanks and clay amphora.   "Less is more", is the OCP philosophy – grow the best grapes possible, treat them gently and then stay out of the way.  Let the grapes show you their true expression.
Matt Dumayne is the head winemaker.  Raised in New Zealand, he has been with OCP since it opened.  Having worked as a consultant for many other BC wineries, Matt's winemaking skills are well known and highly respected.
Their Secrest Mountain Vineyard is located just north of Oliver.  This 50-acre site (38 planted to vines) is atop a south-west flat bench.  It is a cool site comprised of alluvial soils combined with gravel, sandy loam and limestone.  This vineyard began conversion to organic in 2014.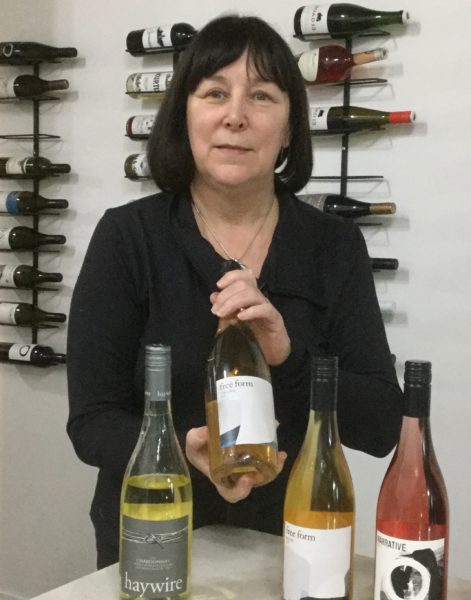 I recently had the opportunity to chat with Christine while she was in Vancouver and taste through some of her wines.  She mentioned that OCP is planning on phasing out their custom crush operation as they need the space for their own wines as they continue to grow.   A 10 000 square foot addition is being planned to provide storage space.  2018 saw yields increased by 15-20%.  OCP recently acquired two new winemakers, Lindsay and Steven who will assist Matt Dumayne.
Okanagan Crush Pad is increasing their vineyard plantings on Secrest Mountain which will mean more Sauvignon Blanc, Cabernet Franc and Pinot Meunier along with another twelve acres at the Garnet Valley site planted with Chardonnay, Pinot Noir and Pinot Meunier.
I was pleased to hear that they soon plan to add brandy to their spirit portfolio which currently features vodka and gin.
New Charmat tanks for sparkling wines are on the way, along with six new amphorae and some large format oak vessels. They have also hired a mechanic to take care of all their equipment.
Here are the wines we tasted: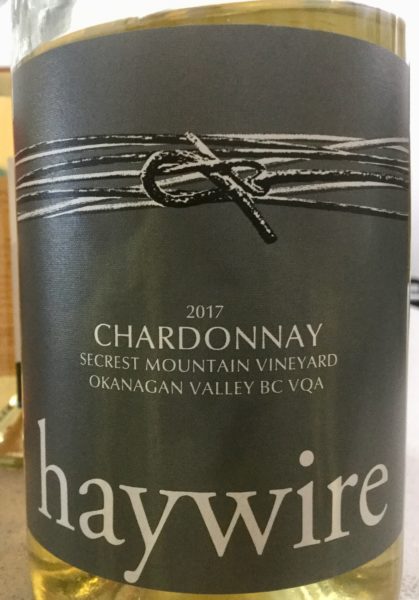 Haywire Secrest Mountain Chardonnay 2017                       $24.90
Whole bunch pressed into concrete tanks using native yeasts followed by malolactic fermentation.  Aged on the lees for eight months, resulting in a creamy texture.  Lemon-yellow colour with medium intensity.  Aromas of pear, apple, citrus and minerality on the nose.  Good balance with good mouthfeel.  The flavours follow the nose.  A medium-plus, creamy finish.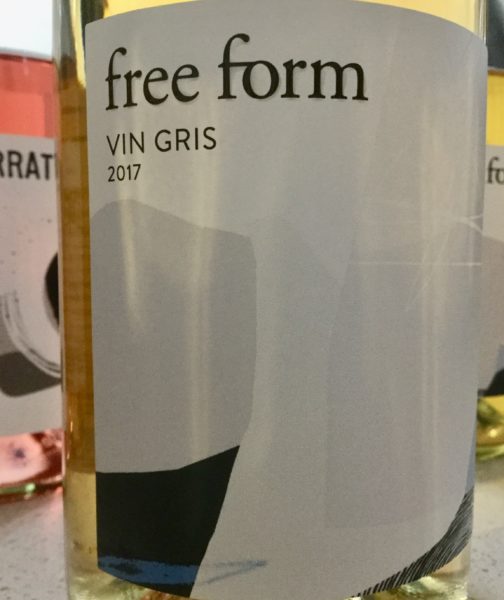 Free Form Vin Gris 2017                                                         $26.90
Pinot Noir grapes were whole bunch pressed and fermented with native yeasts in concrete tanks.  Bottled unfiltered six months later.  440 cases made.  Coppery tinged with medium-minus intensity.  A delicate floral nose with tree fruit notes.  Clean and fresh on the palate.  A medium-plus finish.  A very versatile food wine – smoked salmon creamy pasta sounds perfect.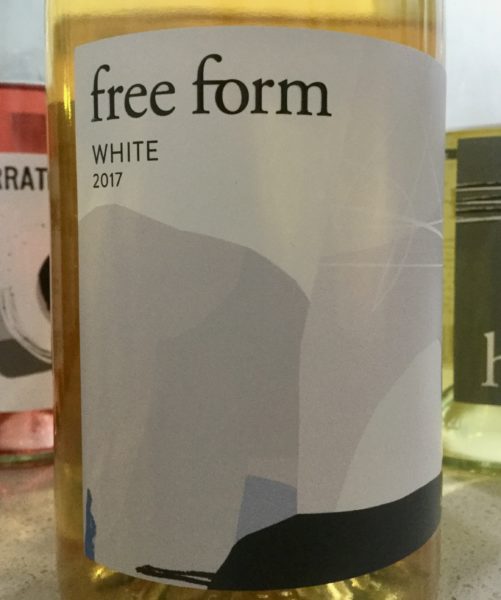 Free Form White 2017                                                            $29.90
A blend of three grapes and three vineyards give this wine its signature style.  Pinot Blanc leads the way with Chardonnay and Viognier playing lesser roles.  The three were fermented separately with native yeasts and then blended and aged in a large concrete tank prior to bottling.  Yellow straw tinged with orange in colour with medium intensity.  This wine speaks to its terroir, with tropical fruit and dried herbs on the nose.  It is lean and clean with medium body and delicate on the palate.  Noticeable tannins for a white wine.  Its unique character will really appeal to those looking for something out of the ordinary.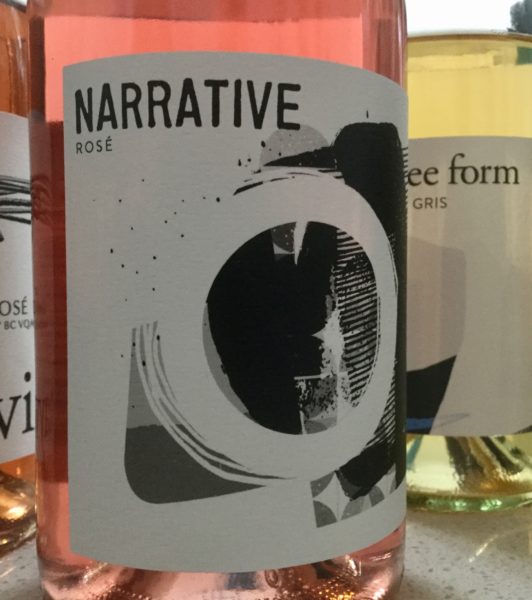 Narrative Rosé 2018                                                               $19.90
Summerland and Oliver grapes are used in this blend.  Twelve hours of skin contact give this wine its attractive colour.  A blend of red and white grapes results in a cherry pink colour with medium-minus intensity.  This wine smells like summer – cherries, strawberries and cream.  Good balance, bright with a creamy texture.  Big bright fruit on the palate.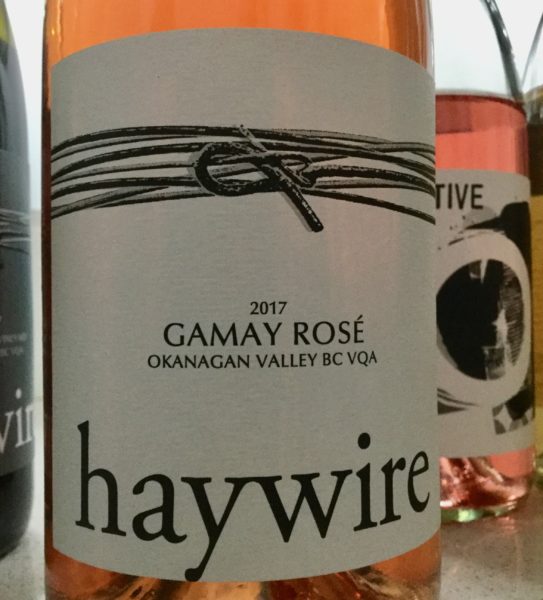 Haywire Gamay Noir Rosé 2017                                             $22.90
From Secrest Mountain vineyard, these grapes were fermented in stainless steel and concrete tanks using native yeasts.  Classic rosé colour with a hint of orange with medium-minus intensity.  Good balance.  Bright and pleasing on the palate followed by a medium-plus finish.  This is a big rosé.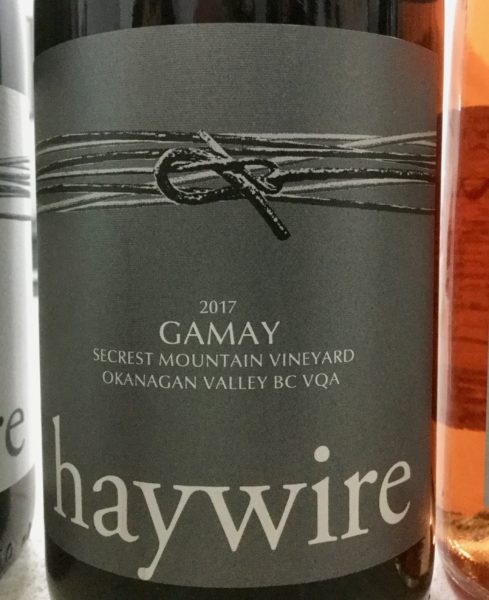 Haywire Secrest Mountain Gamay 2017                                $24.90
A mix of destemmed grapes and whole cluster (for carbonic complexity), fermented in both open top and concrete prior to aging in large concrete tanks for eight months.  Garnet red with medium-plus intensity.  Good varietal character on the nose, especially dark cherry, raspberry, violets and earth.  Good balance with medium body.  Bright fruit on the palate, followed by a medium-long finish.  Impressive.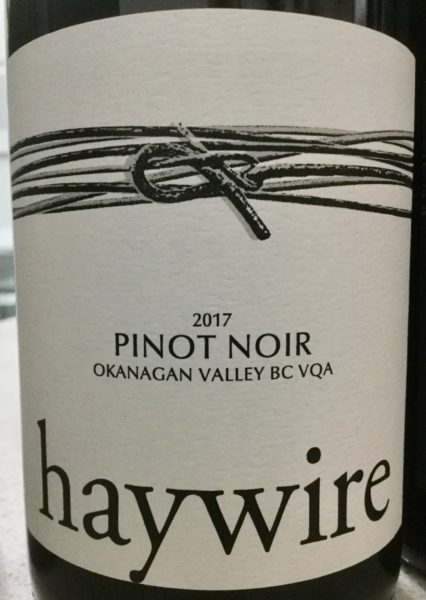 Haywire White Label Pinot Noir 2017                                    $26.90
Native yeasts were used to ferment these Secrest Mountain grapes in two small clay amphorae and two large concrete tanks.  The amphorae wines were nine months on the skins prior to blending with the wine in concrete.  Garnet red with medium-plus intensity.  Dark fruit, spice and earth on the nose.  Good balance.  Flavours echo the nose followed by a medium-plus finish.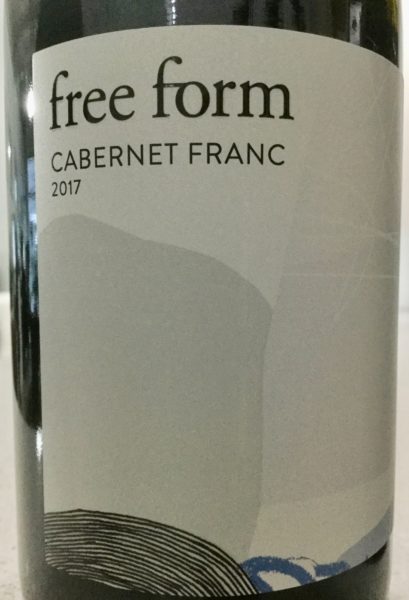 Free Form Cabernet Franc 2017                                             $39.90
From the certified organic Esther Vineyard in Kaleden.  Fermented with native yeasts in two clay amphorae and three large oak vessels.  After eight months of skin contact, the wine was pressed and blended into a concrete tank to settle and clear naturally prior to bottling.  Terroir driven wine with lots of varietal character on the nose and palate.  Slightly grippy tannins at present, so let this one rest for a bit.  This wine improved noticeably with time to breathe.
One winery, but with a variety of wines that show their "sense of place" whether the grapes come from their high-altitude Garnet Valley vineyard, the certified organic home Switchback sites or from further south at their Secrest Mountain vineyard.
Okanagan Crush Pad is one of the most innovative wineries leading the way in BC and gaining attention on the world stage.  Be sure to give their wines a try and see what all the excitement is about.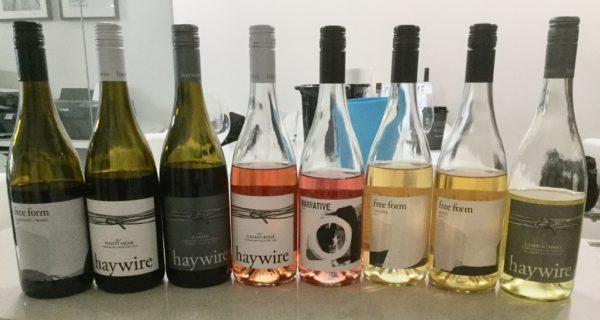 (Prices shown are at the winery)
(All photos – Sam Hauck)