BC Wineries to Visit at Wine Fest 2019
A Quick Guide to Some of the Vancouver International Wine Festival's 
Best BC Wineries
The Vancouver International Wine Festival returns Feb 23 – March 3
We have BC winery PR clients whose booths you must visit:
TIME Winery
Narrative
Free Form
North America's Best International Wine Festival
The Vancouver International Wine Festival, Canada's premier wine event, will be returning for its 41st year with wine tasting, seminars, performing arts and delicious food to create multiple memorable events from February 23 to March 3.
The Vancouver International Wine Festival is one of the biggest and oldest wine events in the world, offering something for every level of wine drinker, collector, and trade professional. This year, winery principals (winemaker, proprietor, senior executive) representing 160 wineries from 15 countries will travel to Vancouver to pour and discuss their wines at 54 events over eight days. Each year, this international festival shines the spotlight on one country or region; 2019's focus is on California.
More than 725 Wines to Try
The heart of the festival is the International Festival Tastings at the Vancouver Convention Centre, where ~725 wines are available for sampling, with an additional ~145 wines available at trade tastings. The theme country or region (this year, California) has a special section of the tasting room, showcasing their wineries and style. The room also features regional tasting stations, food suppliers and industry exhibitors, including media and suppliers.
Must-Visit BC Winery Booths
Town Hall Brands does PR for several BC wineries, and we are excited that a few of them are in this year's festival. Pop by their booths for a taste and to meet some of BC's most incredible personalities in wine.
TIME Winery
TIME Winery is located in the heart of Downtown Penticton surrounded by the Okanagan's best vineyards. Wine country comes to you.
Built within a revitalized historic theatre in downtown Penticton, the heart of South Okanagan wine country, TIME Winery & Kitchen offers a tasting bar, lounge and intimate outdoor patio for guests to enjoy.
This winery is the latest innovation from BC wine industry pioneer Harry McWatters, as he continues to define the next generation of BC wine and winemaking. The wines are made by renowned BC winemaker Graham Pierce, supported by winemaker Nadine Allander. Together they are committed to creating wines that express the unique flavours of Okanagan wine country.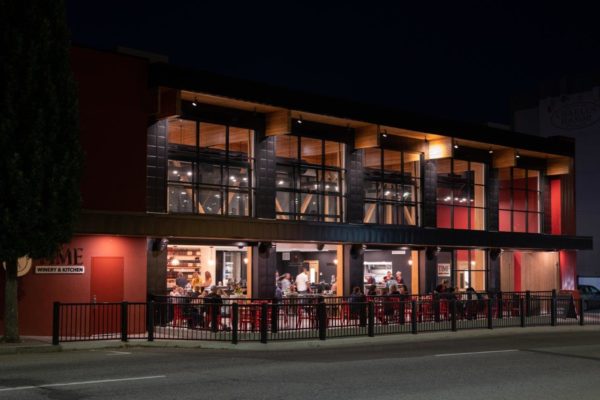 Who to meet from TIME Winery
Meet The Grandfather of the BC Wine Industry – TRADE TASTINGS ONLY
Harry McWatters is the owner and winemaker of TIME Winery and is a leader in the thriving British Columbia wine industry, in which he has been involved for more than 50 years.  He was the founder of British Columbia's first estate winery and has been the driving force in the development of British Columbia's wine industry. In 1980 he led a group of wineries and local businesses to establish the Okanagan Wine Festival and acted as the founding president. Harry was also instrumental in founding VQA Canada, a trade association that spearheaded the development of national wine standards for Canadian vintners and served as their first chairman.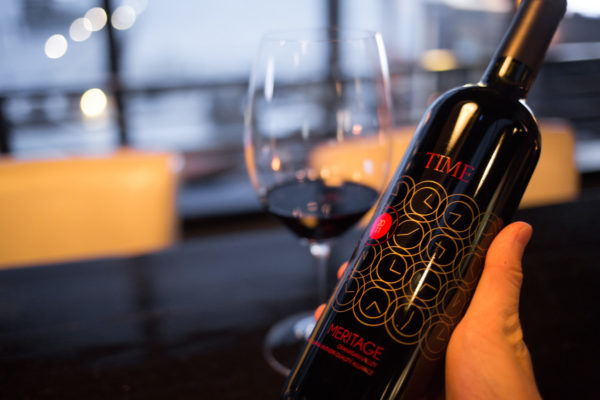 Graham Pierce, director of winemaking, TIME Winery
With more than a decade of experience producing award-winning wines in the Okanagan, Graham Pierce is a local British Columbian who grew-up in Horseshoe Bay, and received his winemaking and viticulture education from the Okanagan College in Penticton.
Prior to joining the TIME Winery team as director of winemaking in 2018, Graham had a stint as chef at Kelowna's Summerhill Pyramid Winery before establishing a proven track record of producing exceptional BC wines including those from Mt. Boucherie Estate Winery in West Kelowna and most recently, the premium Nota Bene from Black Hills Estate Winery in Oliver, BC, where he had been for 10 years.
Graham's in-depth understanding of the Okanagan wine region and extensive winery operational knowledge, combined with his viticulture and winemaking experience, has allowed him to maximize the freshness of hand-picked and harvested grapes to create both aromatic whites and balanced, big reds that truly express the terroir of BC.
When Graham is not working in the vineyard or cellar, he is usually riding his bike on beautiful Okanagan back roads – he is a super-cycling Gran Fondo racer.
Christa-Lee McWatters, sales and marketing director for TIME Winery
Christa-Lee is the sales and marketing director for TIME Winery.
Christa-Lee has been part of the BC wine industry since birth. Growing up as the daughter of BC wine ambassador Harry McWatters instilled in her a true appreciation for and love of wine – which included her making wine when she was nine years old (not for her own consumption, of course).
She was involved in planting vineyards with her father and brother Darren on the Black Sage Bench in the early 1980s. In 2000, Christa-Lee held key roles in sales, marketing and hospitality for several successful Okanagan wineries, at the same time!
Today, in the spirit of giving back, Christa-Lee serves on several boards. She is currently chair of the British Columbia Wine Institute, director of the Canadian Vintner's Association, and a member of les Dames d'Escoffier.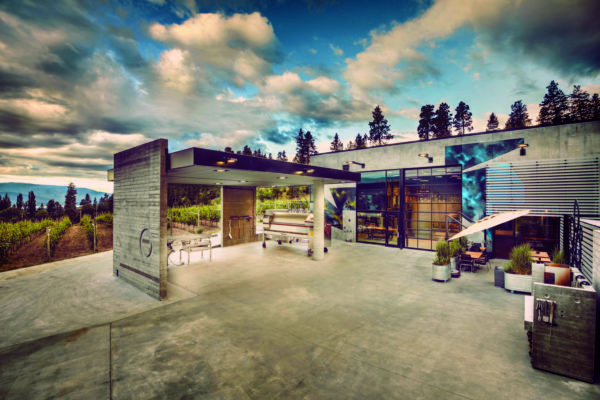 Okanagan Crush Pad
Okanagan Crush Pad has quickly established a reputation as a premium producer and has received many awards and accolades since its launch in 2011, with chief winemaker Matt Dumayne at the helm. While Christine Coletta and Steve Lornie created Okanagan Crush Pad as a purpose-built custom crush facility, increasingly, the facility is used to craft the team's own wines and now produces 45,000 cases annually.
From Okanagan Crush Pad, their own wines, Haywire, Narrative, and Free Form are made. Located in beautiful Summerland, BC, the winery overlooks Switchback Organic Vineyard, a site that is also home to chickens and ducks. Dumayne and his cellar team craft wines using concrete wine tanks, native yeast and minimal winemaking intervention. The wines reflect the region's unique high mountain/northern desert setting noted for its intensely hot, short growing season with hallmark cool evenings and winters that bring a protective covering of snow.
Visitors to the tasting lounge, set in the heart of this state-of-the-art facility, get a rare glance into the art of winemaking. Watch the cellar team in action, discover concrete tanks, and learn how the team composes wines that are definitive expressions of their vineyards.
TWO Tables to visit from Okanagan Crush Pad!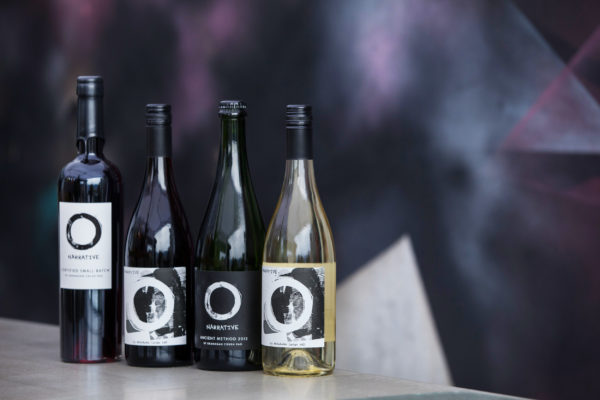 Narrative
Launched in 2014, Narrative wines and spirits are made at Okanagan Crush Pad in Summerland, BC. Okanagan Crush Pad's fundamental aim is to showcase what the Okanagan is best at: cool climate, aromatic, crisp, and lively wines and spirits, made exclusively from Okanagan grown grapes.
The Okanagan region is one of the rarest wine growing terroirs in the world, combining both an arid desert landscape and snowy winters with an intense, short growing season. Wines from this region are benchmarks for cool climate style, presenting vivid fruit flavours and fresh, natural acidity.
Narrative articulates this through chief winemaker Matt Dumayne's creation of unique blends and small lots of varietal wines made from grapes sourced from the top growers throughout the Okanagan.
Town Hall Brands is very proud to do both the PR and graphic design for Okanagan Crush Pad. Label artwork was the inspiration of Vancouver artist Scott Sueme, who painted the winery exterior with a graffiti that incorporates a complex pattern of geometric shapes in contrasting colours, interrupting and intersecting each other. The Narrative label embodies this design ethos and makes a bold and modern statement which symbolizes the new style of Narrative wines and spirits.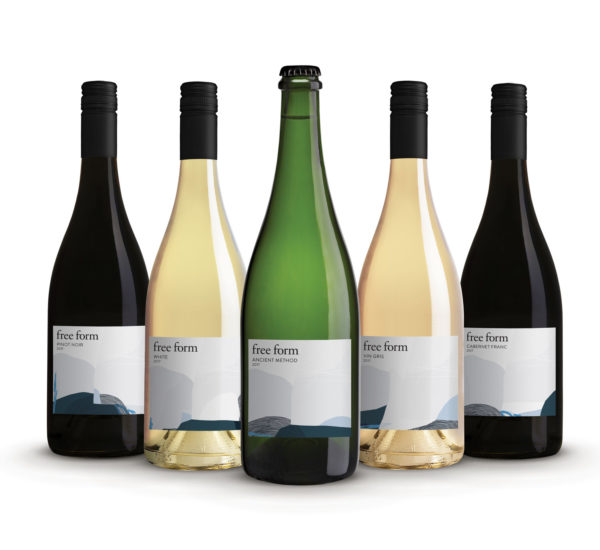 Free Form
In 2011, the team at Okanagan Crush Pad changed their winemaking philosophy and adopted new cellar practices. The focus became to make wines of place over predictability and commercial consistency year after year. Expect to see vintage variation and wines that celebrate seasonal impacts with Free Form demonstrating a snapshot of place and time, of what our land yielded that year. Free Form features five wines: an ancient method sparkling wine, a skin-contact white, a Vin Gris, Pinot Noir, and Cabernet Franc. Wines are made from organic grapes, native yeast, are free of additives, and each is left to find its own course under the watchful eye of Matt Dumayne.
Similarly to Narrative, the inspiration for the Free Form art was taken from the unique features of the Okanagan landscape where low hills and oblong lakes were formed by glacial activity during the final retreat of the ice more than 9,000 years ago. Large deposits of gravel, silt and sand were left behind in the valleys formed over time by water and wind. In the rain shadow of two mountain chains, large alluvial fans and deltas used for agriculture surround a chain of lakes, all once part of a larger glacial lake. The rain shadow creates a hot, desert-like dry climate, home to wild sage, bunch grass, cacti and rattlesnakes.
Leading Landscape Makes Way to Leading Packaging
The Town Hall Brands team is very proud to have created the package for Free Form. Vancouver artist Scott Sueme was asked to capture the raw beauty of these wines for the label art. The results are simplistic abstract landscapes symbolic of the Okanagan. Scott used black, grey and white mixed with soft colours, with bold and rounded rolling shapes and textures. Worked into each label is a small fingerprint pattern signifying the winery's low impact farming efforts. Each wine carries its own unique artwork.
With low impact farming and hands-off winemaking in mind, we introduced the idea that the Free Form wine labels be printed on stone paper – an innovative new product made from stone. The making of stone paper requires no air or water pollution and no harmful dyes, bleach or acids. No trees or water are used in the production process. Stone paper is waterproof and will not tear. It is made from reclaimed limestone and recycled concrete.
One ton of stone paper saves 20 trees and more than 60,500 litres of water. It is easy to see why this paper was the right choice for the Free Form wine labels – wines made without intervention adorned with an environmentally friendly label. By using this stone paper for Free Form, Okanagan Crush Pad is innovating.
In a country known for long, cold winters, this climate is unique. Wines are fermented in concrete tanks or clay amphorae. Extended skin contact is used, followed by a gentle pressing and further rest before bottling (free of rough handling and commercial additives, and little to no sulfites). In pursuit of "wines of place", the Okanagan Crush Pad team celebrates the inherent difference and pleasure of each vintage. Each is one of a kind – never to be repeated.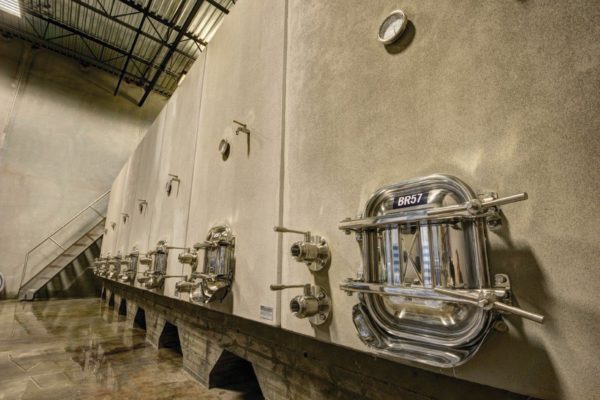 Who you might meet from Narrative and Free Form…
A Driving Force in BC Wines
Christine Coletta has been a driving force in the wine industry since 1990 when she joined the newly formed British Columbia Wine Institute as Executive Director. Over the next nine years Christine (tirelessly) championed BC wines, literally putting them on the map, both in their home market and abroad.
She then spent a decade working as a wine marketing specialist and had the opportunity to work with many great wine companies and national marketing associates. It was during a trade mission to Chile that the desire to own a vineyard and create something very special led Christine and husband Steve Lornie on their wild journey. Fast forward to 2019 and the pair now own and farm 400 acres of land in the Okanagan Valley – 100 of which are planted with organically-grown vines.
They also operate the highly successful purpose-built custom crush business Okanagan Crush Pad, where their own wines Haywire, Free Form, and Narrative are made), and a sales agency (HQ Wine & Spirits). Coletta and Lornie split their time between Summerland and Vancouver, BC. Back on the farm, where Coletta is most happy, sheep, chickens and ducks are minded by two adorable Great Pyrenees dogs. If you're looking for her, check there first.
Matt Dumayne, chief winemaker, Narrative and Free Form
Matt Dumayne was born and raised in Auckland, New Zealand. After completing Auckland University of Technology and Eastern Institute of Technology's wine courses in Hawke's Bay, he launched his winemaking career in 1998.
Matt worked for eight years under the guidance of Grant Taylor, one of the world's most awarded Pinot Noir winemakers. There he gained a unique understanding of the various micro climates and pockets of terroir that make the region so exciting, while creating wines for award-winning labels such as Bald Hills and Valli Vineyards. Wanting to make expressive, yet delicately balanced Pinots with savory complexity, Matt traveled to Oregon during the New Zealand winters, increasing his winemaking skills at Panther Creek Cellars, Archery Summit, Patricia Green Cellars, and Bergström Wines. He also made wine for a vintage each at Pine Ridge Winery on the Silverado Trail in Napa, and at Stella Bella Wines in Margaret River, Australia.
Matt has lived in the Okanagan Valley since 2011 and joined Okanagan Crush Pad in 2013. He has been integral in evolving the style of Okanagan Crush Pad's wine labels: Haywire, Narrative, and the most recently launched Free Form tier. He employs minimalist winemaking practices and focuses on expressing the unique terroir of the Okanagan. Critics praise his wines and he has been catching attenton worldwide for the work he is doing in BC/
Today, he lives on the winery's 320-acre Garnet Valley Ranch in Summerland with his two yellow labs, the Great Pyrenees, and the flock of sheep.
Mike West, Manager of Global Wine Sales, HQ Wines + Spirits
Mike West is the dapper Manager of Global Wine Sales for Okanagan Crush Pad. He arrived in Summerland from London, England with a drive to learn the wine business.  He joined the Okanagan Crush Pad team in 2012 and worked in the cellar and the wine shop.
While in Summerland, Mike earned the nickname "the Duke of Summerland" as he set a new dress code standard for the little town.
Mike relocated to Vancouver in 2016 to join the HQ Wine + Spirits team and continued his travels abroad to help support Okanagan Crush Pad's export initiatives. He now drives sales of the HQ Wines + Spirits import portfolio in BC and manages all of Okanagan Crush Pad's export efforts, which to date include select Canadian provinces, the UK, Sweden, Norway and southern US.
About Town Hall Brands:
Media release and images provided by Maddie Clerides, Town Hall Brands.
Something is wrong.

Instagram token error.