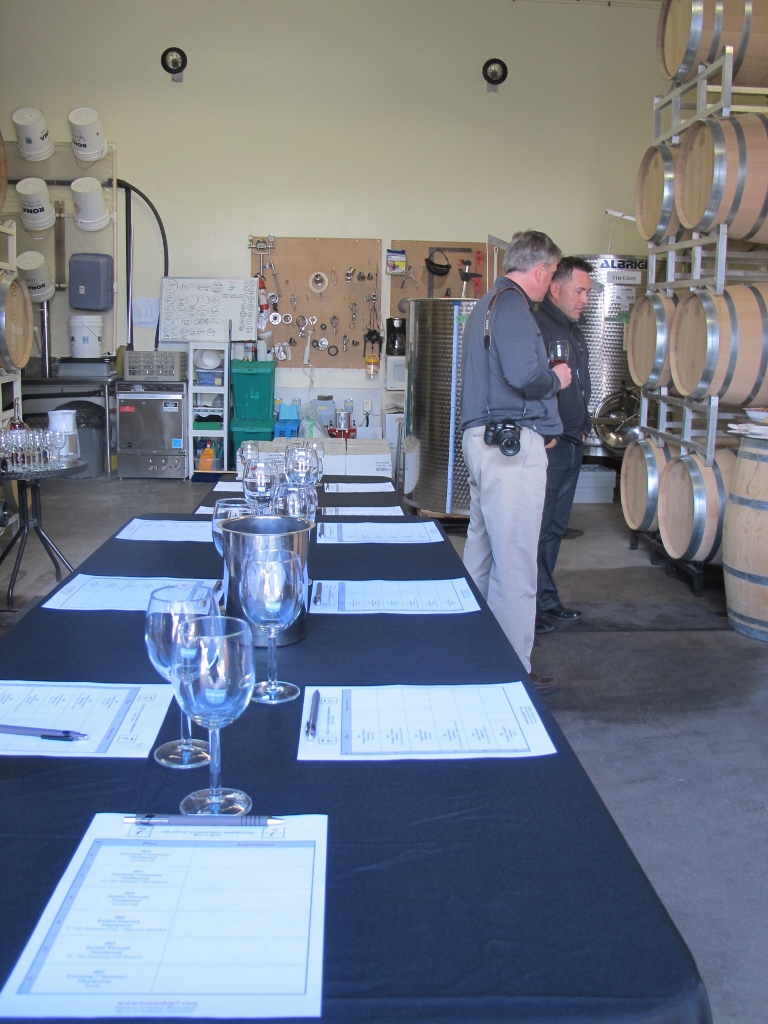 Awaiting us on the crush pad of Township 7 Winery (Naramata location) was a draped long table with a tidy arrangement of glasses, spittoon, pens, and charts amid oak barrels and steel tanks. Most of all what awaited was an unique opportunity to gain some insight into the winemaking of Bradley Cooper.
We had received an invitation from Township 7 and this time we would go beyond tasting their iconic wines to rolling up our sleeves to try "The Art of Chardonnay Winemaking" as we joined the call to be a "Winemaker for a Day" as part of the Okanagan Spring Wine Festival. As the enthusiastic group convened, we were handed a glass of springtime – in the form of the Township 7 2012 Rosé. It was a rosy introduction indicative of the convivial session ahead.
Brad led us through a systematic tasting of five samples of Chardonnay. Two were from the vineyard on the Naramata site and three were from the Sundial Vineyard further south in the Black Sage Bench. We learned how different components can dramatically affect the flavour and aroma of the "world's most popular white varietal." For each vineyard, there was an unoaked selection and one which spent time in year-old American Oak. The third treatment for the Sundial Vineyard vintages was year-old American Oak which was 36-month seasoned.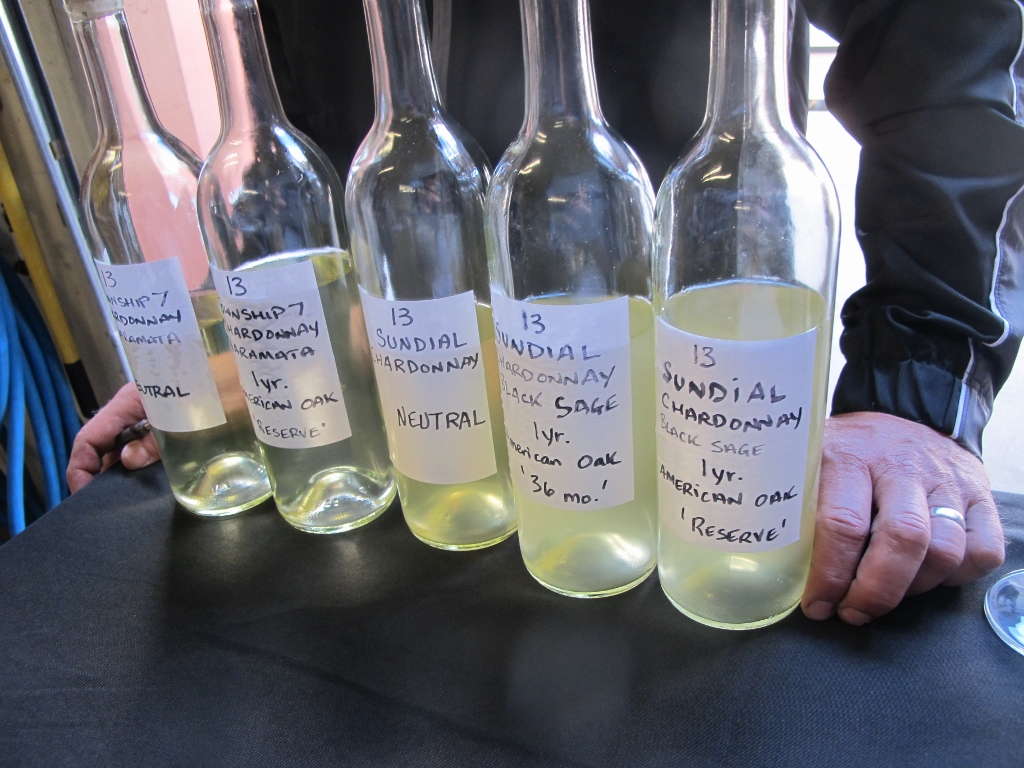 To assist Brad, Township 7 Manager Trevor Allen did the pouring and answered questions about club 7, the winery's membership program.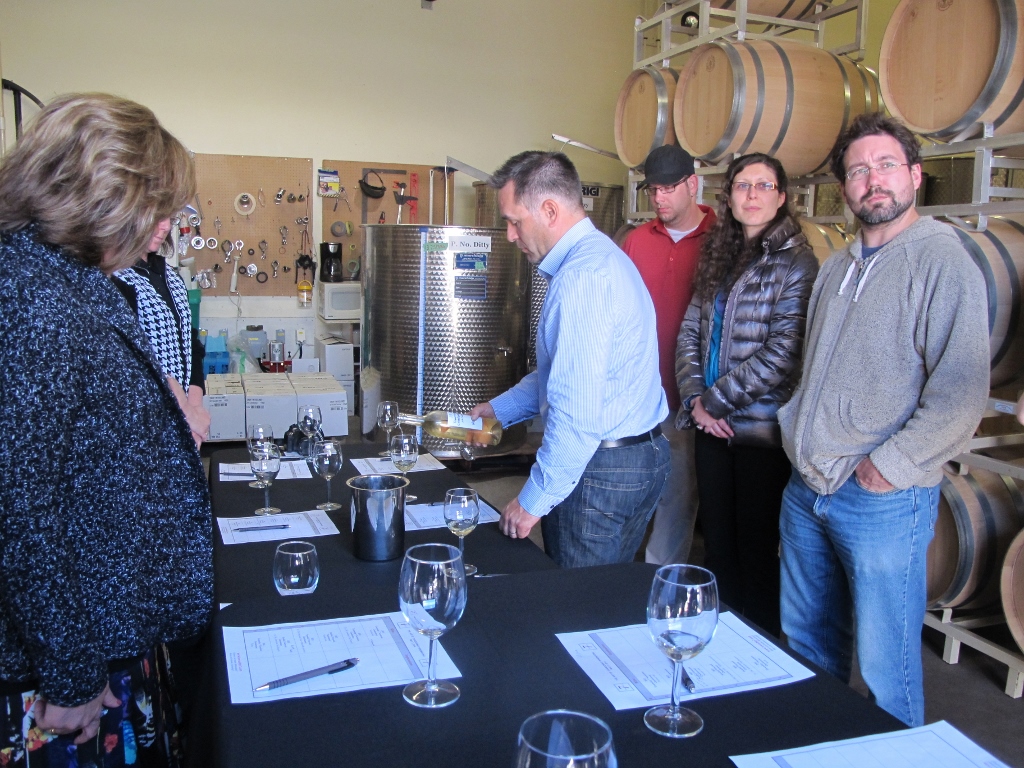 It was fascinating to smell and taste the unique characteristics imparted to each, a creamier fuller mouth on one, a tropical profile on another, then apple pie and more berry elements. We were even given the opportunity to sniff the empty oak barrels – one an $1,000 French Oak and the other a $500 American Oak, while Brad discussed the geography and qualities that it imparted.
Brad challenged us to attempt the "Art of Assemblage" and with that the beakers and measuring tubes were hauled out and the game was on! We nibbled on local cheese as we tackled our task. Some of us worked in teams while others competed against each other.
We also learned from Brad that if we were seriously working on the blend, we wouldn't be nibbling cheese at the same time. He said, "Cheese makes everything taste better while bread gives a true perspective. In the wine business, you sell wine on cheese and taste on bread."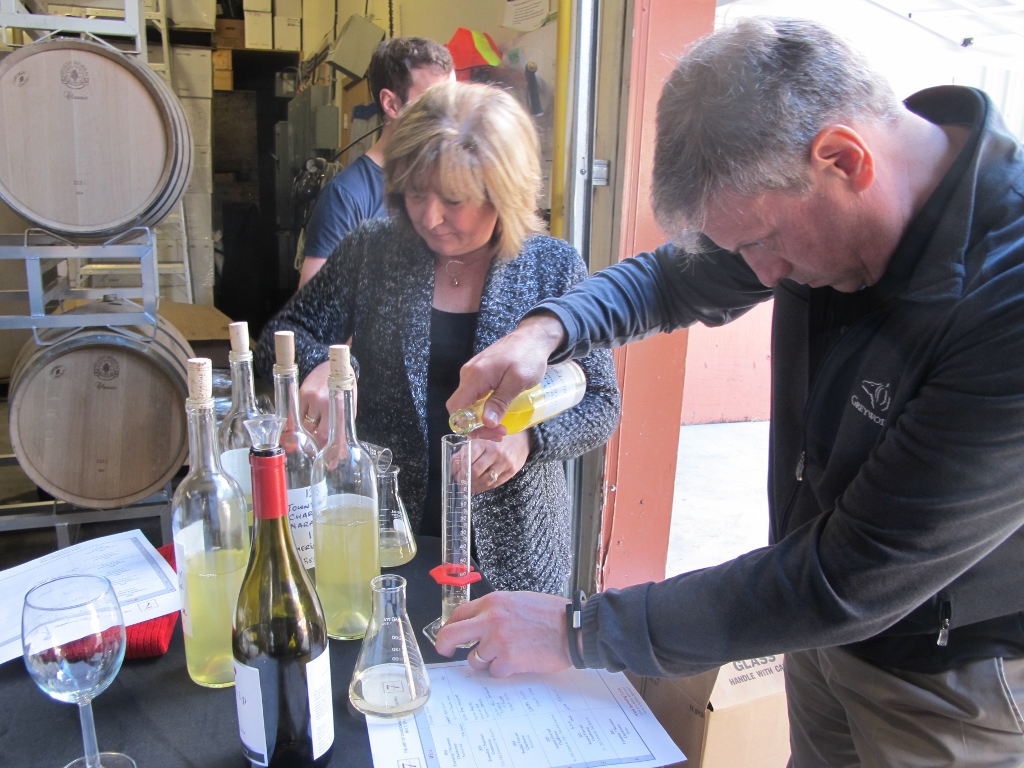 We all were eager to hear Brad's opinion about our blend. He was impressed with a number of the blends, and declared winners among those competing between each other. We were quite proud when he thought ours was "pretty good."
For the final comparison, we were then poured a glass of the Township 7 2012 Chardonnay as Brad walked us through the percentages he had used from the vineyards. The Township 7 award-winning wines have always been favourites of mine and through this event, I understood more fully how the balance was achieved. The aromas of apple pie and complex palate of local and tropical fruit became more apparent.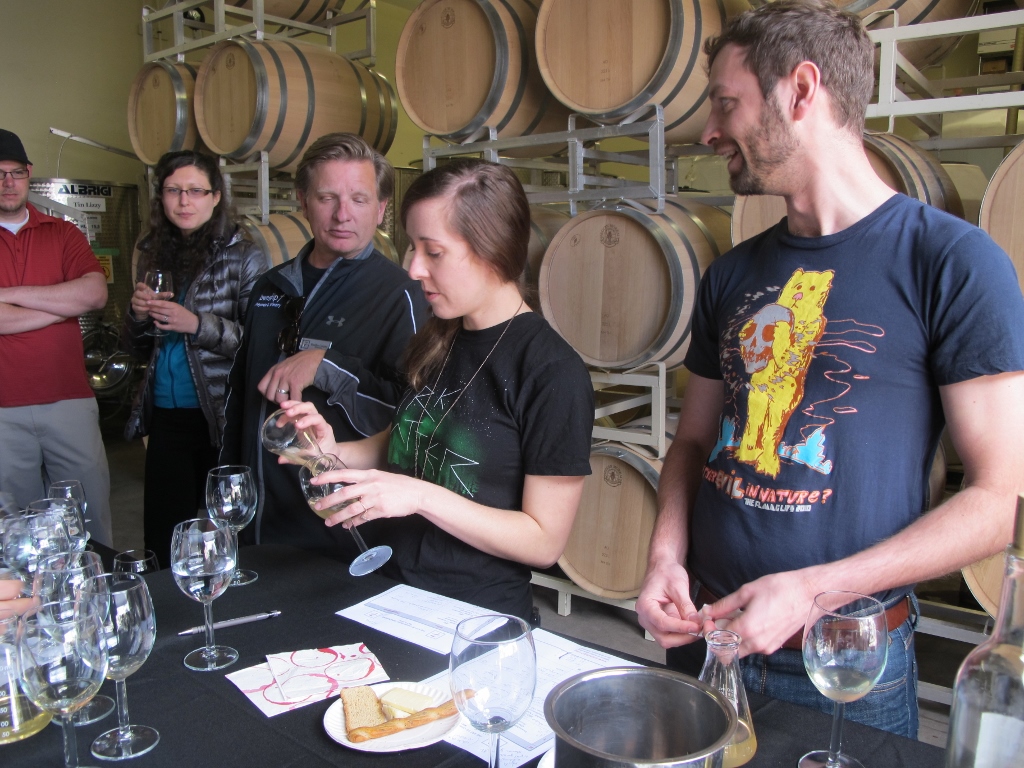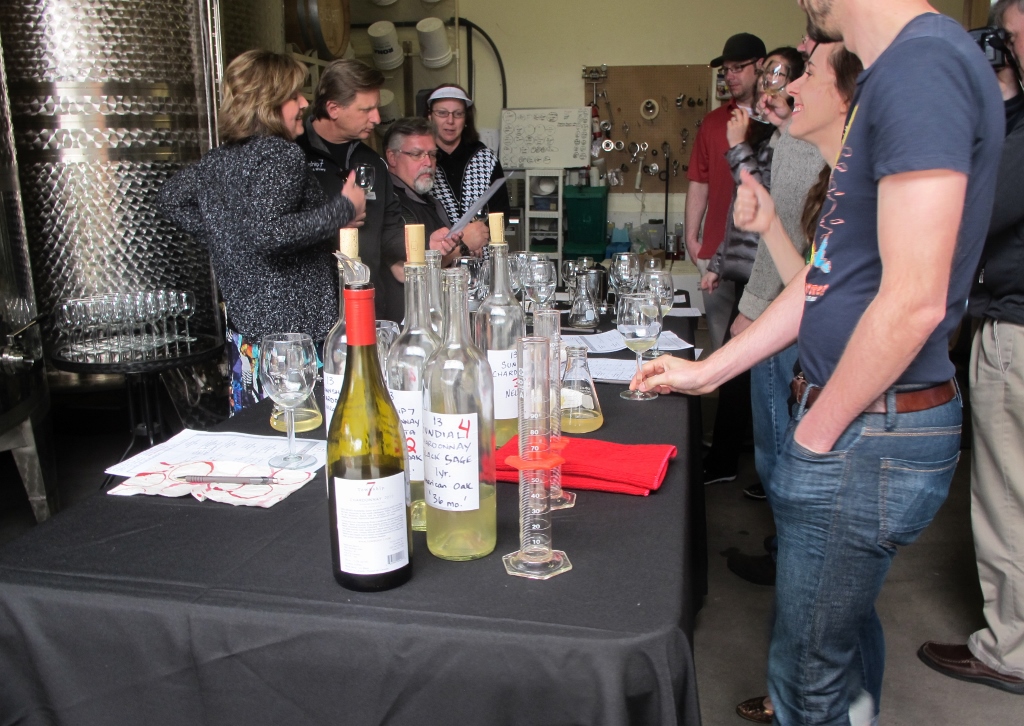 Each participant walked away with a gift including the tasting notes, a bottle of the Chardonnay and a corkscrew in case you couldn't wait to get home to crack open another bottle. While I don't think any of us will be displacing Brad any time soon in his role as winemaker, we are all richer in appreciation for how a wine is blended.
The Okanagan Spring Wine Festival, in its 20th year, continues to May 11. There's another "Winemaker for a Day" at Township 7 on May 10 although you may have to wait until next year for this popular session.
For all the details on this and the myriad of activities available, check out thewinefestivals.com
–          Roslyne Buchanan