Sometimes you discover a new restaurant and it's really good, then you go back a second time and… this I can tell you about our second time at Hudson's on First – it was just as good and definitely my "go to" spot for south/central Island dining.
A resounding YES and two thumbs up for our return to Hudson's on First. It was a spectacular spring day, May 1, the temperatures climbing into the mid to high 20's. We arrived right at noon while on our way to Victoria from up Island. Their cozy patio had just opened the day before so our timing was spot on. You just don't get a better afternoon than a warm, calm day leisurely enjoying another fabulous lunch.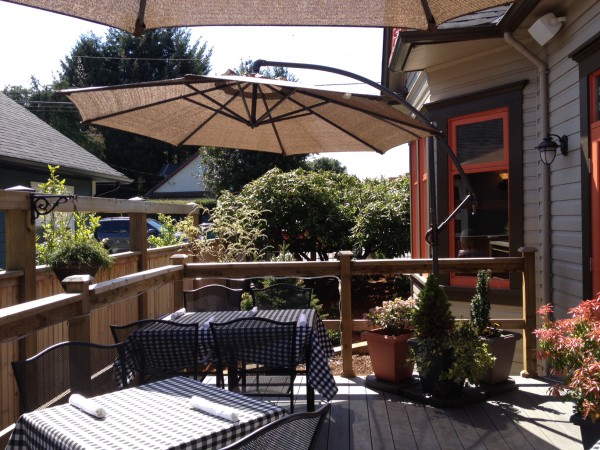 It was going to be a busy evening and we already had dinner reservations in Victoria so we decided to eat light. This visit I tried the Salad of Roast Pear sans the cashews and it was excellent paired with a generous portion of pan seared snapper for only an additional $5. The choice was perfect, a salad made with locally grown greens so fresh it tastes like it was picked moments before it hit the plate. The fish was succulent and very flavourful.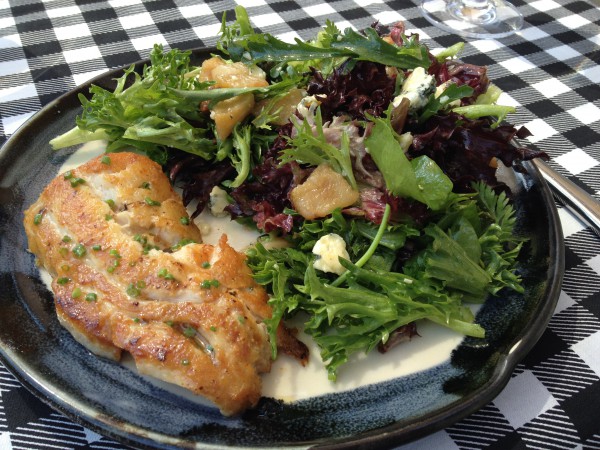 My companion opted for the Twice baked spinach and nutmeg soufflé served with a healthy portion of feta salad topped with crispy onion. Again just the right portion for lunch but the soufflé was so delicious a larger serving would make a great main at dinner. It was rich, smooth and quite filling.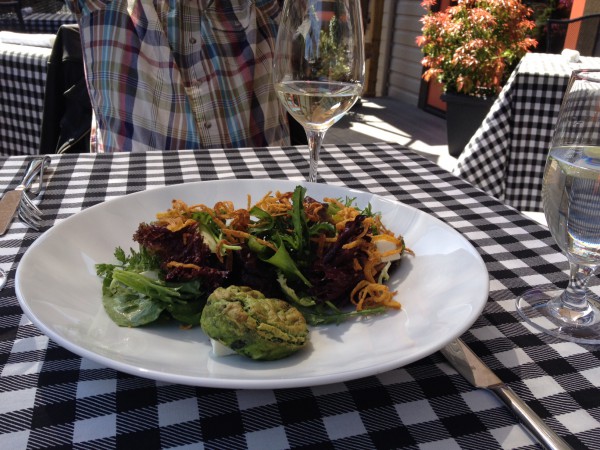 I so appreciate Hudon's on First's wine list that offers wines by the glass. We each had a glass of BC white, an Averill Creek Gewürztraminer and an Unsworth Allegro. Both were just the right pairing for our lunch entrees.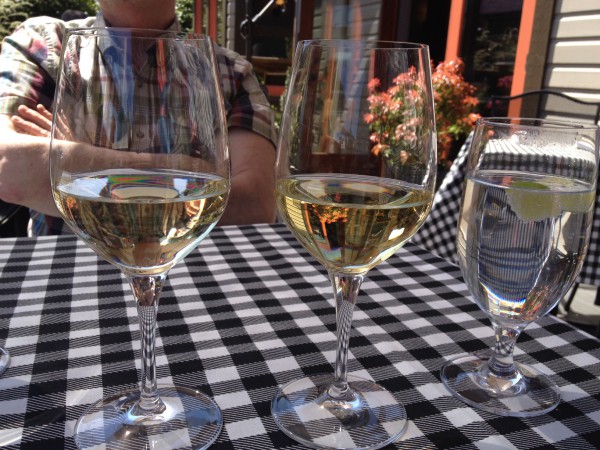 The patio means there is now additional seating (weather permitting) at Hudson's on First but it is still recommended that you make a reservation.
Hudson's on First was the recipient of the prestigious Vancouver Magazine 2014 Gold Award for "Best (other*) Vancouver Island" restaurant (*other being not Victoria)