What should you expect when you walk into the Calabash Bistro on Carrall Street, between Hastings and Pender?  Expect the unexpected.  Some people go for the food; others go for the music.  This is a friendly, unassuming eatery decorated in bright Caribbean canary yellow and red.
Owner Roger Collins, originally from St Kits, has been in Vancouver for twelve years, having previously lived in Toronto and the Cayman Islands.  He is a gentle, warm individual with a passion for his business.  Roger is in charge of the musical and artistic offerings at the restaurant.  His staff is well traveled and each brings something that helps make the Calabash Bistro a unique Vancouver eatery.
I was invited there in late May to a special trade tasting of their brunch menu.  Upon entering, we were warmly greeted and offered a Lassis, made from mint, rosewater, honey, cardamom and pistachio.  It was light and refreshing.  Also on the menu are two other types of Lassis drinks.  Sam Wilcox is the general manager, which means he's a man for all seasons.  If it needs doing, Sam gets it done.  On the table were special coconut dumplings served with a variety of condiments including mango honey butter, guava butter and tamarind sauce.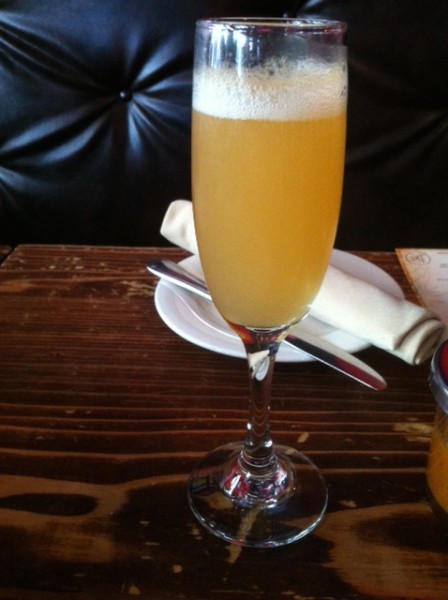 We were treated to a three-course sample of their offerings.  We began with a passion fruit / guava mimosa.  It was light, not too fruity, refreshing on the palate and cleansing.  This was paired with Escovitch Fish – pan seared snapper and escovitch sauce served with fried plantain, fresh cucumber, rice and peas.  This dish was clearly prepared with attention to detail.  It was flavourful and attractively presented.  The fried plantain added an exotic accompaniment.  The fish was cooked just right and could be equally enjoyed hot or cold.  The chef Colin David, formerly of the French restaurant Provence, blends traditional Caribbean dishes with a West Coast flair.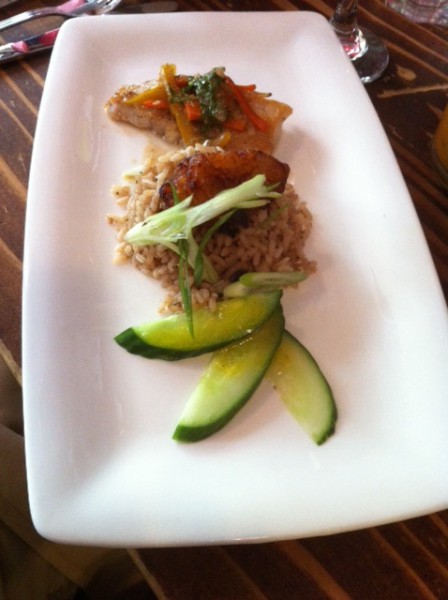 Downstairs is where the music happens.  CBC radio personality Mark Fornier plays DJ between 5:30 and 9:30.  You'll also find live music most nights which runs the gamut from jazz, Latin, Reggae, Funk, Hip Hop, Soul, R&B and more.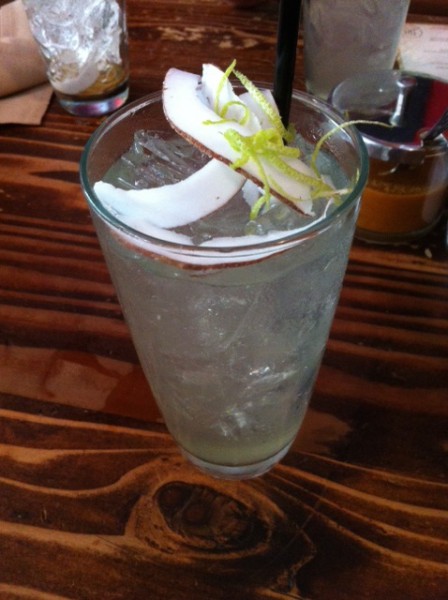 Our second course was an Oxtail Stew Brunch Bowl served with two poached bright yellow yolk eggs, fried plantain, coconut rundown hollandaise, rice and peas.  The oxtail had good heat to it, which matched very well with the cool ginger drink, and the eggs had surprisingly good flavour.   This was served with a interesting drink called 'Dark and Stormy'; a blend of ginger infused rum with home made ginger beer, Angostura bitters (yum) and ginger syrup.  Thinly sliced ginger sprinkled with cinnamon garnished the drink.  If you don't like ginger, give this one a pass; I loved the ginger.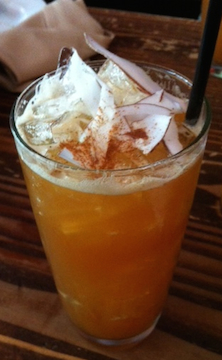 The Calabash also supports local art with a different artist featured every two months.  Their artist's gallery on the lower level is right below the sidewalk and thanks to the old fashioned clear glass blocks, has natural light illuminating it.  Further down the hall towards the washrooms are wall stencils of many famous artists.  Go have a look and see how many you can recognize.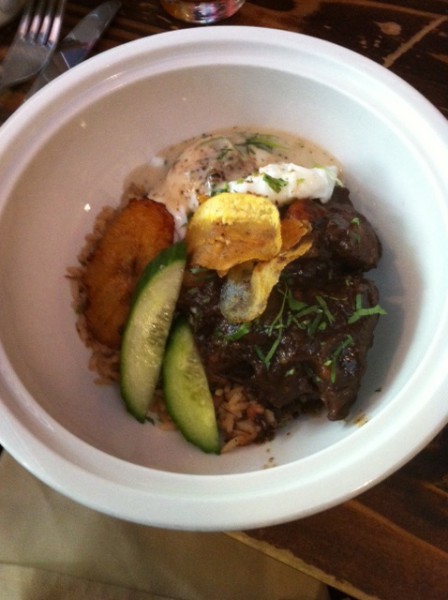 Our third and final course was a Salara French Toast.  This was made from special fresh baked traditional Guyanese coconut bread served with fresh fruit, banana cream and spiced mango maple syrup.  The dish was paired with Coconut Jumby; three year old rum shaken with coconut water, agave syrup, muddled lemongrass, mint and lime zest.  Delicious. Jason Brown is the bar manager responsible for some of the most creative drinks I have had in a long time.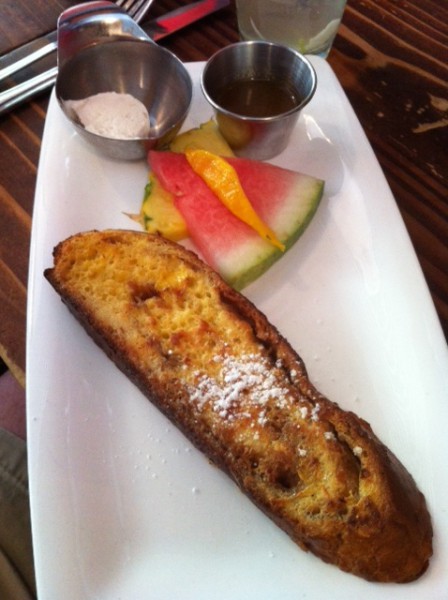 Thankfully, these three sampling were smaller versions of the regular fare or none of us would have made it out of there alive.  The street level main area seats about thirty people and the downstairs supper club area can seat about fifty.  The Calabash is well known for its extensive rum selection – reportedly Canada's biggest selection, with over eighty different rums to sample.  Now THAT is a treat.
The Calabash Bistro is home to many local fundraisers. Fly your Caribbean colours – green, yellow and red and drop into the Calabash Bistro for a night of unique flavours and fun.  They also serve brunch on Saturdays and Sundays from 10:00 until 3:00. Give them a call at 604-568-5882 or check out their web site – info@nullcalabashbistro.com