Yaletown restaurant re-opens with daily fresh sheet menus for lunch, dinner, Happy Hour and weekend brunch
Homer St. Café and Bar continues to offer patrons a pop-up dining experience following last month's unfortunate flooding from the residential strata at The Beasley.
In addition to the current pop-up-style evening dinner service and all-day / night Happy Hour drink pricing on their Happy Hour selection of wine, beer and cocktails, the restaurant is pleased to announce the addition of weekday lunch and weekend brunch service, starting Monday, October 16.
Weekday lunch service will return to the upper Bar and Lounge areas of the restaurant from 11:30 am to 2:30 pm, featuring a daily rotating fresh sheet menu and additional sandwich specials. This will be followed from 2:30 pm to 5 pm by an afternoon Happy Hour menu composed of small- and share-plates. Dinner service begins at 5 pm with a daily rotating fresh sheet menu.
Weekend brunch service returns with a limited daily fresh sheet menu and select specials on Saturday and Sunday, October 21 & 22 at 10:30 am. As with weekday service, Happy Hour drink pricing on a selection of wine, beer and cocktails will be in effect.
Homer St. Café's main dining area and kitchen on its lower level were severely damaged in last month's flooding, as was the open-concept kitchen's centrepiece, the fire-engine red Rotisol Grande Flame Olympia rotisserie.
The restaurant will be updating the public on reconstruction efforts via its social media channels and looks forward to a grand re-opening with its full menu — including its acclaimed rotisserie chicken — as soon as possible.
Due to limited seating at this time, Homer St. Café will not be taking reservations.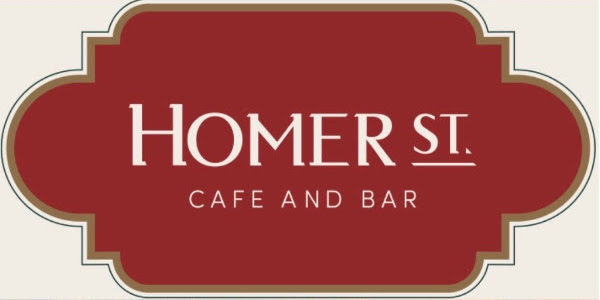 HOMER ST. CAFÉ AND BAR
Address: 898 Homer Street Vancouver, BC
(604) 428-4299
Hours: 11:30am to 11:00pm, Monday to Friday, Saturday & Sunday 10:30am to 11:00pm
SOCIAL MEDIA
Instagram: @homerstcafebar
Twitter: @homerstcafebar
Facebook: /HomerStCafeBar
Website: homerstreetcafebar.com