The 4th Annual Vancouver's Biggest Ever Networking Party is here!
The Vancouver's 4th Annual Biggest Ever Networking Party has been announced. This event sells out annually and this year they are expecting between 400 to 500 people at the event.
"Succeeding in business is all about making connections." – 
Sir Richard Branson
, 
Self-Made 
Billionaire, Founder of Virgin Group
Over 1100 attended the past 3 annual parties. 1000′s of business cards were exchanged, hundreds of new friendships & business alliances were formed. Probably millions … may be even billions!… of dollars of business transactions were realized. 
What can you expect at this sold-out-yearly event this year:
• Connect with 400+ entrepreneurs, business professionals, innovators and potential business partners
• Enjoy a FREE drink, fusion foods & desserts with your tickets
• **PLUS … SHOW ME THE MONEY! FORUM: Meet, discuss and discover the secrets of raising money from successful Crowdfunders, Angels, Venture Capitalists, and Experts on Gov't Loans and Grants. 

• Fabulous Door Prizes 
Find out full details and discover why the annual Vancouver's Biggest Ever Networking Party is the essential networking party for entrepreneurs and business professionals in the lower mainland: http://www.sparkmetric.com/vbenp
** All tickets include one FREE drink and fusion foods and desserts
Regular Tickets: FORUM + Party: $79    Party Only: $59
Friends of My Vancity, tickets are: Forum + Party: $55   Party Only: $35 
Use Promo Code: ' myvancity '
Get your tickets at: http://www.sparkmetric.com/vbenp
Tickets sell out each year. Get your tickets early and avoid the dreaded wait list!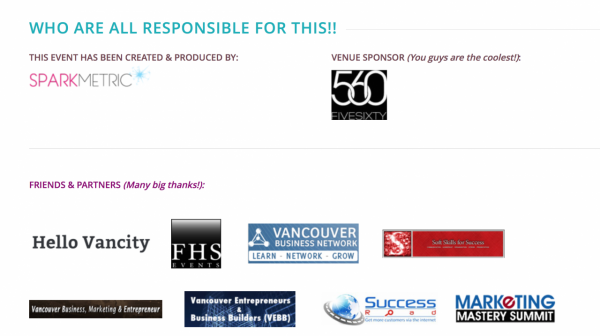 a
and of course media sponsor My Van City