The Vancouver  Wheelmen Vintage Cruiser Ride will bring out the treasures of bicycles in Vancouver.  Vintage bikes are cool, elegant with detailed craftsmanship and just a pleasure to see on the road.
If you have 1974 bike or older  check out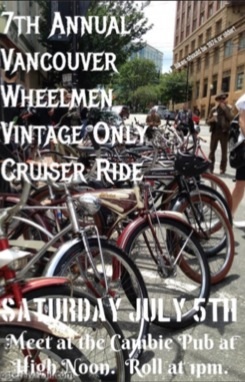 The 7th Annual Vancouver Wheelman Vintage-Only Cruiser Ride July 5 from 12 – 8 starts at the Cambie Bar 300 Cambie St. They have a free monthly ride and bicycle swaps,  check out their calendar
You can tweet them @vancvrwheelman and ask them about any kind of bike. I  tweeted them about my bike.  My bike is not a cruiser it is a 3 speed with a hub system but curious to know more about it.
Anyone remember the old Eatons Store I think this is where my bike is from.