The Zinfandel Advocates and Producers (ZAP) invited me to an Zintimate trade tasting at Hawksworth Restaurant's York Room in the Rosewood Hotel Georgia in Vancouver.
They limited the event to 75 guests per hour for two sessions, one at 1:30 and the other at 2:30; a wine version of speed dating.  There were nine participating wineries:  Frank Family Vineyards, Delicato Family Vineyards, Hendry, Oak Ridge Cellars, Michael-David, Peachy Canyon, Pedroncelli, Ridge Vineyards and Seghesio Vineyards.
It was great to see the winemakers there, pouring their wines and answering questions.  I enjoyed meeting Derek Devries from Michael-David. Doug Beckett from Peachy Canyon, Julie St. John (nee Pedroncelli) from Pedroncelli Winery, David Amadia from Ridge, and Ted Seghesio from Seghesio Family Vineyards.  It was great to see that most, if not all, of these wineries are practicing sustainable wine growing.
Many of these wines are available from BCLDB Signature stores. For those without a price listed or with an asterisk, check with private stores for availability.
My notes are very brief as the time was limited.  Here is a quick summary of the wines I tasted:
Pedroncelli Winery & Vineyards Sonoma
Pedroncelli 2011 Mother Clone 14.8%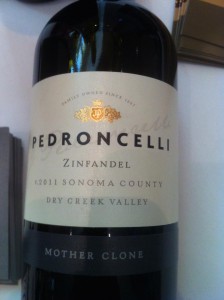 Great nose, medium body good finish
Dry Creek Valley
Pedroncelli 2011 Bushnell Vineyard – 88 points Wine Spectator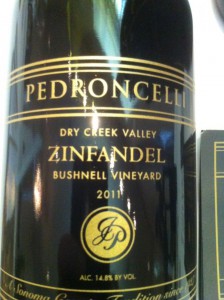 Richer nose, big and round in the mouth, lingering finish
Small block Reserve level
Dry Creek Valley
Peachy Canyon Paso Robles
Incredible Red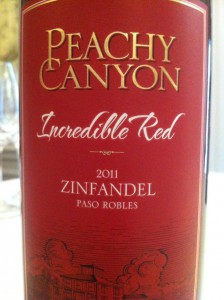 Eastside of the valley – warmer climate, flat land
85% Zinfandel 15% Petite Sirah
Big ripe fruit, slightly low acid and a medium finish
Westside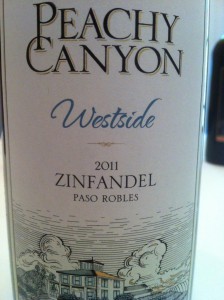 Westside of the valley – more rainfall and lower temperatures. Hilly land, chalk soil.  This is the wine that Japan Airlines (JAL) is now using.
Bright red fruit and a medium+ finish
Vortex
100% Westside Zinfandel
Slightly sweet on the finish
Ridge Vineyards – advocates for single vineyard wines.  Minimal intervention winemaking and native yeasts.  Now certified organic (2013).
Ridge 2011 Lytton Springs – 92-94 points Wine Advocate $47.99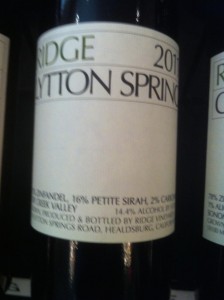 82% Zinfandel, Petit Sirah, Carignane (to increase the acidity and make the wine brighter, more lively)
Dry Creek Valley, Sonoma
Noticeable oak
Ridge 2011 Geyserville$54.99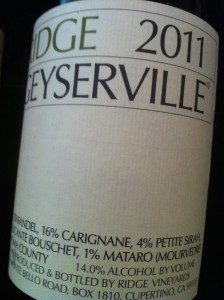 Good blend.  Better structure
Alexander Valley
Ridge 2011 East Bench $39.99
100% Zinfandel
Dry Creek Valley
Ridge 2011 Three Valley – 91 points Wine Enthusiast $37.99
Pleasing blend
Sonoma County
Delicato Family Vineyards – Scott Montgomery Lodi
Twisted Old Vine 2012 $15.99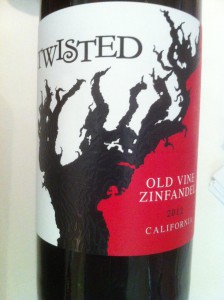 Good quality entry level Zin.  Medium bodied with good fruit.
Gnarly Head 2012 $19.99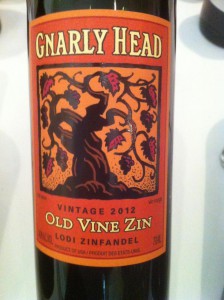 Grapes come from five vineyards and 35 – 80 year old vines
No lack of flavour here.  2012 was a hot year in Lodi but they kept the alcohol to just 14%
Brazin 2010 $21.99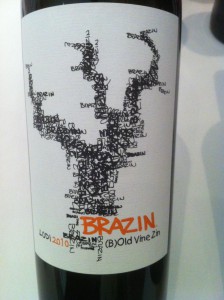 40-100 year old vines dry farmed
2010 was a cooler, wetter vintage, which resulted in a more elegant wine.  Big, bold and delicious.
This wine was a best buy at $21.99.  Be sure to try some.
Hendry Ranch Wines Napa
The marine influence helps prevent over ripe fruit.  All wines are from estate grapes.
Hendry 2011 Blocks 7 & 22 $49.99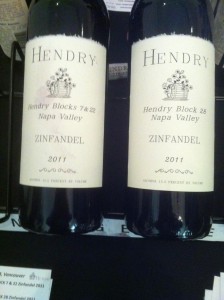 Wow!  An amazing wine.  Wine Spectator rated this wine 96 points and I agree.  This wine has it all from the nose to the balance to the flavour and a lingering finish as well.  The best wine at this event.
Hendry Block 28 201190 points Wine Enthusiast $49.99
Cropped to 4 tons per acre
15 months in French oak, 65% new.
Very good
Michael David Winery Lodi
7 Deadly Zins 2011 – 88 points Wine Advocate $24.99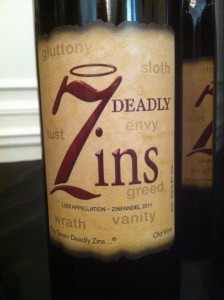 A blend of seven vineyards
Popular entry-level wine
Earthquake 2012 – 90 points Wine Advocate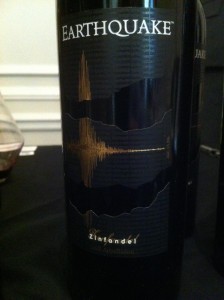 Reserve level wine.  Named after an earthquake one hundred years ago.
Good fruit on the palate.  Rich and powerful.  I recommend this one.
2011 Lust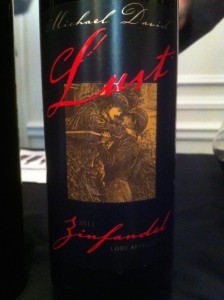 Small lots production
Grapes sourced from 3 vineyards
Aged in American oak (8-10 months) and then in French (10 months or more)
This was the best wine from this producer.  Definitely worth a try.
Oak Ridge Winery – Stephen Merritt (sales director) Lodi
Introduction
Maggio
Delta
Silk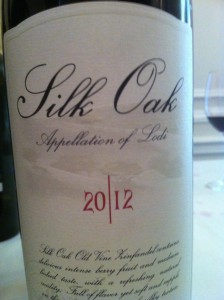 Aged in French and American oak for 12 – 14 months.
The best wine from this producer.  Try it.
Frank Family – owner Richard Frank Napa
2011 Napa Valley Zinfande l$54.99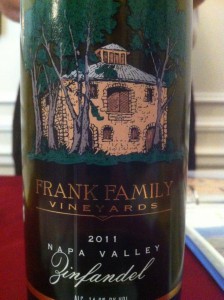 Todd Graff winemaker
89% Zinfandel, 11% Petite Sirah
Some finesse in this subtle wine
Aged in barrel for 18 months – 35% in French oak and 65% in American
Seghesio Family Vineyards – Ted Seghesio
2012 Sonoma – 92 points from Wine Spectator $34.99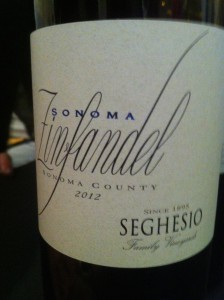 Good wine with cherry, spice and a hint of minerality.
2011 Cortina Dry Creek – 90 points for Wine Enthusiast $52.99*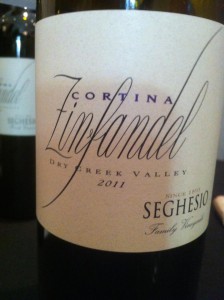 Elegant with dark fruit and red berries and a hint of spice and a long finish.
2011 Old Vines – 92 points from Wine Spectator $49.99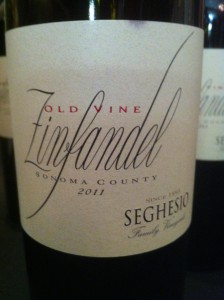 Rich depth of fruit on the nose.  Best from this producer.
2011 Home Ranch – 91 points from Wine Spectator $78.00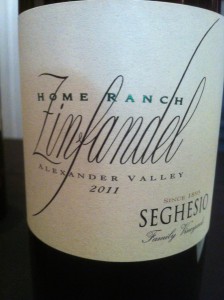 Very good.  Black and red berries, spice and oak, though different in character from their other wines.
Alexander valley grapes