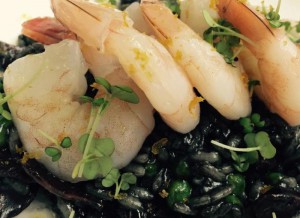 From now until November 16th, Burnaby's Hart House at Deer Lake is showcasing the amazing abundance of seafood with which BC is blessed. The three-course Seafood Celebration menu gives guests a choice of appetizer, main, and dessert at $38 per guest.
Born and raised here in BC, Chef Michael Genest has designed a menu that rejoices in local flavours:
Appetizer
Sockeye Salmon Chowder (a la carte 10)
Fried Leeks, Corn, Lobster Oil
or
smoked Fish Croquettes (a la carte 16)
Pickled Fennel, Micro Greens, Charmoula Aioli
Main Course
Butter Poached Prawns  (a la carte 28)
Squid Ink Risotto, Chorizo, Peas, Bottarga
or
Pan-Seared Red Snapper (a la carte 28)
Fregola Pasta, Tomato, Mussels, Clams, Saffron
Dessert
Apple & Fig Bread pudding (a la carte 10)
Salted Caramel and Walnut Sauce,
Vanilla Chantilly Cream
or
Caramel Mocha Crème Brulee
Orange Nut Biscotti
If they choose, guests may extend their experience to four courses by ordering both appetizers for an additional $8.
Reservations are available by phone only, at 604-298-4278.
Hart House Seafood Celebration
October 28 – November 16, 2014
$38 per person, exclusive of taxes and gratuity
Hart House at Deer Lake
6664 Deer Lake Avenue, Burnaby
About Hart House: Open since 1988, Hart House at Deer Lake makes an unforgettable impression on guests with its elegant heritage house setting and outstanding Pacific Northwest cuisine. The 13-acre estate includes a mock-Tudor mansion with tastefully appointed dining room, private function rooms, and heated patio; immaculate lawns and gardens; and a Lakeside Cottage. Always a favourite for outdoor weddings, Hart House also hosts business lunches and conferences of all sizes, as well as intimate dinners and celebrations. Our menu changes with the seasons to take advantage of the freshest local ingredients, including herbs from our own on-site herb garden. Whatever your menu selection, our attentive staff are always happy to recommend wine pairings from our award-winning cellar.