Chef David Hawksworth Reveals Location Of Second Downtown Vancouver Restaurant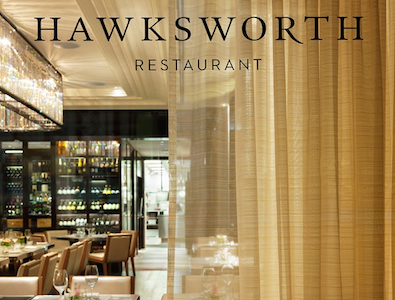 Due To Open Late 2015
After much speculation and anticipation the location of Chef David Hawksworth's new restaurant, opening in downtown Vancouver, can finally be announced. Hawksworth Restaurant Group's new venture will take centre stage on the ground and mezzanine level of Oxford Property Group's MNP Tower; located at 1021 West Hastings Street. The location was once the home of University and Quadra Clubs and has an eye-catching heritage façade.
"Echoing the original Hawksworth Restaurant, our new venture will still place an emphasis on BC's seasonal produce and showcase our take on the region's incredible variety of fresh flavour," says Chef David Hawksworth. "The vision behind the new restaurant will be clean, uncomplicated, ingredient-forward fare with a modern, playful twist." A prominent bar will be the focal point, helping to create an approachable, laid-back atmosphere in the industrial rustic-chic space. The new environment will offer a dining ambiance that is perfect for business lunches, after-dinner drinks or celebrations.
"We are extremely excited to partner with renowned Chef David Hawksworth to bring a world-class restaurant to MNP Tower," says Chuck We, Director of Leasing at Oxford Properties. "The restaurant will be a superb amenity and experience for both Oxford's customers and the surrounding community when it opens later in 2015."
Chef Hawksworth's new restaurant will find its home in a 7,400-foot space seating 120 and  with the interior designed by Alessandro Munge, of the multi-award winning Canadian design firm Munge Leunge. Munge Leunge was also the firm behind the James Beard nominated design of the original Hawksworth Restaurant. The MNP Tower, the new restaurant's location, boasts the last true waterfront views in Downtown Vancouver and was designed by world-renowned architectural firm Kohn Pederson Fox.
Website: www.hawksworthrestaurant.com
Facebook: /HawksworthRestaurant
Twitter: @HawksworthRest
Instagram: @HawksworthRest
About Hawksworth Restaurant:
Located in the heart of downtown Vancouver Hawksworth Restaurant embraces contemporary Canadian cuisine with a goal of setting forth a culinary legacy rooted in regional produce that celebrates the cultural diversity of Vancouver. Three-time winner of Vancouver Magazine Restaurant Award's Best Upscale Restaurant, Hawksworth Restaurant is grown up and glamorous, yet relaxed and welcoming, ready to deliver an array of memorable dining experiences. Approachable menus reflect seasonality and spontaneity, whilst demonstrating the highly skilled technique and relentless drive for perfection that has become Hawksworth's trademark. Three distinctive rooms, including Hawksworth Cocktail Bar are complemented by two elegant private spaces, designed to reflect the vibrancy, creativity and quality of the cuisine.
Open daily for breakfast, lunch and dinner telephone: 604.673.7000 for reservations or visit www.hawksworthresaturant.com