While interior design may deal exclusively with, well, interiors, looking to the latest in exterior architectural design can also prove influential inside the home. Taking after recent architectural innovations that are changing the way we imagine building and construction around the globe, MOE'S Home Collection's proprietary collection is inspiring a new approach to interior and décor trends.
Whether it's a marriage of wild and urban, a futuristic display of durability, or incredibly intricate décor, these pieces demonstrate the best in architectural influence on furniture design.
Wild Urbanism 
As Diller Scofidio + Renfro's winning concept for the future Zaryadye Park in Moscow suggests, a combination of natural and manmade materials offers both stunning and sustainable results. Featuring teak, fir and pine woods effortlessly paired with steel, iron and marble, these pieces prove the duo's effect in the home is no different.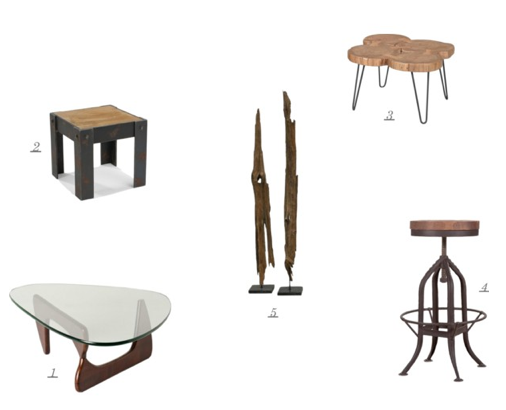 1. Tokyo Coffee Table in Cherry, $499.00; 2. Bolt End Table in Natural, $109.00; 3. Adele Coffee Table, $645.00; 4. Brut Bar Stool, $185.00; 5. Drift Wood Art on Rough Marble Base, $269.00
Tough Exterior
Presenting a number of dreamlike forts that can withstand natural disaster, the Dauphin Island series conjured up by Dionisio Gonzales proves both innovation and practicality have a future in the designs of tomorrow. While materials such as iron, aluminum, and steel may already hold a coveted place in the home, their molding into more futuristic shapes offers a modern—and surreal—addition to any space.
1. Cage Bench in Silver, $745.00; 2. Nested Cubes on Stand in Small, $48.95; 3. Verge Vase Large in Silver, $79.00; 4. M2 Brooklyn Bar Stool, $129.00; 5. Pluto End Table in Silver, $319.00
Intricately Ornate
Forget interior decorators— Michael Hansmeyer and Benjamin Dillenburger's Digital Grotesque demonstrates the power of algorithms and three-dimensional printing in creating incredible ornamentation for any room. While the 3D printing of interiors has not yet been fully realized, ornately shaped furnishings and intricately patterned décor offer homes a sophisticated elegance in the meantime.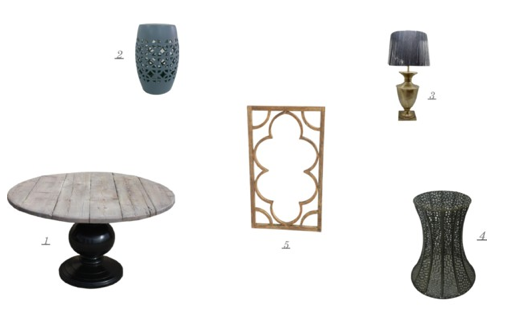 1. Montreal Dining Table, $2,479.00; 2. Cutout Stool, $159.00; 3. Lana Table Lamp with Black Shade, $645.00; 4. Chiang End Table, $119.00 now $89.00; 5. Aga Mirror, $489.00
Feature pic Moe's Home Collection Facebook page