Okanagan Crush Pad journeys into deliciousness with launch of first exclusive wine for BC VQA stores called Route 97. The colourful labels depict iconic symbols of the Okanagan while the wines celebrate the diverse offerings of our land; a delicate aromatic cool climate white from the north and a fruit forward, robust red from the south.
Route 97 Big Adventure Red and Route 97 Meandering White available at select BC VQA stores.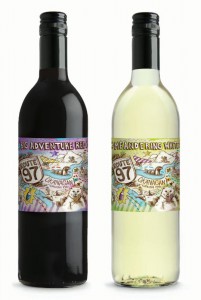 Okanagan Crush Pad winery is pleased to announce the release of two wines under a new Route 97 label which will be sold exclusively at BC VQA stores commencing Thursday, November 27. The colourful labels depict iconic symbols of the Okanagan while the wines celebrate the diverse offerings of our land; a delicate aromatic cool climate white from the north and a fruit forward, robust red from the south. Route 97 wines are crafted by Matt Dumayne at Okanagan Crush Pad in Summerland, BC. Located around the province, BC VQA flagship wine shops promote excellence and celebrate our talented winemakers and the diversity of our unique cool climate wine region.
"While our team has created many wine labels in the past, it was an interesting exercise to create something exclusively for BC VQA stores that would fill a void in their current product offering. The store owners wanted wines that over delivered in quality and had an eye-catching, colourful label that celebrated the great attributes of the Okanagan," noted Okanagan Crush Pad owner Christine Coletta. "The label style is reminiscent of the old road side diner placemats I remember colouring as a child. The end result is something our team and the store owners are very excited about. The BC VQA stores are a very important channel for local wineries as they are a showcase for what our region has to offer. We hope this will be the first of many more exclusive products for the BC VQA stores."
The Route 97 Meandering White 2013 is a blend of Chardonnay, Gewürztraminer, Pinot Gris, and Viognier. Fresh, lifted aromatics of flowers and tropical fruit mingle with a round fruit density while retaining delicacy and freshness. The wine will be priced at $17.99. The Route 97 Big Adventure Red 2013 is a blend of Gamay Noir, Cabernet Franc, Pinot Noir, Merlot, and Syrah. The wine showcases bright red berries and jam layered over subtle French oak toastiness. Lifted floral and perfume notes highlight the vibrancy and freshness of the Okanagan. The red wine will be priced at $18.99.
Jeff Wong, proprietor of Swirl Wine Stores around BC, comments, "This new wine creation was an exciting process and working with everyone at Okanagan Crush Pad was really a blast. The label creation was almost as much fun as creating the wine blends! The label takes you on a BC Wine country journey down Route 97. With the continued trend of wine consumers looking for an approachable red and white blend, we worked with Matt and Christine to create these wines without compromising quality. These wines are great examples of quality BC wines for under $20.00."
About Okanagan Crush Pad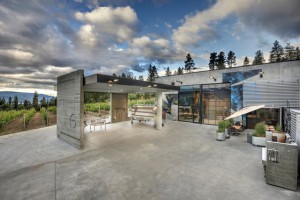 Okanagan Crush Pad, producer of Haywire and Narrative wines, is quickly building a reputation as one of the premium producers in the Okanagan. The winemaking team includes world renowned Tuscan-based consultant Alberto Antonini, wine expert David Scholefield, and winemaker Matt Dumayne. Located in beautiful Summerland, BC, the winery overlooks Switchback vineyard, an organic site that is also home to roaming sheep and chickens. Okanagan Crush Pad crafts wines that are symbolic of the region's unique high mountain/northern desert setting which has an intensely hot, short growing season with hallmark cool evenings. The winery is the first in Canada to extensively use concrete tanks and wines that are fermented and aged in concrete carry the Raised in Concrete™ designation. Visitors to the guest center, built right into the heart of the production facility, get a rare glance into the art of winemaking.
About VQA Stores
BC VQA wine stores carry the widest selection of the Wines of British Columbia available, all at BC Liquor Store prices. Some stores stock as many as 700 different wines, the only way to access more selection is to tour wine country and visit each and every winery. There are 19 BC VQA wine stores across British Columbia selling BC VQA wines exclusively. Each store's staff prides itself on extensive knowledge of the Wines of British Columbia and take regular educational tours to the Wine Regions of British Columbia's to visit the vineyards and taste at the wineries.