Blood pigeon smoked and roasted, beet jus and charcoal oil, polenta and salsify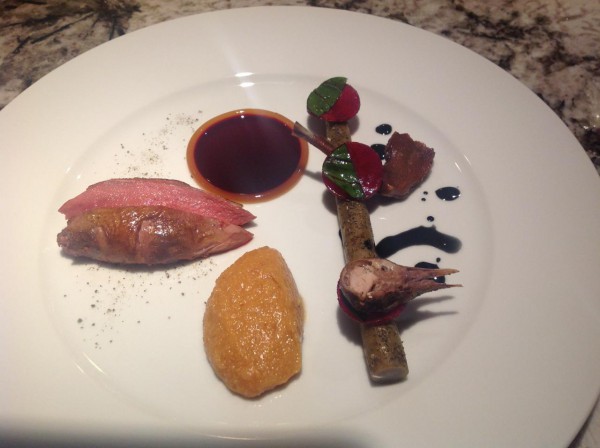 This incredible recipe from Chef Paul Moran was used for his application to San Pelligrino World's Best Chef under 30 competition. It was announced on January 16, 2015 that Chef Paul will be competing against 9 other Canadian young chefs. Congratulations to Chef Paul Moran.
Serves, 4 persons
Preparation time, 1.5 hours
Cooking time, 2 hours
Ingredients
For the pigeon
2 whole head and foot on 600g+ blood pigeons
3 pieces cherry wood
200ml vegetable oil
Kosher salt
For the Poultry stock
1kg free range chicken bones
1 large red beet roots with tops attached 1 medium carrot
1yellow onion
1 head domestic garlic
2 stalks celery
3 sprigs fresh thyme
10 g black pepper
1g agar agar
200 ml white wine
For the salsify
2 pieces salsify 1cm in diameter 1 navel orange
25g butter
kosher salt
20g dried morel powder
For the polenta
120g Bobs Red Mill corn polenta 100g white onion
Reserved pigeon blood
20g butter
Kosher salt
1g black pepper
For the charcoal oil
100g premium food grade activated wood charcoal 1piece cherry wood
100ml grape seed oil
For the beet garnish 1 beet with tops
5ml sherry vinegar 15ml olive oil
Preparation
Pigeon,
Begin by removing the head of the bird. Remove legs and lightly salt, set aside for 30 min. After 30 min the leg can be slowly cooked in 100ml vegetable oil. Remove the crown with the two breasts still attached to the bone, cold smoke the crown with the cherry wood for 10 minutes. Remove any blood clots, heart and the lungs and purée in a vita prep. Once the mixture is smooth pass it through a fine sieve. Keep this blood mixture refrigerated. Take all remaining bones and trim, chop into 2cm pieces and reserve for stock.
Poultry stock,
Chop all chicken bones into 2cm pieces. Combine with the pigeon bones and add to a very hot roasting pan, convection roast until golden brown. While the bones are roasting peel and chop the carrot, celery, onion, garlic and thyme into 2cm pieces. Add this mixture to the golden brown bones and cook until vegetables are translucent. Deglaze the mixture with the white wine and add to a stock pot, cover the contents with cold water and let simmer for 2 hours. Once the stock is ready strain it through a fine sieve and cheese cloth. You should have about 3 litres of stock. This stock will be used four different ways so be prepared to divide it as needed.
Beet garnish,
Peel the red beets and wash the leaves. Using a Japanese mandolin thinly slice the beet about 12 times. Using a small ring cutter punch out 12 small beet disks. Do the same with the leaves. Set both aside. Combine the 5ml sherry vinegar with the 15ml olive oil and a pinch of kosher salt. Keep this with the beet disks and leaves to be used during plating.
Pigeon and beet jus,
Using all of the remaining beet root trim, add to juicer and strain through cheese cloth. Combine the beet juice and 1litre of the poultry stock together and slowly reduce until the consistency resembles maple syrup. Set aside in a small pot to be heated for plating. The second part of the jus is to make an agar agar noodle with 200ml of the poultry stock and 1g of agar agar and salt to taste. Add the two together cold and bring to a boil. Fill a hollow clear plastic tube with the stock and plug both ends. Dip the tube into an ice bath until the agar is set, once set remove from the tube with an empty charged ISI gun. Set aside in the fridge for plating.
Charcoal oil,
Burn one piece of cherry wood until it resembles coal. Mix all of the grape seed oil with 5g activated food grade charcoal powder. Add the burnt wood to the oil and let infuse for 2hrs. Strain through a fine sieve and set aside.
Salsify,
Brush the salsify under cold water with a stainless steel scouring pad until most of the skin has been rubbed off. Immediately add to a medium heat pan with 25g foaming butter. Quickly sauté until the butter begins to brown. Deglaze with juice from one orange. Add three strips of orange zest and 800ml of poultry stock. Cover with a piece of parchment paper and slowly cook the salsify in the stock while reducing liquid at the same time. Once the salsify is cooked and has absorbed nearly all of the liquid it must be seared again in 25g foaming butter. Once it has been roasted a second time quickly roll the salsify in the morel powder. Keep aside in the oven for plating.
Polenta,
Sauté 1/2 a medium yellow onion in olive oil with a pinch of salt. Add 120g of Bobs Red Mill corn polenta. Slowly add 1 litre of poultry stock and cook for approx 30 minutes. Finish the polenta just before serving with 50g of cold butter a few table spoons of the reserved pigeon blood salt, pepper and a few drops of white wine. The texture should be smooth and soft.
Presentation
Roast the smoked pigeon crown in a hot pan until it is med rare, roast the legs and head skin side down for the last three minutes. On a hot plate place the agar noodle in a ring shape, take the beet jus fill the ring with the jus. Place a spoon full of the polenta on the plate. Place the salsify on the plate. Carve the pigeon and use one breast and one leg per plate. Throw a small pinch of morel powder onto the plate. Drizzle some of the charcoal oil on one side of the plate. Finish with the raw beet and leaf slices by quickly brushing them with the vinaigrette.
Enjoy!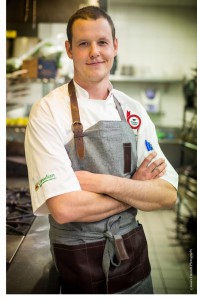 Chef Paul Moran is from Kelowna, British Columbia, Red Seal certified, fluent in both French and English with a passion for ingredients, connecting with his surroundings and cooking to please and peak the interest of clients.
Chef K2 Heli Ski Lodge
2013 Winner of the first annual Hawksworth Young Chef Scholarship award, judged by Canada's top chefs at a national level
Executive chef at the Outpost, a West Coast Fishing Club lodge. Managing and executing five star dinning for guests on a three to four day stay basis. Including all meals for 15 live in Staff.
2012 – 2013 Restaurant consulting at TABLE in Paris and SOURCE in Vancouver.
2010-2012 Executive sous chef, restaurant SATURNE (Omnivore prize 2011&2012) Paris.
2009-2010 Tournant, restaurant LAURIE RAPHAEL Montreal.
2008-2009 Chef de Partie, HOTEL NEGRESCO Nice, France
2008-2009 Chef de Partie, JUMEIRAH BEACH HOTEL Dubai.
2004-2008 Junior sous chef, WEST Restaurant Vancouver. Formal Education
2013 Invited chef for BON APPETIT BANFF at the Juniper Hotel and Bistro, Banff
Recipient of over 10 medals in Local and International Culinary Competitions. Including a Vancouver Rising Star gold medal.
Invited chef for SECONDS ARE FIRSTA dinner high lighting sous chefs of outstanding restaurants.
In attendance for Rene Redzepi's MAD food camp 2011 and 2012,
Invited chef Omnivore Festival 2011 and 2012,
Bocuse Dor in 2010, Alba truffle festival in 2009
Co star for "Morel Episode" on Food Networks Glutton for Punishment food series.
Paul is an extremely passionate Traveler and Outdoorsman, who enjoys Mountaineering, Snowboarding, Tennis, Wine, Swimming, Farming, Fishing, Hunting and Foraging.