Sam Sullivan's Feb 18th Public Salon: Inspiring Ideas
To enter:
Leave a comment on this post.
Sign-up for our newsletter.

Vancouver will have its 21st Public Salon on Wednesday February 18th.  The Public Salon is a made in Vancouver phenomenon that contributes to the unique civic culture of our city. 10,000+ people have come to be entertained, stay informed and get inspired at Vancouver's Playhouse theatre. (600 Hamilton St)
The Public Salon has given a platform to over 150 of Vancouver's Thinkers and Doers. The presentations have been videotaped and have been viewed 60,000 times and they are featured on its weekly Public Salon TV Show on Shaw TV channel 4. The Public Salon originated from a series of private salon dinners hosted by Sam Sullivan and Lynn Zanatta for over a decade. Their mentor and friend Abraham Rogatnick encouraged them to bring the benefits and pleasures of the t salons to a wider audience. It was only after he passed away that they committed to hosting the Public Salons in his honour. The salon concept has ancient roots going back to China and Italy but were particularly noted in the 1700s France where they were credited with being one of the factors being lead to the French Revolution. The Public Salon is a made in Vancouver phenomenon that contributes to the unique civic culture of our city and province.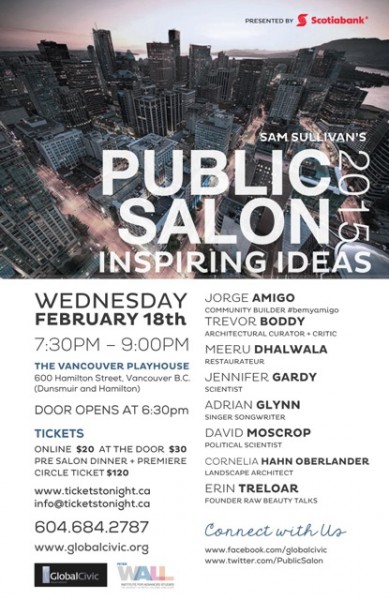 Event: Sam Sullivan's Public Salon
Time: 6:30-9pm
Location: The Vancouver Playhouse, 600 Hamilton Street, Vancouver
Cost: $20 online $30 at the door
RSVP: www.globalcivic.org
Speaker Bios:
Erin Treloar explores the dysfunctional relationship between photoshop and the ideal woman.
Cornelia Oberlander is one of the world's leading landscape architects.
David Moscrop wonders what  new research in neuroscience tells us about our political system.
Michelle Faehrmann & Four on the Floor brings String Quartets to Indie Music.
Jorge Amigo is renowned for his interesting insights on his adopted city of Vancouver.
Meeru Dhalwala, the woman behind Vij's, Rangoli and Shanik understands immigrant women, careers and cuisine.
Jennifer Gardy finds the links between DNA and disease.
Trevor Boddy uncovers the good, bad and ugly in urban architecture and planning.

About Public Salons:
The Public Salons offer an opportunity for a wide range of speakers to make short presentations that inform, inspire and entertain on ideas that could contribute to the community. These presentations are broadcast on the 1/2 hour Public Salon Television Show that runs four times a week on Shaw TV Channel 4. These can also be viewed on the Global Civic Website and on YouTube.
About Global Civic Policy Society:
The Global Civic Policy Society organizes events that provide opportunities for citizens to learn and engage in community building.  Global Civic Policy Society was founded by social entrepreneur and former Vancouver Mayor Sam Sullivan. After establishing 6 successful civil society organizations and serving 15 years as City Councilor and Mayor of Vancouver he committed to creating an organization for research and reflection on civil society, local government and citizenship.