Earls Cilantro Salmon
5 oz Mini New Potatoes (steamed and tossed with Olive Oil and Fine Salt)
6 oz Skin on Steelhead Salmon (scored) and lightly sprinkled with medium fine salt, sear skin side down
1 oz Roasted Corn
1 oz Oven Dried Grape Tomatoes
0.5 oz Poached Fennel
0.5 oz Marinated Artichoke
0.5 oz Lemon Herb Butter
Pinch light Fine Salt
1 fl oz Jalapeno Cilantro Puree
1 T Chimichurri
1 t Lemon Coriander Gastrique
6 pieces Live Watercress
½ t Fresh Lemon JuiceCook
Method
Place 1 oz Roasted Corn, 1 oz Oven Dried Grape
Tomatoes, 0.5 oz Poached Fennel, 0.5 oz Marinated Artichokes, and
0.5 oz Lemon Herb Butter in an oven pan and place in the
oven for Approximately 2 minutes until hot.
Once vegetables are hot, remove from oven add 4 Basil Leaves,
season to light with Fine Salt and toss to combine.
Using a tablespoon or spatula smear Jalapeno Cilantro Puree on plate
Place the Vegetables just off the center, plate the roasted potatoes around one half of the Vegetables and garnish entire dish with 1 T Chimichurri, 1 t Lemon
Coriander Gastrique, and 6 pieces Live Watercress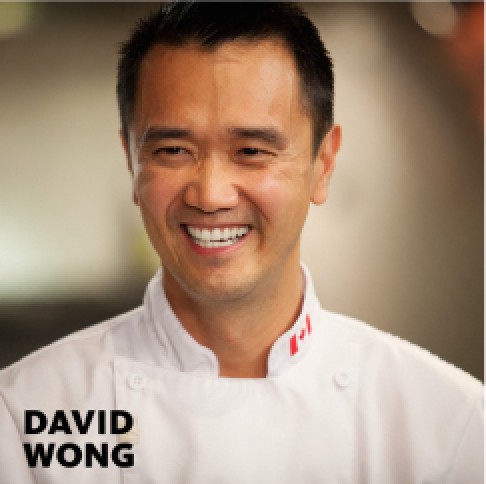 Chef David Wong; Home town Vancouver, originally from Victoria
Chef David Wong works full time in the Earls Test Kitchen creating dishes, developing and testing recipes. He is an award winning chef from Vancouver, most recently as Executive Chef of the Fairmont Pacific Rim and their award winning restaurant ORU. Dave has too many awards and medals to even list but we would say that  his Gold medal win as part of Culinary Team Canada in Basil, Switzerland and Gold medal Canadian qualification for the Bocuse d'Or held in Lyon, France are two of the most prestigious culinary awards in the world and highlights of his culinary career. When not cooking, creating and traveling with Earls, Dave keeps busy with his young family, 8 year old daughter and 4 year old twins.