Three Mushroom and Carmelized Onion Steam Buns with Scallion Verde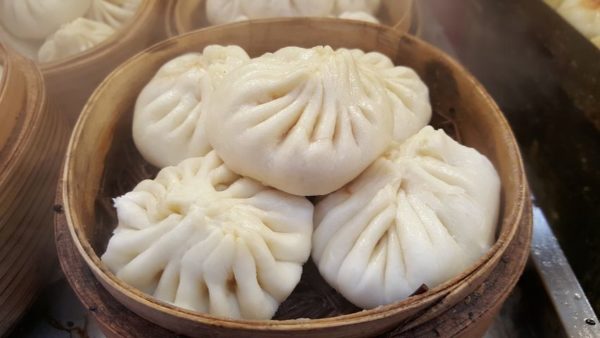 Serves 4 (2 buns per person)
ingredients – buns:
1 ½ cups warm water
½ Tbsp white sugar
1  Tbsp yeast
3 ½ cups all purpose flour
ingredients – filling:
1 lb shitake mushrooms, sliced
12 oz (3/4 lb) portabello mushrooms, sliced
1 lb oyster mushrooms, diced
1 lb red onions, peeled and thinly sliced
¼ cup black vinegar*
¼ cup palm sugar*
1/2 bunch cilantro, chiffonaded
3 Tbsp soy sauce
3 Tbsp rice wine*
¼ cup canola oil
specialized equipment:
bamboo steamer basket with lid*
method – buns:
Soften the yeast in the warm water and sugar.
Slowly add softened yeast mixture to flour stirring constantly.
Mix until the dough clings together.
Turn out onto a floured surface and knead until the dough becomes shiny and smooth.
Place in an oiled bowl and cover with cling wrap.
Let sit in a warm, draft-free place until the dough has doubled in size.
Pinch out small balls of the dough about the size of a ping pong ball
Using a rolling pin, roll out the dough in to a circle about ¼ inch thick and about 4 inches in diameter.
Drop a clump of the filling mixture into the middle.
Pick up all sides of the dough and pinch them together and using a twisting motion seal up the bun, pinching off a small ball of dough.
Turn the bun over so and roll in a circular motion (the moist dough will grip your work surface and tighten the bun).
Steam in a well-oiled steamer basket for about 5 minutes.
Serve with the scallion verde.
… more
method – filling:
Add a small amount of oil to a medium sized saucepan and cook the onions until they become translucent
Deglaze with black vinegar.
Simmer for until the vinegar has reduced by one third, then add the palm sugar.
Cook down until all the moisture has evaporated and the onions are soft and sticky. Set aside.
Put a large frying pan on high heat and add canola oil, when the oil is hot add the mushrooms and season with salt and pepper as they cook.
Sauté mushrooms until golden brown (Tip #1).
Add soy sauce, rice wine, and cilantro.
Cook until almost all moisture is gone.
Combine with the caramelized onions and mix well.
scallion verde:
1 bunch scallions/ green onions, roughly chopped
Half bunch cilantro, chopped
Half bunch parsley, chopped
½ cup canola oil
2 Tbsp. fresh lemon juice
2 Tbsp. mirin*
2 Tbsp. shaoxing rice wine*
Combine scallions, herbs and oil in a food processor and blitz until emulsified.
slowly drizzle in lemon juice, mirin and rice wine.
Tip #1: it may be easier to cook the mushrooms in batches
*available in Asian food stores or the Asian food section of larger supermarkets

Wild Rice Market Bistro,  New Westminster:  122-810 Quay
Feature image courtesy of skeeze via pixabay