We thought we might tempt you with one of our favourite recipes that we first published on MyVanCity.ca in April of 2017.
SANTA FE CHICKEN SALAD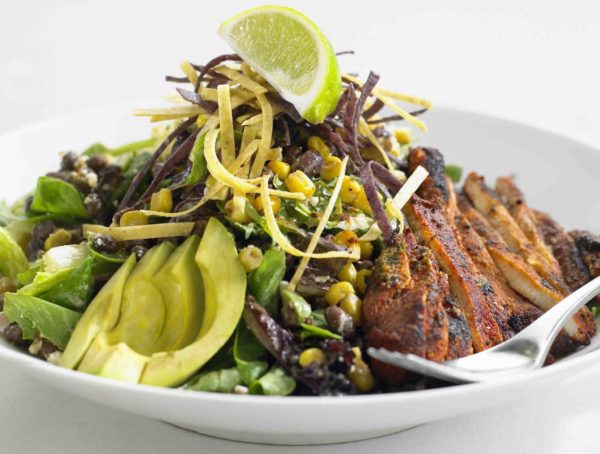 The best dates to use are Medjool dates, but any variety of dried dates will do. Instead of using a knife, use a pair of kitchen shears to cut the dates into pieces. Periodically dip the shears in water once the stickiness starts to build up.
4 brined chicken half breasts (recipe follows)
¼ cup (60 ml) Cajun blackening spice (recipe follows)
8 oz (225 g) greens mix
8 oz (225 g) chopped romaine hearts
1 15 oz can (approximately 1 ½ cups/400 ml) rinsed and drained black beans
1 cup (250 ml) fresh or thawed frozen corn
½ cup (125 ml) ½" chopped dried dates
1 cup (250 ml) peanut lime vinaigrette (recipe follows)
½ cup (125 ml) crumbled feta cheese
1 cup (250 ml) fried tortilla strips
1 avocado
1 lime, cut into 6 wedges
1.    Remove skin from the chicken breasts. Dredge the chicken in the Cajun blackening spice until lightly coated on all surfaces.
2.      Place on a preheated grill or pan fry in a heated skillet with some vegetable oil, flipping the chicken after 4 minutes to ensure even cooking. Cook for a further 4 minutes, check for doneness on the thickest part of the breast. The meat should register 160F on an instant read thermometer.
3.      While the chicken is cooking, assemble the salad by combining the greens mix, romaine, black beans, corn, dates and peanut lime vinaigrette in a large salad bowl. Toss together with tongs until all ingredients are coated lightly with the vinaigrette.
4.      Divide evenly into bowls and top evenly with feta cheese and crushed tortilla chips.
5.      Cut the avocado in half and remove the seed. Slice lengthwise into ¼" slices and scoop out using a spoon. Garnish each bowl of salad with ¼ of an avocado, approximately 4 slices.
6.      Add a lime wedge and serve immediately.
PEANUT LIME VINAIGRETTE
3 tbsp (45 ml) roasted peanuts
1 tbsp (15 ml) minced garlic
¼ tsp (1.25 ml) ground cumin
4 ½ tbsp (67.5 ml) lime juice, divided (freshly squeezed)
1 tbsp (30 ml) olive oil
1 tsp (5 ml) sherry vinegar
2 tbsp (30 ml) chopped cilantro (tightly packed)
1 ½ tbsp (22.5 ml) lime juice
½ tsp (2.5 ml) fine salt
¼ tsp (1.25 ml) ground black pepper
½ cup (125 ml) vegetable oil
1.      Using a food processor or hand held blender, puree the peanuts, minced garlic, cumin, 2 tbsp (30 ml) of lime juice, olive oil and sherry vinegar until extremely smooth, almost like peanut butter.
2.      Add in the cilantro, remaining lime juice, salt and pepper. Continue to puree until the cilantro is finely incorporated into the dressing and chopped into pieces no greater than ⅛".
3.      With the machine running, continue to puree the vinaigrette while pouring the vegetable oil in a slow stream. This will create a strong emulsion so the oil does not separate.
4.      Transfer to an airtight container and refrigerate. The peanut lime vinaigrette can be held refrigerated for 5 days.
CAJUN BLACKENING SPICE
Increase the amount of cayenne if you desire a spicier blend.
2 tbsp (30 ml) dried oregano
1 tbsp (15 ml) dried thyme
1 tsp (5 ml) red pepper flakes
½ cup (125 ml) paprika
1 tbsp (15 ml) ground black pepper
1 tbsp (15 ml) ground white pepper
1 tbsp (15 ml) fine salt
1 tsp (5 ml) ground cayenne
1.      Grind the dried oregano, thyme and red pepper flakes in a clean spice grinder until it is the same texture as the paprika.
2.      Combine with the rest of the ingredients and mix very well until thoroughly distributed.
3.      Store in a dry container, sealed well.
BRINED CHICKEN
Brining the chicken not only improves the flavour greatly, but it also causes the protein strands in the chicken to retain water during and after cooking. This results in flavourful, moist chicken that makes all the difference compared to unbrined chicken. The same brine can be used for pork chops, turkey or any lean meat.
Chicken breasts/pieces (skin on bone in or boneless skinless depending on recipe)
1.      Place chicken pieces in a large lidded container, ensuring that there is ample space between each piece to have contact with the brine.
2.      Cover with enough brine to submerge each piece of chicken completely. Seal well.
3.      Refrigerate on the bottom shelf for 24 hours before using.
4.      Once the time has elapsed, strain off the brine and discard. Transfer the chicken to a clean rimmed bake tray.
5.      Pat the chicken dry with paper towels. Use according to the recipe.
CHICKEN BRINE
2 cups (500 ml) water
¼ cup (60 ml) fine salt
½ cup (125 ml) parsley leaves and stems (tightly packed)
1 tbsp (15 ml) honey
1 tbsp (15 ml) black peppercorns
6 bay leaves
4 smashed garlic cloves
2 thyme sprigs
1 halved lemon
1.      Combine all ingredients into an appropriately sized pot and bring to a boil over high heat. Boil for 1 minute.
2.      Remove from heat and allow to cool to room temperature.
3.      The brine can be held refrigerated for up to 7 days if made ahead.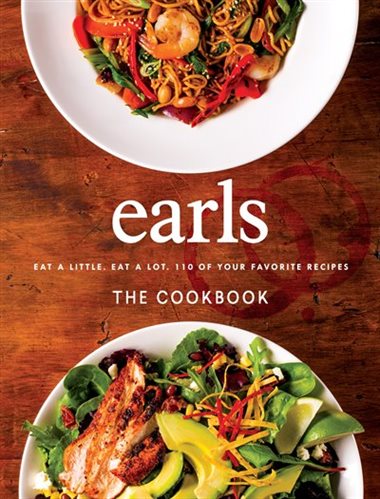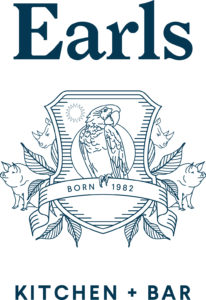 ABOUT US
Some 30 years ago, Leroy (Bus) Earl Fuller and his son Stanley Earl Fuller had a simple idea: to create a laid-back burger and beer joint. A lot has changed since the early days, but one thing has remained the same — Earls is still a family business driven by people who are genuinely passionate about great food and drinks.
The tradition of Earls is centered on globally inspired dishes that make people want to come back for more. Fresh, made from scratch, locally-sourced ingredients, and now, innovative chef-led experiments that are getting the industry's attention through the Earls Chef Collective.
You can now create and enjoy all of your favourite Earls dishes from the comfort of your own home. 'Earls The Cookbook' will be available at all Earls locations in mid-May. You can also find it in-stores and online at Chapters, Indigo, Amazon and other select retailers.    
CHEF BIO 
Chris Remington, now Executive Chef at Penticton Lake Side Resort, worked with Earls for almost a decade. First as a Prep Chef and later in the Test Kitchen, he's credited with developing one of the most beloved dishes on our menus – the Santa Fe Chicken Salad. 
During a trip to Scottsdale, Arizona, he and a gang of fellow chefs discovered a salad dressing that would be ideal for a salad he had been working on. The restaurant wouldn't share the recipe, so back they went to order another bunch of salads, this time with dressing on the side. In keeping with standard corporate protocol, the precious elixir was then smuggled back to Vancouver in someone's luggage. A few days of experimentation—and voila!