BC Pinot Noir Celebration Showcases Wineries from across BC
The 3rd Annual BC Pinot Noir Celebration is back to showcase wineries from across the province on Saturday, August 22nd at Linden Gardens in Kaleden. Tickets are $175 here.
This event, which sells out every year, began in 2013 with winemakers at Meyer Family Vineyards, Tantalus Vineyards', and Howling Bluff Estate Winery, and pays homage to how BC Pinot Noir wines are shaped by both their environment and attention from their winemakers.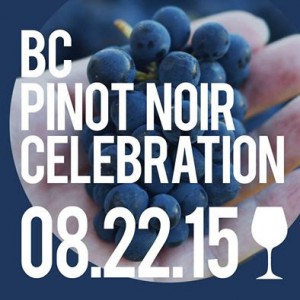 A selection committee comprised of the BC Chapter of the Canadian Association of Professional Sommeliers chose 26 wineries to join the founders this year, including Summerhill Pyramid Winery and SpierHead Winery of Kelowna, Haywire from Summerland, and Vancouver Island's Blue Grouse Estate Winery.
The annual event commences with a sparkling wine reception where guests will mingle with Steven Spurrier, renowned journalist from Decanter Magazine. Spurrier is the keynote speaker for this year's celebration and attendees look forward to his perspective on BC wine.
Following the reception, winemakers will host breakout and blending sessions followed by a garden tasting salon with all participating wineries. The evening will round out with a family style dinner with a menu prepared by Artisan Culinary Concepts to complement the Pinot Noir wines.
Tickets are selling quickly and BC Pinot lovers are advised to act quickly to avoid disappointment. Full event details and tickets for the event can be purchased at BCPinotNoir.ca.
Feature pic: The Pinot Noir vineyards at harvest time at Kelowna's SpierHead winery. Brian Sprout photo