Special Economy and Premium Economy Class airfares now on sale until 28 August, 2015
Sadly the sultry summer days will soon turn into gloomy winter nights, so for those wishing to avoid the rain or snow, now is the time to take advantage of Cathay Pacific's extremely low fares to a multitude of popular destinations throughout Asia.
Fares are on sale for 1 week only from now until 28 August, 2015 and available for departures between 01 September to 10 December, 2015 and from 24 December, 2015 to 24 May, 2016 inclusive. Enjoy savings of up to 17% off Economy Class and up to 24% off Premium Economy Class fares and chose from a myriad of culturally-rich and diverse cities in Cambodia, China, Indonesia, Japan, Korea, Malaysia, Myanmar, Nepal, Philippines, Vietnam, Thailand and Taiwan.
Act fast, say goodbye to the rain or snow with an early Christmas shopping trip to Hong Kong or plan a well-earned rest on a beautiful beach on the tropical island of Bali or experience Hanoi, a city boasting French Colonial influences. Whatever you decide, Cathay Pacific – one of the world's best airlines – is the very best way to get you there.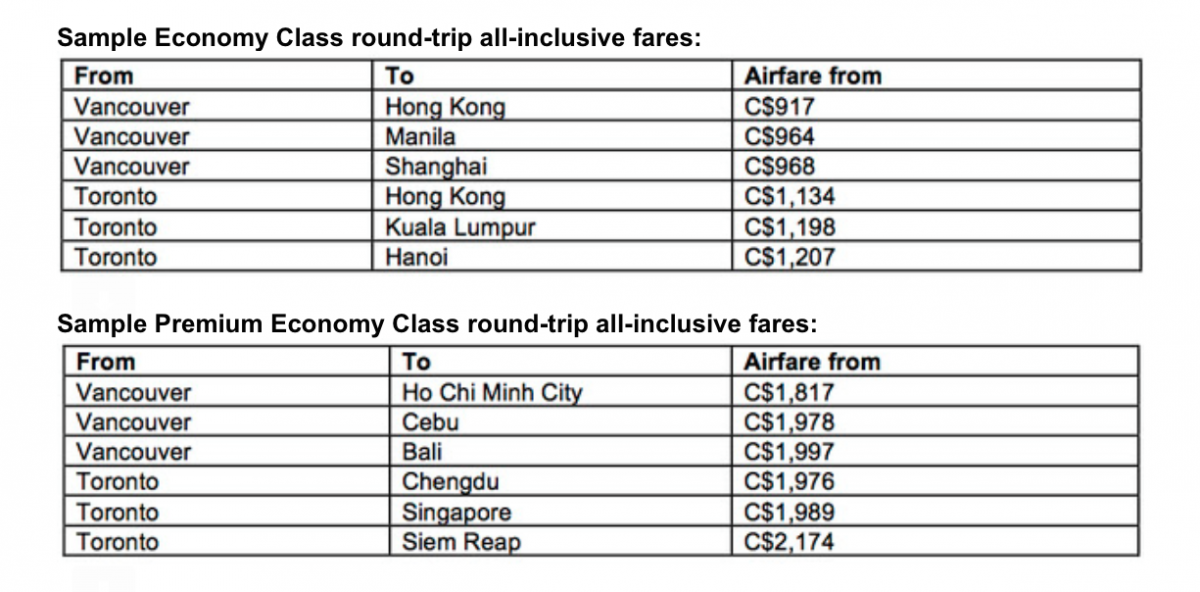 Departures from other Canadian cities are also available for an additional fee. Airfares are subject to change. Airfare shown is for Monday through Thursday departures. Above pricing includes taxes and surcharges; exact amount will be quoted once flights and dates are selected. Homebound flights to Canada are not permitted between 01 January, 2016 to 10 January, 2016 and 28 January, 2016 to 07 February, 2016, inclusive. Seats are limited and other rules & restrictions may apply.
To make the trip even more rewarding, travellers can earn Asia Miles which translate to future flights, upgrades and other lifestyle awards.
For full fare details and bookings, visit http://www.cathaypacific.com/cx/en_CA/flightoffer.seat-sale.vancouver-toronto-to-hong-kong.html
About Cathay Pacific
Cathay Pacific offers two flights daily non-stop between Vancouver and Hong Kong, 10 flights weekly from Toronto to Hong Kong, and daily non-stop service Vancouver to New York (JFK), plus dedicated freighter service to Hong Kong from Vancouver, Toronto and Calgary. Also, from the convenient hub of Hong Kong, the airline offers seamless connections to an extensive Asia network, including over 22 cities in Mainland China.
More information, visit www.cathaypacific.com/ca 
Connect with Cathay Pacific Canada on Facebook www.facebook.com/cathaypacificCA Follow Cathay Pacific Canada on Twitter www.twitter.com/cathaypacificCA