Gastown eatery partners with Bosa Foods to offer free tapas from premier line of Spanish products
One of the city's renowned wine bars is bringing a taste of Spain to Vancouver.
Gastown's Salt Tasting Room has partnered with local specialty food vendor Bosa Foods to serve up San Sebastián-style dining by offering free tapas to hungry guests, beginning September 8, 2015.
On a recent trip to Spain, Bosa sourced a variety of high-quality, Spanish delicacies new to most Vancouver palettes. And Salt, with a little help from Bosa, is bringing a taste of this delectable foodie culture to Vancouverites. But will locals embrace this style of eating and drinking? To find out, Salt is offering free tapas to patrons of the restaurant – just as they're offered in tapas bars all over Spain.
"I am really curious to see how Vancouver responds to this kind of tapas-style program," said Sean Heather, owner of Salt Tasting Room. "Will guests come for drinks and accept this kind of free tapas experience – will they embrace the concept the way it's embraced in Spain? Either way, the San Sebastián Experiment is a great opportunity to try some delicious Spanish-style tapas in a unique format."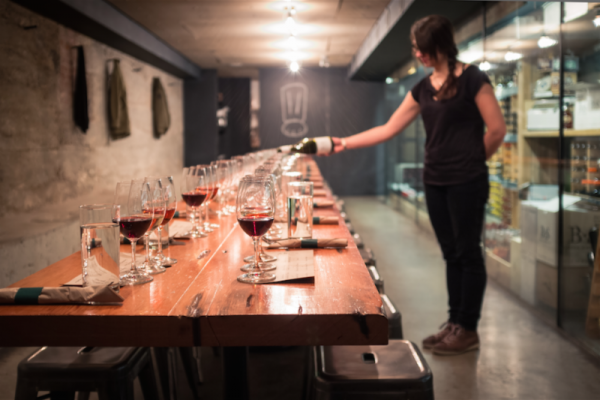 With titillating plates piled with mixed olives, white anchovies, six-month aged manchego cheese, bone-in serrano ham, salchichon iberico and chorizo sausages, and marinated calamari rings, these Spanish goodies will likely have local foodies' mouths watering.
Located in Spain, San Sebastián is a tiny town with a big culinary reputation. This hamlet has evolved into a foodie Mecca in recent decades, with more world-renowned restaurants, taverns and bars per square mile than any other in the country. But what makes the San Sebastián experience truly unique is its bevy of pintxos bars, the Basque iteration of tapas. These bars are the cornerstone of the region's culinary culture.
Curious foodies who are ready for a taste of San Sebastián can visit Salt Tasting Room, September 8 to October 11, from 3 p.m. to 6 p.m. Parched patrons can order a tasting flight or glass of wine, beer or sherry, and enjoy complimentary tapas to sample Bosa's new Spanish product line.
About Salt Tasting Room
Salt Tasting Room is a dynamic charcuterie and wine room with exposed brick walls and a long sharing table. Situated in Vancouver's historic Gastown neighbourhood, Salt is open daily from 4 p.m. until late. Guests can choose items from a chalkboard menu featuring the most diverse selection of local charcuterie, cured meats and global artisan cheeses in the city, along with an extensive selection of wine (by the glass, bottle or flight) and more than 20 varieties of sherry. Let Salt's savvy, casual and charismatic staff guide you through its ever-changing menu of meat, cheese and wine. www.salttastingroom.com
About Bosa Foods 
Bosa Foods is a specialty food importer and distributor based in Vancouver, focused on bringing the highest quality Italian and Mediterranean products to your table. Founded in 1957, Bosa Foods has a long history of quality and value, principles which guide the company to this day. Sourcing some of the finest and sometimes obscure products, one of the primary aims of Bosa Foods is to bring unique specialty food products to the Western Canadian market. Bosa Foods proudly distributes the Spagnia line of products, featuring assorted Spanish meat, fish, olive, and cheese products, representing the finest Spain has to offer. www.bosafoods.com