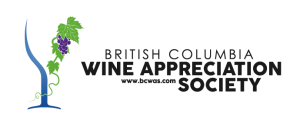 It's always fun to hang out with like-minded people, and in this case it was people who love BC wines. What's better than hanging out with a crowd of people who all love and appreciate BC wines? Not much, in my opinion. The good news is that you don't have to travel to wine country to experience it. Consider joining the BC Wine Appreciation Society. They have themed wine tastings, wine paired dinners and winery visits among other activities. The BC Wine Appreciation Society was formed to create a venue where BC Wines can be showcased and celebrated.
I attended their tenth annual gala held in the Diamond Ballroom of the Masonic Hall on 6th Ave in Vancouver. It was a beautiful Vancouver evening with stunning views of the North Shore mountains in one direction and the setting sun to the west. BCWAS limited the number of tickets so that it wouldn't be too crowded. Less than 200 people were there for the event. Over forty-five BC wineries participated in the event, which was almost double the number that attended this year's Vancouver International Wine Festival. It was an impressive line up.
There is no doubt that the BC Wine Industry has improved dramatically during the last twenty years and has garnered international recognition and countless awards for the quality of their wines. In 1995, there were only 32 wineries. Now there are over 250! That is amazing growth over such a short time.
I was impressed that BCWAS had arranged it so that people at the event could order as little as three bottles of the wines that were being poured and they would compile a group order and sort it when it arrived. Usually you need to order by the case when ordering directly from wineries.
All the wineries had their principals there or their agents. They obviously appreciate the support shown by the members of the BCWAS. A special shout out to: Leann Froese and Sujinder Juneja from Town Hall Brands, Sharon Herder representing Corcelettes Estate Wines, Judy Kingston of Serendipity Wines, Rasoul Salehi – La Stella and Le Vieux Pin, Jackie from Mount Boucherie and Andrew Etsell of Singletree in Abbotsford.
Here are a few notes on the wines I tasted.
40 Knots – Comox
• Rosé – Pinot Noir/Gamay – dry with great flavour $16
• Pinot Noir – cherry and strawberry. Impressive. Who knew they could grow such good pinot on the Island? $19
Blue Grouse – Duncan
• Ortega – this is a cross between Muller-Thurgau and Siegerrebe. Delicate, inviting nose $20
Time – Oliver
• Sundial – social style wine, Pinot Blanc, Chardonnay, Sauvignon Blanc. $17.50
• 2012 Syrah – very impressive. Only a very small amount made, so don't look for it. It's all mine. $35
Spierhead – Kelowna
• 2013 Pinot Noir – three clones help to give this wine complexity. Only 600 cases made. Cherry, forest floor. Medium body. Medium-long finish. Impressive. $22.00
Corcelettes – Keremeos (now at the site of the former Herder Wines)
• Gewürztraminer – long finish. Very good. $17.90
• Trivium – A flavourful blend of Chasselas, Gewürztraminer and Pinot Gris $17.90
• Oracle Rosé – strawberry, cherry and rhubarb. $19.90
• Syrah – medium bodied, feminine in style. Worth trying. $26.90
• Benhir –Cabernet Sauvignon and Syrah. Buy some. $31.90
Averill Creek – Duncan
• 2010 Pinot Noir – great nose, medium body, medium-short finish. $26
• Gewürztraminer – classic nose, beautiful, clean, crisp and dry. Yum! $20
• Pinot Grigio – made in stainless steel. Crisp and refreshing. $15.99
• Pinot Gris – aged in oak. Round and creamy. $15.99
• Charm de L'Isle – Pinot Gris and Pinot Noir. Very much in the Prosecco style. $19.90
Fairview – Oliver
• Chardonnay – no ml, slight amount of Sauvignon Blanc added, good balance of oak and fruit. I really liked this chardonnay. $?? (Didn't write it down and can't find the wine on their web site)
Mount Boucherie – West Kelowna
• Chardonnay – oakier than previous vintages, but GOOD! $25
Single Tree – Abbotsford
I had never heard of this winery but didn't feel too bad when I found out that they had only been open since January.
• Siegerrebe – classic varietal character, but made dry, unlike the usual social style. Very impressive – elegant and refined dry table wine. $??
Siren's Call (BC Wine Studio) – Okanagan Falls
• Syrah – yummy $25
• Harmonious – A good Bordeaux Blend $29
There were so many people there that I knew and I didn't want to be rude and ignore them, so I spent more time chatting than I normally would have. There were so many other producers and wines that I wish I would have tried and been able to recommend.
It was a wonderful evening. If you are a fan of BC wines, consider joining the BC Wine Appreciation Society.
http://www.bcwas.com/