One Hundred Percent of Proceeds will Support the Canadian Food Bank Community
Slurpee Name Your Price Day is back! For the second year running, 7-Eleven Canada is declaring Wednesday, September 16 as Slurpee Name Your Price Day, giving customers the power to pay what they want for a large Slurpee. 100% of the proceeds will go to Food Banks Canada, supporting local food banks in 7-Eleven communities. Last year, over $120,000 was raised by 7-Eleven customers – the equivalent of providing Canadians in need with over 360,000 meals.
7-Eleven and Food Banks Canada are challenging Slurpee fans to beat last year's total. Customers can pay $0.50, $2, $50 or whatever they want to enjoy their favourite frozen beverage and help address hunger in Canada. Slurpee Name Your Price Day will run at all 7-Eleven stores across the country.
Every Dollar Makes a Difference: $1 = three meals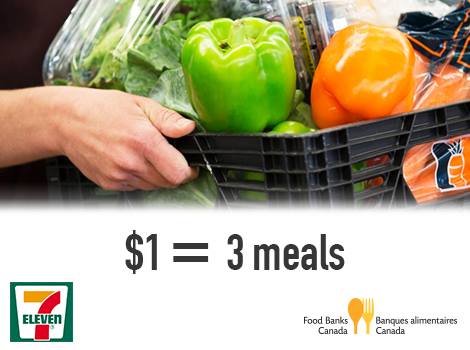 Slurpee fans will have the chance to make a difference on Wednesday, September 16. Why is this important?
For every $1 a customer pays for a Slurpee, they help provide three meals for an individual in need
More than 840,000 Canadians are helped by a food bank each month, more than a third are children
Canadian food banks help the equivalent of 6,200 school buses full of children each month
"We see time and time again how important cause-related initiatives are to our customers," says Raj Kapoor, Vice President and General Manager, 7-Eleven Canada. "We want to thank our Slurpee fans for being so generous last year and now challenge them to raise even more funds this year and have an even greater impact on those in need across the country."
"We have a continual need to put food on the table of those living with hunger – especially at this present time as we are seeing our economy struggling," says Katharine Schmidt, Executive Director, Food Banks Canada. "Initiatives like Slurpee Name Your Price Day are a wonderful way to not only raise significant funds but also help generate further awareness around this issue that affects so many Canadians."
As well as donating to this worthy cause, 7-Eleven and Slurpee fans can scan their 7Rewards App towards getting their seventh cup free.
Slurpee is a global icon that's available only at 7-Eleven stores. For more information on Slurpee Name Your Price Day, visit www.Slurpee.ca.
7-Eleven Canada is donating 100% of customer proceeds to Food Banks Canada in addition to all Slurpee product on the day and campaign promotional costs.
About 7 Eleven, Inc.
7‑Eleven, Inc. is the premier name and largest chain in the convenience retailing industry. Based in Dallas, Texas, 7‑Eleven operates, franchises or licenses nearly 10,500 7‑Eleven® stores in North America. Globally, there are more than 56,200 7‑Eleven stores in 16 countries.
About Food Banks Canada
Food Banks Canada supports a unique network of over 3,000 food-related organizations in every province and territory that assists close to 850,000 Canadians each month. Together our network shares over 200 million pounds of essential safe quality food annually, provides social programs that help to foster self-sufficiency, and advocates for policy change that will help create a Canada where no one goes hungry. Visit www.foodbankscanada.ca for more information.
Food Banks Canada statistics:
One in five people have skipped a meal either because they could not afford food or so that their children could eat
Over 14 million visits were made to Canadian Food Banks in 2014
More than four million meals and snacks were served by Food Bank Canada's network of more than 500 food banks and 3,000 food organizations in 2014