Vagabond Players presents Other Desert Cities, running from October 1 – 24, 2015, Thursday – Saturday at 8pm and Sunday at 2pm, at The Bernie Legge Theatre, Queen's Park, New Westminster.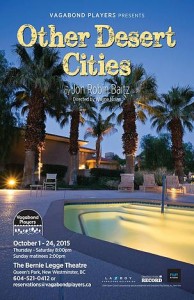 Brooke Wyeth returns home to Palm Springs after a six-year absence to celebrate Christmas with her parents, her brother, and her aunt. Brooke announces that she is about to publish a memoir dredging up a pivotal and tragic event in the family's history – a wound they don't want re-opened. In effect, she draws a line in the sand and dares them all to cross it. This powerful drama of politics, passion, and family secrets was a finalist for the 2012 Pulitzer Prize for Drama. Vagabond Players is proud to be opening the 2015 – 2016 season with this exciting play – a riveting tale full of razor-sharp dialogue, unexpected turns, and surprising revelations.
Call 604-521-0412 or email reservations@nullvagabondplayers.ca to book your tickets today!