New Perch Restaurant Set to Soar

On September 9th, the AMS of UBC celebrated the new AMS Student Nest building, known on campus as "The Nest" with an opening ceremony. Perched on top of the 4th floor, 250,000 square foot "home away from home" for UBC Students is Perch Restaurant.
Featuring an inspired yet affordable menu sourced from local and sustainable ingredients, and offering panoramic views of the campus and the lush west side of Vancouver, Perch Restaurant delivers the next level of sophistication and comfort to foodies of all stripes.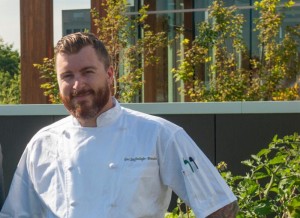 Building the menu for Perch is chef-de-cuisine Gus Steiffenhofer-Brandson. With training from Michelin-starred restaurants in Germany and having spent much of his time at local restaurant, The Pear Tree, Gus integrates world-class cuisine with local flavours and ingredients. Dishes to make your friends envious, full of comfort and flavour, the menu will be regional including sustainable ingredients that are expertly paired with smartly-chosen BC & international wine and craft beer lists.
Beyond the kitchen, the team at Perch work with an organic food broker to ensure the farmers are receiving the best possible prices for their  fruits and vegetables. The kitchen also source seasonal selections from UBC's organic farm and The Nest's own rooftop garden. With an exceptional commitment to sustainability, including 100% Ocean Wise certification, the use of organic, shade grown and Fair Trade coffee, and a comprehensive recycling and composting program all in place is set for Perch Restaurant to soar.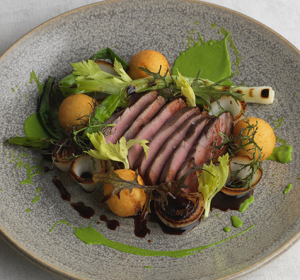 While elevating the cuisine on campus for students, Perch welcomes all of Vancouver to enjoy 'The Nest' by offering a host of in-house dining options, including date nights, small group dinners, gala events and weddings for up to 290 guests.
For those unable to dine at the restaurant but wanting to experience the full flavours of Perch there is a full service catering option through AMS Conferences + Catering. Catering from Perch will provide a taste of sustainability, affordability and elegance at your next event. Best of all, 100% of proceeds directly support the student services, resources and leadership opportunities offered through the AMS.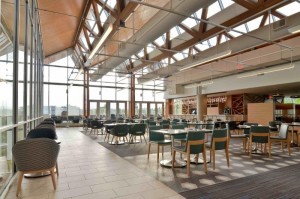 The building itself is a modern marvel. The AMS Student Nest is a brand new, $107 million, five-story welcoming space for students and visitors to eat, shop, study and socialize. The 250,000-square-foot building is expected to receive LEED Platinum certification (the highest Green building rating in North America) and includes nine AMS-run food and drink outlets with Perch Restaurant as its crowning jewel. Of special note is that profits for AMS food outlets including Perch go to funding AMS programs and services.
Select LEED Platinum initiatives include displacement & passive ventilation, solar-powered heating & cooling, CO2 monitoring, storm water management & retention and much more. To watch a 'birds eye' view of The Nest, click HERE.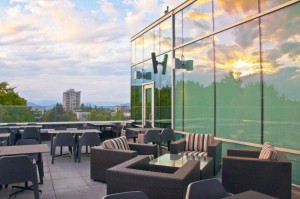 Both Perch Restaurant and the Nest building itself represent the innovation and leadership of the AMS and its student members. The ongoing quest to raise the bar for environmental, financial, culinary and social sustainability is part of their collective vision to inspire generations of students and visitors for years to come.
Stay connected with Perch, perchrestaurant.com, or follow the conversation on Facebook and Twitter.