Celebrate 2016 in Style with a Decadent New Year's Eve at L'Abattoir
New Year's Eve never looked so classy. On December 31, L'Abattoir invites revelers to an elegant evening that shows off the French-inspired dining destination at its finest.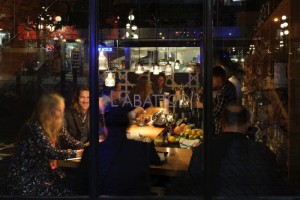 Party-goers keen to socialize with fellow guests can lounge in the main dining room, selecting from an á la carte menu featuring L'Abattoir's flavourful France-meets-West-Coast fare. A long night of celebrating deserves food fit for a king, and L'Abattoir's menu delivers with savoury elk pâté, pumpkin-infused pasta, delicate duck breast and rich suckling pig.
Bar Manager Thor Paulson will keep guests hydrated with classic and original cocktails, including the Martini-inspired Tuxedo #2 and the wish-it-was-summer Castles Made of Sand. Vino enthusiasts can select the perfect pairing with the help of Wine Director Lisa Haley – and yes, Champagne bottles will be plentiful.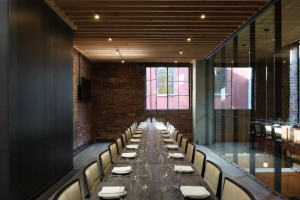 Diners seeking a more intimate experience can reserve seats at the communal table in L'Abattoir's 1,200-square-foot private dining room, which retains the restaurant's ambiance without the hustle and bustle of the regular dining space. Led by Chef / Owner Lee Cooper the culinary team have pulled out all the stops to craft a four-course feast featuring duck foie gras torchon with Riesling jelly, preserved cherries and toasted brioche; roast fillet of beef with butter-poached lobster; and caramelized banana with brown sugar crumble and white chocolate, among other decadent delights. Carefully curated wine pairings and cocktails will round out the tantalizing meal.
Reservations for the communal table are available at 7:00 p.m. on New Year's Eve. The $175-per-person price includes a four-course dinner and beverage pairings, and is inclusive of all taxes. Tickets must be pre-sold in advance, and there will be an automatic gratuity of 18 percent added on the final bill. The menu is set, with no substitutions or special requests available and is not suitable for vegetarians. There are only 50 seats available, these pre-sold dinner tickets will surely sell out quickly!
To reserve a table in the dining room or to book pre-sold tickets for the private dining room four-course menu, please call 604.568.1701 or email events@nulllabattoir.ca.
L'Abattoir New Year's Eve Menu
L'Abattoir bread service
 Duck foie gras torchon
Preserved cherries, Riesling wine jelly and toasted brioche
 Petit Guiraud '10 Semillon/Sauvignon Blanc Sauternes, France
 Baked Pacific oyster
Black truffle, whipped garlic butter
 Charles Audoin '10 Pinot Noir 'Cuvee Marie Ragonneau' Marsannay, Burgundy, France
 Roast fillet of beef
Butter poached lobster, celeriac
 La Rioja Alta S.A. '04 Tempranillo, Graciano 'Gran Reserva 904' Rioja, Spain
 Caramelized banana
Brown sugar crumble, tonka bean, white chocolate
Chateau d'Orignac nv Cabernet Sauvignon, Merlot Pineau des Charentes, France
About L'Abattoir
L'Abattoir is located in the heart of historic Gastown. Built in the 19th century, it is the site of Vancouver's first jail and originally buttressed the city's main meat packing district. This history is reflected in the architecture, and the name L'Abattoir pays homage to the neighbourhood's colourful past. Open seven days a week for dinner and weekend brunch, L'Abattoir specializes in French inspired West Coast fare in a refined and comfortable setting. Labattoir.ca