A ROYAL AFFAIR: ROYAL DINETTE OPENS ITS DOORS FEB. 14 TO HOST EXCLUSIVE SUNDAY DINNER SERVICE ON VALENTINE'S DAY
Set the Mood for a Special Evening with a Romantic Multi-Course Farm-to-table Feast
This Valentine's Day, Royal Dinette will play cupid in a truly gourmet fashion, when it opens its doors on a Sunday to host a one-of-a-kind dinner service on Sunday, Feb. 14.
The farm-to-table-focused restaurant — recently named Vancouver's best new restaurant by The Globe and Mail's Alexandra Gill — is marking the occasion with a multi-course romantic repast guaranteed to set the mood for a special evening.
Featuring an intimate ambiance, consummate service and the fresh, local and sustainable focus of Chef/Owner David Gunawan and Head Chef Jack Chen, Royal Dinette's Valentine's Day menu is offered for $65 per person plus tax and gratuity, with optional beverage pairings available for an additional $45.
ROYAL DINETTE
VALENTINE'S DAY MENU
Poached Oyster
potato emulsion, apple, ikura, shiso
Foie Gras Torchon
quince, jasmine tea, seaweed brioche
(supplement $12)
Fregola Sarda
octopus, humboldt squid, radish, preserved citrus, arugula
Ling Cod
smoked chicken broth, clams, winter chanterelles, wheat berries
Sourdough
squash butter, pumpkin seed 
Beef Rib Eye
sunchoke, tarragon, toasted hay
Cheese Course
blu di capra, dried plums, pickled pear, salted walnut praline
(supplement $8)
Barley Ice Cream
preserved quince, chervil granite
RESERVATIONS
Reservations for Royal Dinette's Valentine's Day dinner service can be made online at www.royaldinette.ca/reservations/ or by calling (604) 974-8077.
As Royal Dinette prides itself on placing a premium on the availability and seasonality of all ingredients, the Valentine's Day menu is subject to slight changes. Participation of the entire table is required.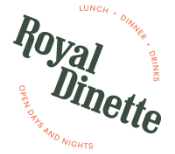 About Royal Dinette | Located in the heart of Vancouver's financial District, Royal Dinette brings together the best fresh, locally sourced ingredients for a true farm-to-table feast for the senses. With an ever-changing seasonal menu, fresh pasta, pastry and butcher stations and a bar menu offering an array of local craft beer, sparkling wine and handmade classic cocktails, Royal Dinette pairs the laid-back, informal atmosphere of a bygone diner with an elegant standard of service to bring quality, value and creativity of cuisine to a whole new audience.
905 Dunsmuir St., Vancouver B.C. V6C 1A8 | (604) 974-8077 | www.royaldinette.ca
Lunch Mon – Fri 11 a.m. – 2 p.m. | Dinner Mon – Sat 5 p.m. – late | L'Apéro Happy Hour Mon – Sat. 4:30 – 6 p.m. | Twitter @royaldinette | Instagram @royaldinette | Facebook /royaldinette