SWEET SURRENDER: GIVE IN TO THOMAS HAAS' LATEST LINEUP OF SIGNATURE CREATIONS THIS VALENTINE'S DAY
Heart-Shaped Truffles, Chocolates and Cookie Box Among Celebrated Chocolatier's Selection of Handcrafted Valentine's Day Delicacies for 2016
Cupid takes flight this Valentine's Day with the help of the talented team of chocolatiers at Thomas Haas Chocolates & Pâtisserie, who have unveiled their latest collection of signature handcrafted creations.
Thomas Haas' 2016 Valentine's Day lineup includes: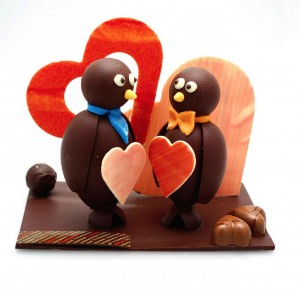 • Love Birds — Send your special someone soaring on a flight of fancy with this whimsical handcrafted pair of ornately decorated love birds, accented with a selection of chocolates and truffles ($55).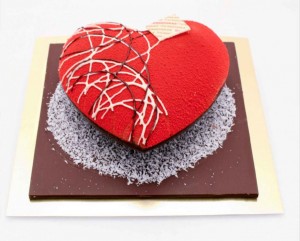 • Chocolate Heart — This hand-painted chocolate heart is airbrushed and decorated with 23-karat gold leaf and contains an assortment of mouthwatering chocolates and truffles ($19.90, small or $25, large).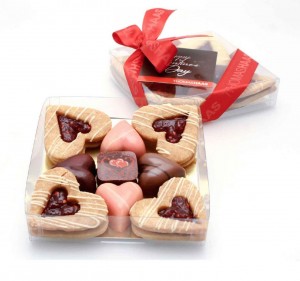 • Valentine's Jewellery Box — Show your Valentine they shine like a diamond with this handcrafted chocolate box filled with nine assorted dark, milk or white gourmet chocolate truffle hearts ($39).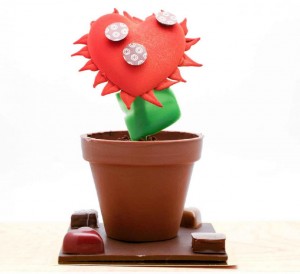 • Valentine's Flowerpot — Combine two gifts in one by giving chocolates and flowers with this bright and beautiful edible chocolate flowerpot, decorated with a selection of chocolates and truffles ($45).
Thomas Haas has also revealed the newest flavours of his popular Valentine's Truffle Hearts, which in 2016 will feature: dark chocolate ganache infused with raspberry and lychee; milk chocolate with lemon hazelnut praline; and white chocolate with lemon thyme ganache ($4, two pieces).
In addition to the new signature handcrafted creations, Thomas Haas will offer an assortment of delicious Valentine's Day-themed treats such as: Chocolate Lollipops, adorned with hand-painted chocolate heart décor and available in milk, dark and white chocolate varieties ($2.90 each or five for $13); Heart-shaped Truffles, assorted dark, milk or white handmade gourmet chocolate truffle hearts wrapped in a clear bag with a red satin ribbon ($4, two pieces); a Valentine's Truffle Box containing assorted dark, milk or white gourmet truffle hearts in a clear box finished with a red satin ribbon ($14.50, six pieces); and a Chocolate and Cookie Box containing chocolate truffle hearts and heart cookies in a clear box finished with a red satin ribbon ($19, nine pieces).
Thomas Haas' handcrafted gourmet chocolates, truffles and truffle hearts are also available in a variety of tiered Signature Gift Boxes ($7, two pieces; $12, four pieces; $20, nine pieces; $35, two-tier, 18 pieces; $52, three-tier, 27 pieces; $66, four-tier, 36 pieces; $79, five-tier, 45 pieces; $94, six-tier, 54 pieces) and Keepsake Signature Boxes, designed by Thomas Haas himself and featuring an ornate and delicate filigree underlay ($42, one tier, 17 pieces; $80, two tier, 34 pieces; $120, three tier, 51 pieces).
All 2016 Valentine's Day products will be available at the two Thomas Haas cafés in North Vancouver and Kitsilano by the end of January, with a limited selection available at high-end retailers such as Whole Foods and Urban Fare. A variety of items may also be ordered online at www.thomashaas.com and shipped across North America.
ABOUT THOMAS HAAS CHOCOLATES & PÂTISSERIE
An internationally renowned, fourth-generation pâtissier, Thomas Haas gained experience in Michelin-starred restaurants in Europe and North America before settling in Vancouver and opening his own namesake chocolaterie, patisserie and café in 2005. Haas — Vancouver Magazine's Pastry Chef of the Year in 2011, '13, '14 and '15 — uses only the finest raw ingredients sourced both locally and from around the globe and, in keeping with family custom, eschews the notion of assembly lines and mass production techniques, instead trusting in a talented team of pastry chefs and chocolatiers whose finesse and sensitivity is lovingly expressed in every hand-spun confection.
Thomas Haas products are exclusively available at both his Kitsilano and North Vancouver cafés as well as select leading hotels, retailers and restaurants across North America. www.thomashaas.com
North Shore | 128 – 998 Harbourside Dr. | North Vancouver, BC  V7P 3T2 | (604) 924-1847
Kitsilano | 2539 West Broadway | Vancouver, BC  V6K 2E9 | (604) 736-1848
Hours: Tuesday through Saturday from 8 a.m. to 5:30 p.m. (closed Sunday and Monday)
Valentine's Day hours: Thomas Haas Kitsilano location open on Sunday, Feb. 14
from 8 a.m. to 5:30 p.m.
Twitter: @thaaschocolates  |  Instagram: @thaaschocolates  |  Facebook: /thaaschocolates