PROVENCE SPEAKS THE LANGUAGE OF LOVE
The French know a thing or two about romance and the art of seduction. They also know a lot about good food and how it plays a major role in successful wooing. Enter chefs Jean-Francis and Alessandra Quaglia of Provence Restaurants – a happy couple who knows all about courting with food. "We met while working together in a hotel kitchen in France. At the time, I couldn't speak any French and Jean-Francis didn't speak a word of English. However, we both spoke 'food'. As we cooked and ate together, we learned not only each other's language but also the language of love that is spoken when you share a meal," says Chef Alessandra.
This year, Chef Jean-Francis has created two very romantic multi-course dinners at Provence Marinaside in Yaletown. The first, Dîner de l'Amour, is four-courses and is available only Friday, February 12 and Saturday, February 13 for $60 (wine pairing $30) and is available in addition to Marinaside's regular menu.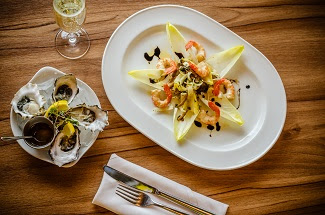 The second, a six-course culinary tour-de-force, La Saint-Valentin ($80 / wine pairing $40) is available only on Valentine's Day, Sunday, February 14th and is the only menu available that night.
The six-course La Saint-Valentin (Feb.14) starts with a jewel-like Amuse Bouche to set your palate for the flavours to come. From there you move onto to Endive and Mushroom Salad featuring BC Spot Prawns and local Oysters (a legendary aphrodisiac). This has been paired with Blue Mountain Gold Label Brut (Okanagan, BC). Next up, silky Crustacean Bisque dotted with Dungeness crab ravioli and chive crème fraiche. Sommelier Rachelle Goudreau has chosen Pfaffenheim's Pinot Gris Grand Cru (Alsace, France) to complement the dish. After the richness of the bisque, your palate needs a refresh and Citrus Sorbet with sparkling wine should do the trick. For Mains, you have have to make a choice between Seared Seabeam Filet (parsnip confit, wilted greens, bamboo rice, lemon vinaigrette with salmon roe) or Butter-Roasted Lamb Loin (haricots vert, smoked Roma tomato, roasted sunchoke and thyme lamb jus). The idea is of course for you to each try a different main and share. Rachelle has paired Viadero Blanco de Albillio (Castilla y Leon, Spain) with the Seabream and Château Maison Blanche Medoc (Bordeaux, France) with the Lamb Loin. It's Valentine's, so of course you need to end your dinner with something sweet. In keeping with the occasion, Chef has created a seductive Strawberry Tiramisu accompanied by House-made Macarons and Thomas Haas Chocolates. Petit Guiraud Sauternes (France) is the dessert wine chosen to cap a perfect meal.
The four-course Dîner de l'Amour (Feb.12 and 13) is identical to the above with the exception that it does not include the Bisque and Sorbet courses.
Reservations for these special dinners are essential and can be made on-line at www.provencemarinaside.ca or by calling 604-681-4144
Learning a new language has never been so easy or so full-filling.