AT 2016 VANCOUVER INTERNATIONAL WINE FESTIVAL VINTNERS BRUNCH
Railtown Executive Sous Chef Mathew Koyanagi's Black Rice Congee with Pinot Noir-Braised Duck Singled Out as Toast of Annual Wine and Food Pairing Competition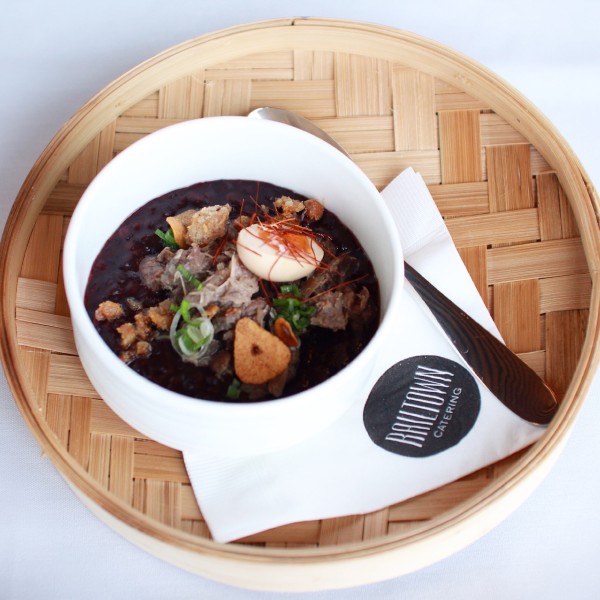 Professionals from Vancouver's food and wine industry raised a glass to Railtown Catering and Executive Sous Chef Mathew Koyanagi on the closing day of the 2016 Vancouver International Wine Festival yesterday, unanimously voting his Asian-inspired entry with the Judges' Choice Award at the festival's annual Vintners Brunch.
Koyanagi's Black Rice Congee with Pinot Noir-Braised Duck, Soy-Marinated Quail's Egg, Black Currant Gastrique and Togarashi Crackling captured first place at the competition, which brought together 15 top chefs and sommeliers to pair a custom-created dish to a specific wine from around the world during a sold-out event at the Vancouver Convention Centre.
Koyanagi's course — which was paired with a Hahn Family Wines 2013 Pinot Noir hailing from California — marked the first time that the Vancouver-based caterer had competed in the Vintners Brunch.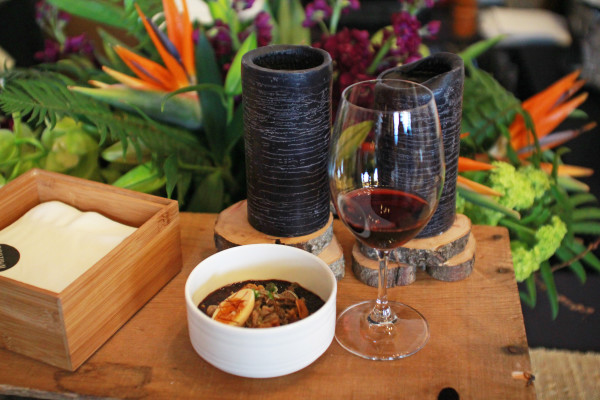 "We're extremely proud of Mathew and the entire crew that helped him create this unique dish, but we can't say we're surprised," said Railtown Catering Executive Chef and Partner Dan Olson. "Mathew has a truly adventurous palate and has been a talented, valued and trusted leader of our culinary team at Railtown for years. We're thrilled that he is garnering the recognition he so richly deserves."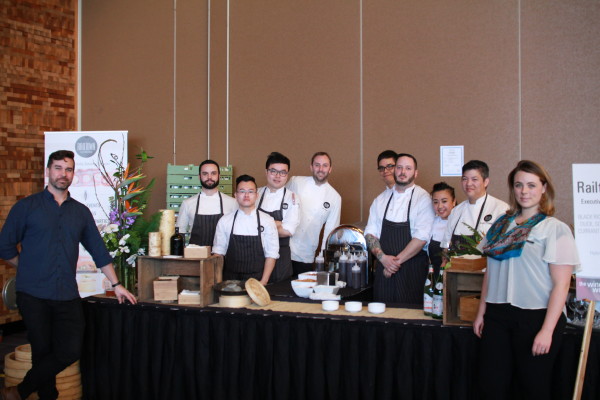 Koyanagi, who graduated from the Dubrulle International Culinary School, chefed for a variety of prestigious clients including presidents, royalty, dignitaries and other celebrities in a number of exotic locations such as the Great Wall of China and the Emperor's Summer Palace and headed up the culinary team for the Royal Bank of Canada Hospitality House during the 2010 Winter Olympics before joining Railtown in 2013.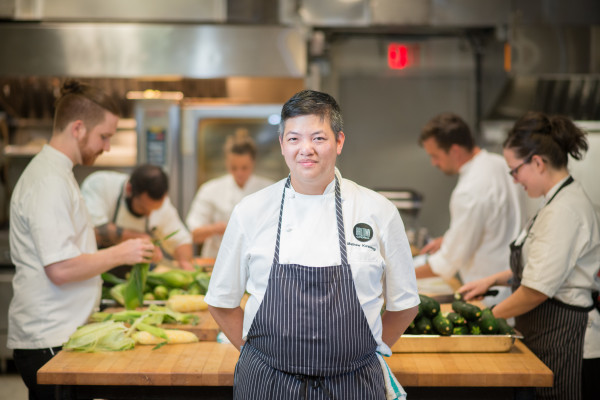 The 2016 Vancouver International Wine Festival, which took place from Feb. 20 to 28 and showcased 155 wineries from 14 countries, marked the 38th edition of the annual wine and food showcase, which has raised $8.5 million for the performing arts since its inception in 1979.
ABOUT RAILTOWN CATERING | Led by Chef/Partners Dan Olson and Tyler Day and located in the heart of Vancouver's heritage Railtown District, Railtown Catering offers a signature combination of classical French technique and inspired West Coast style and provides personalized food and beverage menus for a wide array of private and corporate functions as well as daily office deliveries throughout Vancouver. Whatever the celebration or location, Railtown Catering's friendly and intuitive team of chefs, event planners and elite service staff have earned a reputation for creativity, innovation and finesse by delivering a refined, first-class experience from start to finish.
For more information about Railtown Catering, visit www.railtowncatering.ca, become a fan of /Railtown Catering & Cafe on Facebook or follow @RailtownCaters on Twitter and @railtowncaters on Instagram.
397 Railway St., Vancouver, BC V6A 1A4 | (604) 568-8811 | Cafe Hours: Monday – Friday, 9 a.m. – 5:30 p.m.