As I made my way down the residential streets of Marpole on a drizzly Sunday afternoon, it didn't strike me as the type of place in which I was likely to find some riveting theatre with a sprinkling of opera. I was wrong.
Seated in the quaint Marpole United Church I got to enjoy Master Class, the inaugural production of the Mariposa Theatre Wing.  
Opera Mariposa is a Vancouver-based company, which showcases local emerging talent – run by young artists, for young artists.  Now in its fourth season it has expanded its repertoire with the new Mariposa Theatre Wing to include plays and musicals with operatic elements.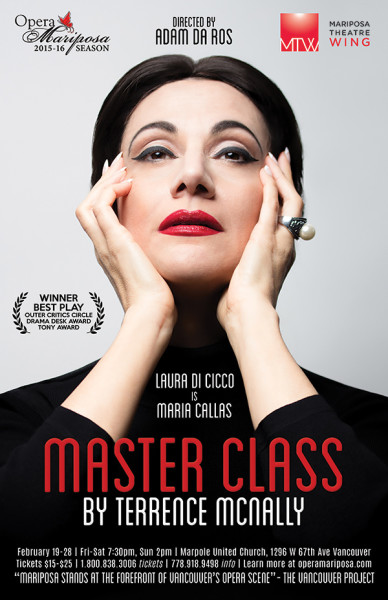 It's first production is Master Class, the Tony award winning play by American playwright Terrence McNally.  The play was inspired by the legendary 2-hour master classes Opera singer Maria Callas gave to students during the early 70s at the Julliard School in New York City.  
Born in New York and raised in Europe, Callas was the daughter of Greek immigrants who grew up to take the Opera world by storm and become of the most influential singers of all time.  She was by all accounts a formidable and demanding artist, a perfectionist, who made many sacrifices for her art.
The Callas of McNally's script is imperious, demanding and condescending to her star-struck ingénues.  She is an enigmatic and witty figure.  In each of the two acts she tutors a different student, imparting her Operatic knowledge and expertise.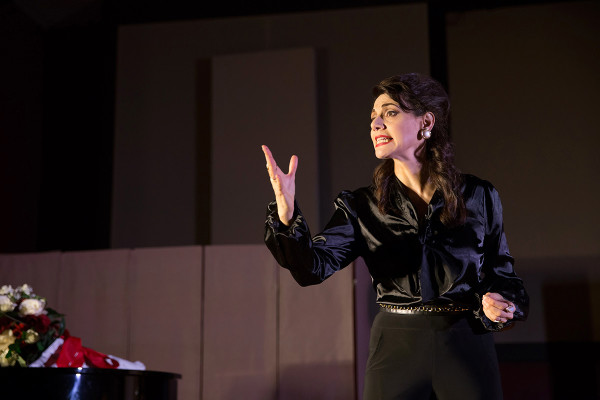 Master Class shows a strong and fiercely proud fading superstar at a turning point in her life.  Her greatest days are now behind her and although still singing she is not the performer she used to be.  Her intense and highly publicized affair with Greek shipping magnate Aristotle Onassis is now over and she finds herself passed over in favour of Jacqueline Kennedy. Several flashback scenes punctuate the play in which Callas relives key moments in her career and in her love affair with Onassis.  These moments are poignant and show a certain vulnerability that is not present in her non-nonsense public persona.
The Mariposa team staged an impressive debut for their theatrical wing with a solid yet simple production with actress and singer Laura Di Cicco delivering a mesmerizing performance as the formidable and witty diva.
Feature image: MasterClass – LauraDiCicco – Kathryn Nickford Photography