Celebrating National Waffle Day in Vancouver on Friday, March 25
National Waffle Day takes place on Friday, March 25. Leggo those Eggos in favour of fresh, warm options across the city. For an authentic waffle experience, check out these made-to-order options for breakfast, lunch and dinner: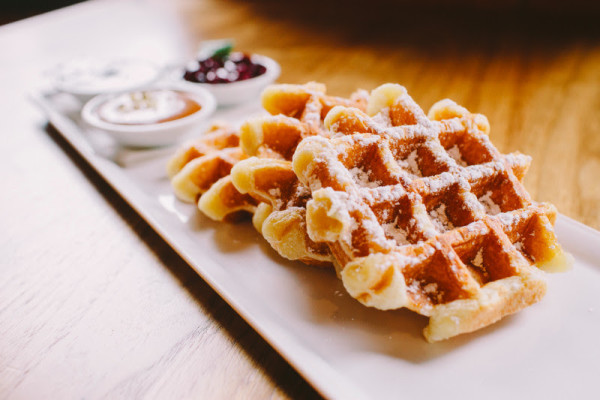 Breakfast
CHAMBAR (www.chambar.com)
Chef Nico Schuermans hails from Louvin-la-Neuve, Belgium, a stone's throw from Brussels. Made to the exacting standards of a traditional recipe, guests can accompany their Liège waffle with any and/or all of the following sauces and toppings: dark chocolate, milk chocolate lavender, salted caramel, raspberry caramel, bacon caramel, white chocolate pistachio rosewater, fig orange marmalade, mixed berry compote.
Address: 568 Beatty Street
Neighbourhood: Crosstown
Hours: Waffles are served every day from 8am until 3:30pm
Lunch
PATISSERIE LEBEAU (www.grababetterwaffle.com)
The first patisserie to produce all varieties of Belgian waffles, Patisserie Lebeau's ham and cheese stuffed Brussels waffle makes the perfect grab-and-go lunch.
Address: 1728 West 2nd Avenue
Neighbourhood: Kitsilano
Hours: Tuesday to Sunday, 7:30am-5pm
Dinner
MAMIE TAYLOR'S (www.mamietaylors.ca)
Waffles aren't just a European tradition. In America's deep South, chicken and waffles reigns supreme. Mamie Taylor's version of this comfort food classic features savoury Sweet Potato and Cheddar waffles to soak up all that white gravy.
Address: 251 East Georgia Street
Neighbourhood: Chinatown
Hours: Sunday to Thursday, 5pm-12am | Friday & Saturday, 5pm-1am | BRUNCH: Saturday & Sunday, 11am-3pm