CHICKEN LIVER MOUSSE
Ingredients
425 g chicken livers
425 g butter
4 large eggs
4 shallots, diced
90 ml brandy
90 ml port
2 sprig thyme
4 g pink salt (optional)
Kosher salt and black pepper to season
Method
Combine livers, butter and eggs and place in a bowl, covered in plastic wrap, at warm kitchen temperature until everything is at room temperature and the butter is nice and soft.

Preheat oven to 300º F

In a small pan simmer brandy, port, shallots and thyme until almost all of the liquid has evaporated, but there's still enough left to pour. Pour it into the liver mixture.

Add seasoning and puree until completely smooth in a blender

Pass through a fine mesh sieve and pour into a terrine mold

Place terrine in a larger roasting pan and fill the larger roasting pan with hot tap water so it reaches about 3/4 of the way up the terrine mold

Place in a 300º F oven and bake for about 35 minutes or until just set

Remove and cool overnight in the fridge
Plating
To plate, scrape back the top crusty layer and scoop out a nice smooth scoop with spoon that's been heated under hot tap water.

Serve with grilled crusty bread, radicchio, apple, wild honey and chillies.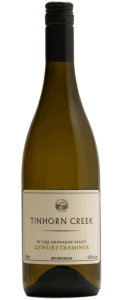 Chef Jeff Van Geest recommends the Tinhorn Creek 2014 Gewurztraminer to go with the Chicken Liver Mousse. This wine won Gold at the 2015 Wine Align World Wine Awards of Canada.
Jeff Van Geest, Executive Chef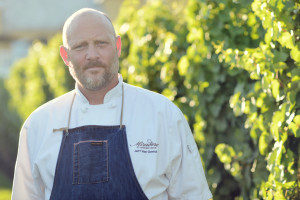 When it comes to modern, local and sustainable cuisine, Chef Jeff Van Geest is one of British Columbia's most celebrated chefs. Jeff owned and operated Vancouver's Aurora Bistro for over five years. During this time, Jeff and his restaurant won several prestigious awards: including being named one of enRoute magazine's top new restaurants in 2004, gold for Best Regional Restaurant and silver for Chef of the Year at the 2006 Vancouver Magazine Restaurant Awards, and the 2008 Vancouver Magazine Green Award.
Jeff was born and raised in St. Catharines, Ontario – right in the heart of Ontario's Niagara wine region. Growing up with farmers as grandparents, Jeff developed his respect for fresh local produce at a very early age. In 1992, Jeff headed out west to Vancouver, where one of his first jobs he found was working in a restaurant as a cook. He immediately knew this was his passion and enrolled in culinary school.
Jeff completed his culinary training at the Vancouver Community College in 1994 and went on to complete his apprenticeship at Bishop's – one of Canada's finest restaurants and a pioneer in sustainability. At Bishop's, as he worked his way up to Sous Chef, Jeff further developed his deep appreciation for the importance of supporting local farmers and producers, a passion he ingrained into the philosophy of Aurora Bistro, where he built a reputation as a leader in local, sustainable cuisine that was prepared elegantly and with a respect for the ingredients.
After closing Aurora Bistro in 2008, Jeff worked as the Executive Sous Chef at the Diva at the Met until 2010. It was always Jeff's goal to raise his family in a small town, so Jeff moved to he Okanagan in the summer of 2010 and began researching local farmers and producers. Now heading the kitchen at Miradoro, Jeff is truly in his element – his passion for fresh local products fuelled by B.C's best fruit and vegetable growing region.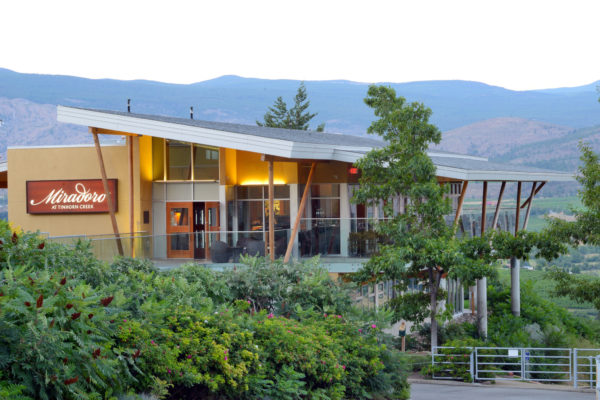 About Miradoro Restaurant
At Miradoro Restaurant the Mediterranean-influenced wine country cuisine showcases the region's finest ingredients alongside the award-winning wines of Tinhorn Creek Vineyards. Perched on the picturesque winery estate on the famed Golden Mile, the destination restaurant offers stunning views of the South Okanagan Valley. Its unique design seamlessly integrates a modern look with the natural landscape and the more traditional design of Tinhorn Creek's winery and barrel cellar. The 4,000-square-foot space features 65 seats indoors and 65 seats outdoors on a wraparound deck, ample use of natural woods and cork creates a room that is simple, elegant — and lets the food, wine and view be the stars of the show.
Miradoro Restaurant is open for lunch daily from 
11:30am–3:00pm
, for tapas from 
3:00pm-5:30pm
 and for dinner from 
5:30pm–9:00pm
. For more information, please call 250-498-3742 or visit 
www.miradoro.ca
.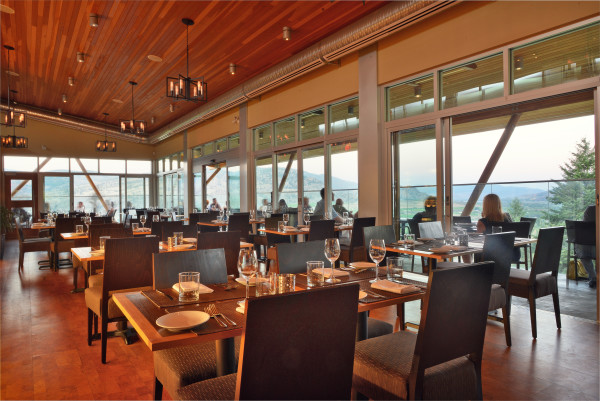 Communal Table Dinner Series
The Communal Table Dinner Series returns on 
April 5
 with the first theme 
Spanish Tapas
 which will feature a selection of many small plates, including olives, anchovies, croquettas and jamon, inspired by the famous bar food of Spain.
Held at Miradoro Restaurant at 
6:30pm
 on Tuesdays from March to May, the Communal Table brings together locals and visitors to celebrate regional food and wine; featuring fare that is local, rustic, simple, straightforward and seasonal. Reservations are required. $30
Hops, Grapes & Grub – 

April 29

 
Chef Jeff and his team take on the challenge of creating a 3-course dinner and pairing each course with a Tinhorn Creek wine AND a beer from Cannery Brewing. Enjoy the company of friends and family while you dine family style at Miradoro's famous Communal Table dinner.
Tickets are $85 (all inclusive). Seating is limited, reservations are recommended.