SAKURA IN BLOOM
Celebrate with special sakura-inspired dishes and cocktails at Miku, Minami, and Gyoza Bar
Aburi Restaurants' Miku, Minami, and Gyoza Bar celebrates cherry blossom season with special sakura-inspired dishes and cocktails
With spring in full bloom, Aburi Restaurants is set to welcome the arrival of cherry blossom season with several new sakura-themed dishes and cocktails at its three restaurants – Miku (70-200 Granville Street), Minami (1118 Mainland Street), and Gyoza Bar (622 West Pender). Expect to see pink-hued influences in sushi rolls, desserts, and several drinks.
"Cherry blossom season is a time for celebration, and I'm always happy to see our restaurants participate in this Japanese tradition," says Aburi Retaurants Executive Sushi Chef Kazuhiro Hayashi. "Previously, we've only had a couple special sushi rolls, but this year, our chefs and bartenders have created new and inventive sakura rolls, desserts, and cocktails for our guests to enjoy."
At Miku, guests can try the new Miku Sakura Roll ($19) by Chef Hayashi, which features marinated sockeye salmon, hotate, cucumber, and asparagus wrapped in seared kanpachi and shiso. It is then topped with golden tobiko and a salted sakura flower. Executive Pastry Chef Chris Janik has also created a spring dessert inspired by cherry blossoms called the Cherry Pistachio Terrine with layers of pistachio and coconut genoise, chocolate souffle, mascarpone mousse, cherry gelée, and black cherry-sakekasu sorbet.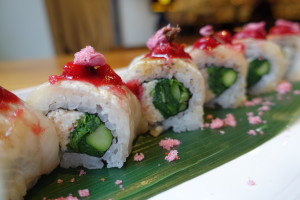 At Minami, the Minami Sakura Roll ($18) by Sushi Chef Hiroshi Hoshiko features shiso-infused shari, creamy snow crab, spinach, and asparagus all wrapped with kanpachi and topped with sakura denbu, sakura salt, and raspberry purée. Executive Chef Alan Ferrer's Sakura White Chocolate Mascarpone Cheesecake is sure to satisfy sweet taste buds. It includes sakekasu genoise, strawberry-sakura compote, strawberry sakekasu macaron, raspberry coulis, sakura sugar tuile.
Each restaurant also has a fun seasonal cocktail. At Miku, it is The Mountain Dream symbolizes the simplicity, freshness, and innocence of the traditional cherry blossom season. Ingredients include the Momokawa Pearl Sake, honey elderflower syrup, lemon juice, and apricot brandy foam. At Minami, it is the Sakura Fubuki, which invokes a cherry blossom cloud. It also has Momokawa Pearl Sake, Kazeyo Sake, cherry brandy, and marachino liqueur.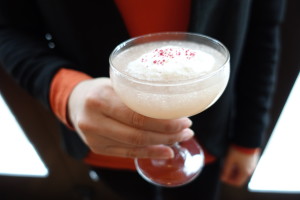 Gyoza Bar celebrates with a cherry blossom cocktail called the Cherry Blossom Bonsai. This rich, red-coloured drink has all the same beautiful characteristics as the original species with condensed, richer qualities. Ingredients include Pimm's, Aburi Ginjo Sake, and red wine.
All items are available March 24th to April 17th, 2016.
About Aburi Restaurants Canada Ltd.
"I don't just want a business, but want to create a culture and a community." – Seigo Nakamura
Seigo Nakamura, owner of the Tora Corporation in Japan, is the visionary behind Aburi Restaurants' Miku, Miku Toronto, Minami and Gyoza Bar. His unique concepts and business strategies have led to the creation of Aburi style cuisine and the Ningenmi philosophy. A trendsetter in all aspects, Seigo is never happy with settling for the norm. His unique twist on Aburi cuisine was created over a decade ago, by fusing the idea of traditional Japanese flame-searing with the decadent and creamy sauces of French cuisine. With a new cuisine in mind, he set out to introduce Ningenmi and the idea of Omotonashi service in the western world.
Literally translated 'the human flavour,' Ningenmi is a Japanese term used to refer a person with outstanding humanly qualities: sincere, thoughtful and passionate.
For more information about Miku, please visit www.mikurestaurant.com.
For more information about Minami, please visit www.minamirestaurant.com.
For more information about Gyoza Bar, please visit www.gyozabar.ca.
Instagram: @aburirestaurants
Twitter: @MikuRestaurant, @MinamiYaletown, @GyozaBarVan