For the fourth year, the Okanagan Valley will host Le Dîner en Blanc.  On Thursday, July 7th, the annual secret affair promises another unforgettable evening of elegance, beauty and magic, as it takes over an undisclosed public space whose location is only revealed minutes prior to the commencement of the event. Over 1200 foodies, fashion and cultural enthusiasts attended the event last summer and the same is expected this year.
Each year the event grows in awareness, with a steady stream of wait list registrations, frantic emails and texts from the community all trying to get a 'ticket' to Diner.  Organizers Christina Ferreira and Alison Love are in awe of how this non-sporting, non-music event has been embraced by the valley.  "Christina and I love to stand back in the evening and watch it unfold – of how beautifully everyone is dressed, how people have meticulously planned their menus and how they enjoy the 'pop-up' nature of the evening" says Alison Love.  "We are excited to see the 2016 version all come together."

Bystanders will witness groups of guests all dressed in white gathering at specific rallying points all across the city. Guided by Dîner en Blanc volunteers, these groups will then converge on one of the Okanagan's most beautiful settings, travelling by bus.  Every guest brings their own gourmet feast, table, chairs and table setting. Over the course of the evening, they will eat and celebrate amid music, entertainment and dancing.
The evening is filled with visually breathtaking moments including the arrival of the guests, the waving of a cloth napkin to mark the beginning of the dinner and the lighting of sparklers to let guests know they are now free to mingle and dance. When at the end of the evening the sparklers are lit, guests pack up all of their belongings, pick up all their litter and head back into the night, leaving behind no sign of their elegant revelry.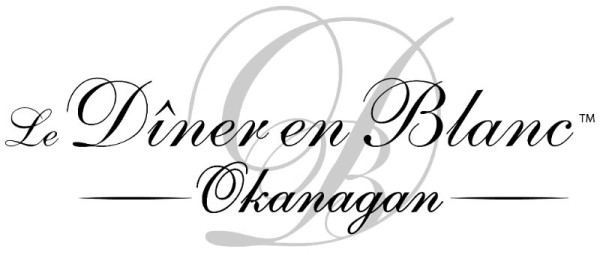 To maintain the uniqueness of Dîner en Blanc as well as staying true to tradition, guests must observe certain requirements and follow a few key rules:
To participate: previous year guests are automatically invited or a registered member from the previous year may invite a new member or get on waiting list via the official website: okanagan.dinerenblanc.info/register, by approximately June 9, 2016.
Once confirmed, each guest's participation becomes mandatory, regardless of weather conditions.This is a rain or shine event.
Dress code:elegant and white only.  Originality is encouraged as long as it is stylish and tasteful.
Table setting:  all white!
To ensure that the location secret is kept undisclosed until last minute, guests meet at assigned departure location and are escorted by volunteer.
In order to leave the event location as clean as when they arrived, guests are required to leave with all their belongings, leftovers and litter.
Guests must bring
A table, two white chairs, white tablecloth.
A picnic basket comprising fine food and proper stemware and white dinnerware.
Champagne or wine that is pre-ordered through the website and picked up at the location. Beer and hard liquor are prohibited.
A catered picnic basket option, which can be picked up at the site, will be available for those who do not wish to pack their own. Guests wishing to do so must reserve online through Dîner en Blanc website during the initial ticket registration.
About Dîner en Blanc
Launched in Paris in 1988 by François Pasquier and a handful of friends, Dîner en Blanc has become a worldwide epicurean phenomenon. Dîner en Blanc – Paris now attracts nearly 15,000 people each year. What was a "friends and word-of-mouth only" event has grown into an international sensation celebrated on five continents. While the technology behind the event may have changed over the years, the principles fuelling this fantastic event have not: guests continue to gather at a secret location for the sole purpose of sharing a gourmet meal with good friends in one of their city's most beautiful public spaces.
Founded in 2012 and headquartered in Montreal, Canada, Dîner en Blanc International is responsible for developing this secret posh picnic in over 50 cities in more than 20 countries around the world. Each event is headed by passionate local organizers who fell in love with the concept and wanted to bring it to their city, giving this rendezvous a local flair.
About The Hosts
Diner en Blanc Okanagan is hosted by two well-known names in both the food and wine industry and events management.  Christina Ferreira of Impact Events has over 15 years in event management and Alison Love, Spatula Media + Communications has been working in the restaurant, food and wine industry in the Okanagan Valley for over a decade. They are proud to have brought Diner en Blanc to the Okanagan Valley and excited that it is quickly being recognized as the 'don't miss event of the summer.'